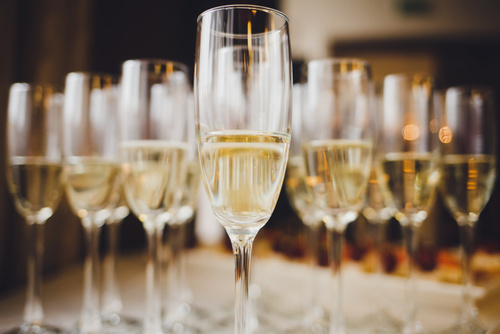 Since 2009, we can observe an increasing worldwide production of sparkling wines, with 24.1 million hectolitres produced in 2016. With 86% of the world production, Europe is from far the leader. Italy holds the first position (22%), followed closely by France (19%), Germany (15%), Spain (12%), Russia (10%) and the USA (6%). Although, more and more sparkling wines come from the New World, with an increased 30% volume over the past 7 years. Moreover, Italy and England have a growing production in 2016, conversely to France who is stable and Spain decreasing.
83% of sparkling wines are white, 15% rosé and 2% red. The rosé share has increased slightly in recent years. Red sparklings only come from Italy. Besides, brut sparkling represents 81% of the world production, contrary to demi-sec 14% and extra-brut 5%. The extra-brut production is increasing, to the detriment of demi-sec. This phenomenon is explained by the more qualitative perception and thus demand for brut sparkling wines by global consumers.
Italy is the main sparkling exporter with 41% exported in 2016, followed by France with 24% and Spain with 22%. The average price of an exported bottle is much higher in France than other countries, raising France to the first position in terms of value. On average, a bottle of French sparkling wine exported costs €12.6, compared to only €2.8 in Italy and €1.8 in Spain. The French price is widely explained by the average bottle price of Champagne (€18.2).
In terms of consumption, Germany, Russia and the USA are the biggest sparkling wine consumers, but the UK is the number one in value terms. The worldwide consumption should increase of 10% over the next three years.
The ultimate benchmark for sparkling – Champagne
Although Champagne represents only 0.4% of the global vineyard with 34,300 hectares, it is 13% in volume and 40% in value of sparkling wine world consumption. Indeed, 149 million bottles were exported in 2016, which represents 48% of the Champagne production. The UK and Belgium used to be the main consumers, but now demand is slowly shifting to the USA, Germany, Italy and Spain, but also Canada, Mexico, South Africa, New-Zealand and Asia with China, Hong Kong and Taiwan. In 2016, France and the UK remain the main markets for Champagne. Although British consumption may be affected by current affairs, Brexit and alcohol taxes among others.
Champagne consumption trends seem to follow global trends mentioned above. To summarize, amateurs seem to drink less but higher quality, with brut or extra-brut champagnes more and more appreciated and an increasing interest for Rosé champagnes by European consumers. Therefore, Champagne has adopted a new economic model, increasing quality and diversifying offer. Prestige cuvées, such as Comtes de Champagne Taittinger, Dom Pérignon, Dom Ruinart, Krug Clos du Mesnil or Salon Cuvée S are considered as blue chip assets, shifting both trade and consumers' perceptions. The auctions on iDealwine have shown a significant price increase in the past years. These iconic bottles, traditionally bought by French and British consumers, experience an increasing demand from Hong Kong, the Baltics and the Middle East. In spite of soaring prices, Champagne houses have increased their offer over the last decade, with a larger quantity of premium bottles on the market, which should calm prices down on the short term. Vintage champagnes are mostly sought after and have very high bids.
The top 5 Champagne houses on iDealwine in value in 2016 were Dom Pérignon, Krug, Louis Roederer, Bollinger and Tattinger. In 2016, the most expensive lot auctioned was a magnum of Krug 1959 which went under the hammer for €6,480 in November 2016. The same year, a Clos du Mesnil 1985 sold for €1,740, the rare Bollinger Vieilles Vignes Françaises 1990 went for €1,500 and the 1985 for €1,320. Dom Pérignon 1976 "Réserve de l'Abbaye" reached €1,020.
Emerging sparkling regions
Barely known of last century, Italian Prosecco is a growing phenomenon over the last 20 years. It is now even exported to China and has become the bestselling fizz in countries like the US, Germany, and particularly the UK, where more Prosecco in value is imported than Champagne. This beverage explains Italy's first place in production and exportation for sparkling wines, alongside Asti Spumante, Lambrusco…
Its sudden success may come from the simple aspect of this pleasant and slightly sweet drink. It has become a trendy and cheaper alternative (€6 to €7 per bottle) to Champagne, for instance. Since 1969, Prosecco has the Denominazione di Origine Controllate status (DOC – controlled designation of origin), but it's only since 2009 that two smaller areas of Italy: Conegliano Valdobbiadene and Asolo have the Denominazione di Origine Controllata e Garantita (DOCG – controlled and guaranteed designation of origin). These regions produce more qualitative wines, called Prosecco Superiore. Prosecco DOC totals approximately 20,000 hectares and produces about 241 million bottles and Prosecco DOCG totals 6,600ha and 72.3 million bottles. Furthermore, 65% of the production is exported. To go further, Franciacorta is a fine Italian sparkling wine, more expensive due to its smaller production and its minimum-two-year maturing.
Prosecco should represent a quarter of sparkling wines in the world in 2020, but mainly drunk in Italy, followed by the UK and the USA. Riccadonna, Martini, Villa Veroni, Luna Argenta are Prosecco main producers, but for more qualitative and sharp cuvées turn to smaller producers like Carpenè Malvolti, Nino Franco or Adami.
Spanish Cava is also a more recent sparkling wine, as it is only 30 years old, but the success is exponential, with 10 million bottles exported in 1980, Spain exported 155 million bottles of this beverage in 2014. Cava totals 32,000 hectares concentrated in Catalonia. Young Cava is mainly exported, easy to drink and cheaper (average of €3.90 per exported bottle). At such prices, Cava production is sometimes less respectful of the product, explaining why Raventos i Blanc decided to leave the appellation Cava, to produce a more genuine product. However, more qualitative Cava is produced with Cava Reserva and Cava Gran Reserva, but they are less well-known, especially out of Spain, although local producers are trying to conquer the world with such qualitative drinks. Singapore, China and Japan are also new amateurs of this sparkling wine. Cava is a more round, generous and sunny fizz, names like Recaredo and Freixenet are famous.
In 2015, the famous Champagne house Taittinger invested 4 million pounds (about €5.5 million) in Kent, near Canterbury, to produce English sparkling wine. This wine should be tasted in 2022, under the name of Evremond. This strategic purchase is not only for English subsoil's potential, but also to offer a cheaper option to the growing English. Manly produced in Kent, English vineyard is benefitting from global warming, although only 2,000 hectares of English vines produce sparkling wine. A bit more than 3 million bottles of sparkling wines are produced each year in England and this number should increase to 6 million in 2023. Jenkyn Place, Nyetimber, Chapel Down, Camel Valley, Gusbourne are the most famous houses.
Produced on the same traditional model, Champagne, Prosecco and Cava taste differently, from the most mineral to the most generous one. Prices and consumption habits may give more space to new sparkling wines, to the detriment of Champagne.
See wines currently for sale on iDealwine:
Register here to access auctions and fixed-price sales
Receive a free estimate of your cellar
Read further on iDealwine Le Blog: