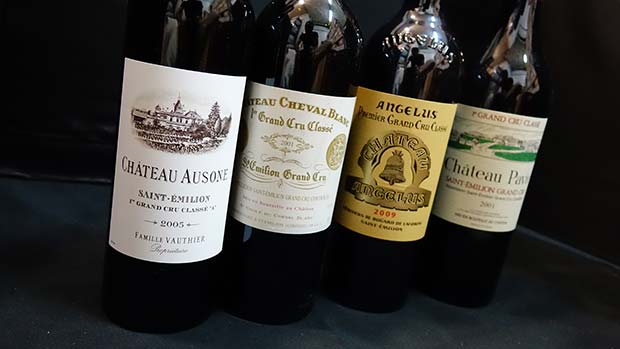 Evidently, visitors to iDealwine are first and foremost devoted connoisseurs who have come to find some really great wines. Even so – and this is entirely understandable – they'd like some reassurance when buying that they can at least resell their wines, should they fall upon straightened circumstances… or need to make room for other wines!
This article, therefore, will deal with some common questions we often hear from our customers. Although it isn't iDealwine's usual philosophy to encourage our customers to invest in wine, we are nonetheless in a privileged position from which we can observe emerging trends within the market, and hear stories from customers selling their wines about the great profits they've occasionally made on some wines. We'll try to give you a few hints and tips about how to manage your cellar most astutely.
Wine investment: is it for you?
Wine speculation can look attractive when compared to (for example) the rate of growth in the stock market index over a comparable period. However, here at iDealwine we would strongly discourage newcomers from diving into large-scale wine speculation. Far from being a simple investment, it is instead a matter best left to well-informed connoisseurs, or those who already have a good knowledge of the market and are ready to keep a close eye on the progress of their purchases. We know from our discussions with iDealwine sellers that the customers who have made the most money out of their cellars are nearly always passionate wine lovers who have patiently built up their stocks through buying wines they genuinely enjoy, with the original intention of drinking them themselves. Sometimes they can get carried away and buy too much. Or maybe their tastes have changed, leading them to want to explore other regions and new horizons. But if you think you can make a killing in the wine market without understanding it… well, think again.
What you really need is an in-depth knowledge of the finest wine regions – and perhaps even further afield too – to keep abreast of domaines that are on the rise. You'll also need an appreciation of the quality of vintages from each region, and to know when a wine is at its peak. Wine is a living substance, so once it has passed its best, it's entirely likely that its value will fall (except in the case of genuinely ancient examples, collectors' items or wines from significant "anniversary" dates)… In addition, you'll often be called upon to exercise your skills as a taster – while at the same time remembering to check the excellent guides we recommend – to assess the potential of a little-known domaine whose prices look set to take off in future. After all, some are likely to rise faster than others.
Is it a profitable investment?
Although wine speculation calls for a good knowledge of wine and the market, it can still make an excellent and highly profitable investment for speculators going in with their eyes open. Consider, for example, that the iDealwine 100 indice index has risen 124% since 2007, while the French CAC 40 index has fallen 22% over the same period. Even so, you need to bear in mind that this type of speculation only pays off in the medium or even long term (largely because of the effect of resale fees). For this reason, it's fair to be looking at an average of 10 years for holding onto your wines. As with any stock exchange portfolio, some domaines are guaranteed "bankers", while on the other hand you might also speculate on a number of more specific wines which are likely to add some spice to your investments. The grand cru market has appreciated substantially in value over the last 15 years, despite the fact that Bordeaux wine prices have slowed significantly to more stable levels. This shows how important it is to follow rates carefully and buy at the right price – while keeping an eye on changes in the iDealwine index, of course! 😉
Is there risk involved?
Wine speculation is a fairly risky business, and your investment should not in any case exceed 5% of your total stocks, or possibly 10% for the truly committed. The risk comes mainly from the fact that a good knowledge of the world of wine is required, in terms of both vintages and domaines, to ensure you make the right choices.
Furthermore, based on the level of risk you're willing to take, you need to set aside more or less space in your wine cellar for wines with market resale potential. It's true that information spreads quickly these days, creating worldwide demand for domaines previously unknown to the general public. However, you still need to acquire a basic stock of guaranteed "bankers" (Bordeaux, Burgundy, Rhône) which can quickly and easily be disposed of if needed, or as and when the chance to buy other newly-discovered wines arises. Lastly, investment in wine includes an element of risk because of the product's living, fragile and precious nature, requiring very careful storage.
So which wines are "guaranteed bankers"?
Here's a (non-exhaustive) list of domaines you can rely on… always assuming you've bought at the right price to start with, of course. N.B. This list was drawn up and published in September 2016 in Les Echos (see below).
Bordeaux:
Premiers crus classés (top vintages from the 1990s and 2000s)
Pontet Canet
Lynch Bages
Léoville Poyferré
Haut Bailly
Fieuzal
Smith Haut Lafitte
La Conseillante
Vieux Château Certan
Figeac
Burgundy:
Grands crus from the Domaine de la Romanée Conti
Chambertin Armand Rousseau
Chambolle-Musigny Les Amoureuses Domaine Mugnier
Bonnes Mares Domaine Roumier
Gevrey Chambertin Lavaux Saint Jacques Denis Mortet
Pommard Clos des Epeneaux Comte Armand
Volnay Clos des Ducs Marquis d'Angerville
Beaune Grèves vignes de l'Enfant Jésus Bouchard
Beaune Clos des Mouches Drouhin
Meursault Les Perrières Coche Dury
Puligny-Montrachet Les Pucelles Domaine Leflaive
Chablis GC Les Clos Domaine Raveneau
Rhône:
Châteauneuf du Pape Château Rayas
Châteauneuf du Pape Château de Beaucastel
Côte-Rôtie La Turque, La Mouline, La Landonne Guigal
Cornas Auguste Clape
Loire:
Pouilly-Fumé Silex Dagueneau
Saumur-Champigny Le Bourg Clos Rougeard
Languedoc-Roussillon:
Hérault Grange des Pères
Hérault Mas Daumas Gassac
South of France:
Bouches-du-Rhône Trévallon
Bandol Château de Pibarnon
Bandol Domaine Tempier (Cuvées La Tourtine, La Migoua, Cabassaou)
Palette Château Simone
Alsace:
Grand Cru Altenberg de Bergheim Deiss
Riesling Clos Sainte Hune Trimbach
Riesling Rangen de Thann Zind Humbrecht
Champagne:
Krug Clos du Mesnil
Dom Pérignon
Bollinger Grande Année
Taittinger Comtes de Champagne
Pol Roger Cuvée Winston Churchill
Ruinart Dom Ruinart
And here are a few "gems"; slightly riskier, but could possibly give a boost to your cellar's profitability…
Troplong Mondot
Clos Fourtet
Grand Corbin Despagne
Pavie Macquin
Domaine de Chevalier
Domaine de L'A
Haut Carles
Premiers crus classés (top vintages from the 1990s and 2000s)
Pontet Canet
Lynch Bages
Léoville Poyferré
Haut Bailly
Fieuzal
Smith Haut Lafitte
La Conseillante
Vieux Château Certan
Figeac
Beaune Les Bressandes – Domaine des Croix
Chambolle-Musigny Vieilles vignes Geantet Pansiot
Gevrey-Chambertin Petite Chapelle Rossignol Trapet
Vosne-Romanée Les Beaux Monts Bruno Clavelier
Pierreclos Tri de Chavigne – Domaine Guffens-Heynen
Meursault Arnaud Ente
Cornas Chaillot Thierry Allemand
Châteauneuf du Pape Les Cailloux – Cuvée du Centenaire
Châteauneuf du Pape Henri Bonneau
Châteauneuf-du-Pape Saint-Préfert
Châteauneuf-du-Pape La Barroche
Côte-Rôtie Côte Brune Jamet
Côte-Rôtie La Landonne
Jean-Michel Gerin
Saumur-Champigny La Marginale Domaine des Roches Neuves
Sancerre La Grande Côte François Cotat
Montlouis Clos Mosny Domaine de la Taille aux Loups
Montlouis Les Bournais François Chidaine
Côtes du Roussillon Clos des Fées
Côtes du Roussillon Gauby Vieilles vignes
Coteaux du Languedoc Domaine de Montcalmès
South of France:
Bandol Château Pradeaux
Bellet Clos Saint-Vincent
Alsace:
Riesling Clos des Capucins – Cuvée Sainte Catherine Domaine Weinbach
Riesling Clos Liebenberg Zusslin
Riesling Schoenenbourg Bott-Geyl
Riesling Muenchberg Ostertag
Champagne:
Agrapart & Fils Minéral Extra Brut Blanc de blancs
Egly-Ouriet Brut Grand Cru
Jacques Selosse Millésime Brut Blanc de blancs Extra-Brut
Jacquesson Dégorgement Tardif
How can I avoid buying the wrong stock?
Allow us to answer that question by telling you… about us, and the care we take when monitoring the sourcing of wines. The wines we sell here at iDealwine come straight from the domaines themselves (direct purchasing), or the cellars of our connoisseur customers, most of whom are in France (95%), Belgium, Luxembourg or the UK. Of course, when making a purchase, it's very important to find out about the condition of the bottle (the level of the contents, the state of the cork and the label) and, if necessary, the provenance of the wine (type of cellar, storage conditions). At iDealwine, we take great care over our expert assessments of the wines placed in our hands. And it's no coincidence that today, with 16 years' experience in grand cru wine auctions, we are France's largest wine auctioneer.
What resources do I need to monitor wine investments?
As we've already said, this type of investment is ideally best left to the connoisseur; but certain market analysis tools are useful even to the informed wine lover. From its earliest days, iDealwine – a company which, don't forget, was founded by three veterans of the Paris stock exchange – developed a variety of tools for understanding and analysing the wine market using its unique database: the wine index, a veritable wine bible featuring more than 60,000 entries, giving the market prices for a given wine and year, with prices updated weekly based on the outcomes of major French auctions (including iDealwine): the iDealwine indices, calculated from iDealwine rates since 2007 and comprising four separate indices: three regional indices (Bordeaux, Burgundy, Rhône), made up of the flagship wines of each region, each considered over ten rolling years. It's France's benchmark index; the iDeal indices (Bordeaux, Burgundy and Rhône), calculated since 2001 and comprising the wines which best represent their respective regions (four years for each wine). By examining all of these coded data and indices, we are also able to publish monthly auction reports, analysing the wine auctions market and the key events in online sales.
But most importantly – and we can't emphasise this enough – if we could give you just one piece of advice, it would be this: never do wine the disservice of viewing it merely as an investment! It can be an excellent and highly pleasurable investment (for example, buying two cases of a wine you like with a view to possibly selling one on), but there's something depressing about reducing such a wonderful product to a mere stock exchange rate!
Watch the (French language) Les Echos interview with Angélique de Lencquesaing, iDealwine's Managing Director, which is packed with her advice about wine speculation: https://www.youtube.com/watch?v=ckHLId8lIsc
Read Hélène Dupuy's article in les Echos "The secrets of a good wine investment" (23/09/2016)
Read Hélène Dupuy's article in les Echos "Wine: how do you choose the right investments? " (23/09/2016)
See all wines currently on sale
Register here to access auctions and fixed-price sales
Read further on iDealwine Le Blog: