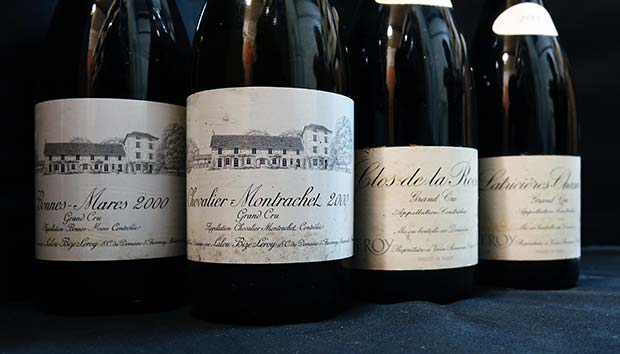 The sale on 10 May offered a collection of truly exceptional grands crus from Domaine Leroy and its white wine counterpart, Domaine Auvenay. It came as no surprise that prices for the wines, which were mostly acquired by Asian buyers, scaled new heights.
Domaine Leroy has long been renowned for the larger-than-life personality of its owner Lalou Bize-Leroy, a passionate exponent of biodynamic winemaking. Her scarce wines are already commanding premium ex-domaine prices and are virtually unobtainable on the secondary market, hence the exceptional nature of this sale with a group of approximately fifty lots, mostly red grands crus, but also a few whites.
Of the wines bearing the prized Lalou Bize-Leroy label, the Bonnes-Mares appellation was the star of the show, with a 2000 vintage bottle being snapped up for €1,980 (+150%). The Richebourg appellation was no slouch either: 1998 and 2000 vintages both went under the hammer at €1,920 a bottle. Given the scarcity of these wines and their infrequent appearance at auction sales, these results amount to an appreciation of their respective estimates of 260% and 158%. Turning to Romanée-Saint-Vivant, a 1998 vintage bottle sold for €1,500. Latricières-Chambertin 2000 achieved €1,260 (+108%), while a Clos-de-la-Roche of the same vintage sailed away at €1,680 (+158%). It is also worthy of note that buyers had to dig deep at €840 for a Corton GC Les Renardes 1998 (+85%) and €630 for a Vosne-Romanée Les Genaivrières 2000 (+12%). In the white wines, the grand cru Chevalier-Montrachet fetched €1,980, up 38% on its estimate.
The Leroy name is therefore eagerly sought out by enthusiasts, not just in Europe (France, Belgium), but in Asia. Customers in mainland China, Hong Kong and Japan bought 23 of the 51 lots from one of the two domaines offered at the sale.
Roumier, Ponsot, and Romanée-Conti
Alongside Leroy, the big names in Côte de Nuits were also represented at this splendid sale, and this was not lost on enthusiasts: a Musigny from Domaine Roumier in the 1991 vintage – which is scarce at auction – scaled the heights, going under the hammer for €3,720, 45% up on its auction estimate. In the same sale, a Clos de La Roche 1985 from Domaine Ponsot achieved €2,640 (+95%). As for Domaine de La Romanée-Conti, all prices continue their unstoppable ascent across all appellations as scarcity increases: €2,340 for a bottle of La Tâche 2003 (+5%), €1,380 for a Romanée-Saint-Vivant 1986 (+70%), and €1,080 for a Grands Echézeaux 1986 (+37%).
Read further on iDealwine Le Blog:
See all wines currently on sale
Register here to access auctions and fixed-price sales