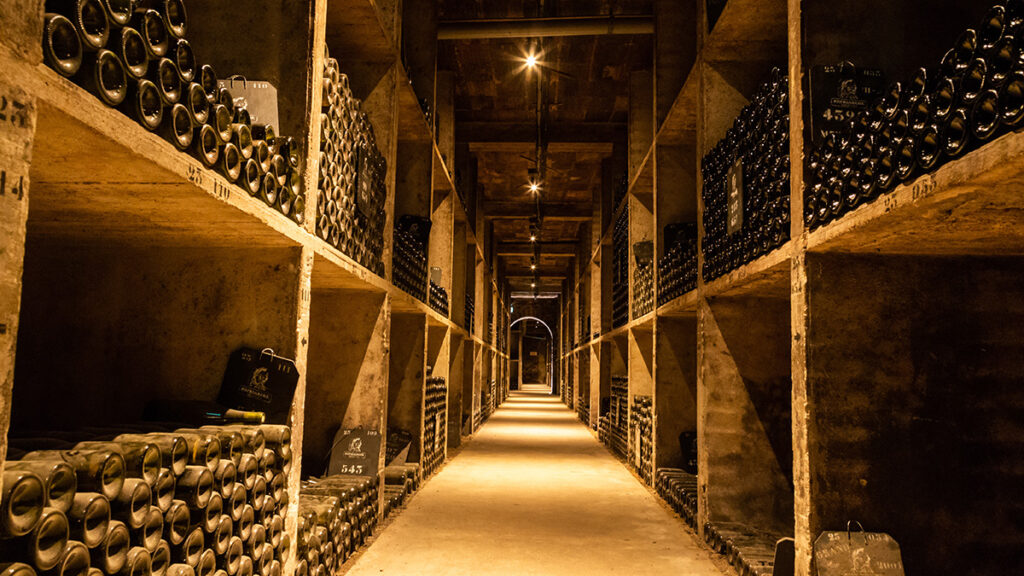 If you have already read our blog posts about Bordeaux's 2022 vintage, you'll know that it is an excellent year. Despite the drought that occurred, 2022 produced harmonious, balanced wines with very concentrated, complex aromas and powerful tannins. A perfect vintage if ever there was one! But which wines are best suited to being aged for many years to come?
OUR 2022 EN PRIMEUR ARTICLES 
2022 En Primeur | What's the latest coming out of Bordeaux?
En Primeur | Bordeaux 2022 Vintage: Weather conditions and wine profiles
En Primeur 2022 | Vintage analysis and top picks from Pessac-Léognan
En Primeur | Bordeaux 2022 Right Bank: vintage analysis and top picks
En Primeur 2022 | Unearth all the treasures of the Médoc
WHAT ARE THE INTRINSIC CHARACTERISTICS OF A WINE FOR CELLARING?
To be able to age a Bordeaux wine for many years, it must have several crucial characteristics, the main ones being:
Good tannic structure: Tannins play a key role in the ability to age a Bordeaux wine. They give it structure and firmness as well as contributing to its longevity. The tannins must be well integrated and dense, but also not too course so that they mellow and melt as the wine ages.
Concentration and intensity: A Bordeaux wine selected for cellaring should have pronounced aromas and significant concentration. This means that the aromas and flavours must be complex and have depth while the palate needs to be particularly long. High concentration is often gained by having lower yields of ripe grapes that are rigorously sorted.
Acidity: High acidity is essential as it insures freshness and liveliness as the wine ages. Acidity also helps to preserve the wine and avoid premature oxidisation. Bordeaux wines, particularly those from the fresher regions like the Médoc, often have good natural acidity which contributes to their ageing potential.
Balance: A good balance between all the components of a wine – tannins, acidity, alcohol, fruit – is essential for guaranteeing that it will age well. Each of them has to take its rightful place without overpowering the others to create the perfect balance.
Now that we have defined the characteristics needed for a wine to age 20, 30 or more year (as long as it is store in the optimal conditions), let's take a look at some of the wines from this year's en primeur releases that could withstand the test of time. We should say that this is a non-exhausted list and the vast majority of en primeur wines tick all the boxes listed above.
THE WINES WITH THE BEST CELLARING POTENTIAL FROM THE 2022 VINTAGE
Some of the properties listed below may not have been released yet, but you can create specific alerts on our en primeur website for them, so you know as soon as they are available.
Château Pontet-Canet's 2022 wine is momentously concentrated all while remaining extremely voluptuous and silky. Its depth is phenomenal and will win you over with its black fruit compote flavours and complex aromas of camphor, ink, graphite and balsamic. An extraordinary wine with a staggering length, it's an icon that will transcend the ages superbly.
Cellaring potential: at least 40 years
A superb 2022, mysterious and mesmerizing, complex and refined. The wine reveals a great aromatic complexity with crunchy red fruits and delicate hints of violets that highlight its very wonderful power and never-ending depth. Its tannins are astonishingly silky, and they gracefully show off the superb concentration of all elements.
Cellaring potential: at least 40 years
Produced from 70% whole bunches, this 2022 possesses a deep and captivating nose with delicious red and black bruit aromas (blackberries and blueberries) as well as mineral and floral notes. The palate is incredibly silky, offering perfect, very elegant tannins, a great purity and density as well as a superb length. Highly successful, it is full of fresh black fruits of blackcurrants and blackberries.
Cellaring potential: at least 30 years
Aromas of undergrowth and black fruit rise from the glass. On the palate, the texture is soft, silky, dense and powerful, with robust, yet well-integrated tannins. Its undergrowth flavours give it that extra bit of complexity and the finish is particularly long.
Cellaring potential: at least 30 years
The wine delivers a nose perfumed by notes of wild blackberries and liquorice. The first drop reveals a harmonious wine with integrated, silky, fine tannins. The finish goes on and on and contains beautiful aromas of black fruits and a delicate peppery note.
Cellaring potential: at least 30 years
Adorned with a new label celebrating the château's 40th harvest, this wine exudes black fruit and undergrowth aromas, and the palate is particularly soft and silky with noticeable but fine tannins, possessing a certain freshness and woody notes. Its wonderfully pronounced aromas and dignified tannins will take it far.
Cellaring potential: at least 30 years
For this first vintage certified biodynamic, the wine offers a very mentholated nose full of liquorice and black fruit notes. On the palate, it is beautifully concentrated and powerful thanks to the silky tannins and the enveloping body. The long finish is sunny and warm.
Cellaring potential: at least 25 years
This wine reveals black cherry aromas. On the palate, the first drop is gentle and becomes silky with an acidulous fruitiness, freshness and power which creates a crescendo. The long finish ends with fresh, fruity notes.
Cellaring potential: at least 25 years
Château Branaire-Ducru's 2022 vintage is full of raspberry and cherry aromas. Once on the palate, it is fresh and energised from the very first drop with red fruit aromas that are almost acidulous, giving it an excellent spirit. Its dense body and melted tannins stretch right into a more gentle, delicate finish.
Cellaring potential: at least 20 years