We kick off our en primeur tasting reports from the Left Bank with Graves and Pessac-Léognan. The particularly well-draining vineyards have emphasised the resilience of the vines. Upon tasting, the red wines are consistent and of excellent quality, while the whites are rounder, richer and more sapid than usual.
Our articles about the 2022 en primeurs
2022 En Primeur | What's the latest coming out of Bordeaux?
En Primeur | Bordeaux 2022 Vintage: Weather conditions and wine profiles
The 2022 vintage in Graves and Pessac-Léognan
For a full breakdown of the vintage's overall weather conditions, please refer to our dedicated article above. In a nutshell, this vintage was extremely hot with little rainfall, which caused water stress for the vines and limited the size of the berries.
Do gravelly soils combined with a hot and dry vintage create a below-par wine?
You probably already know that the Graves and Pessac-Léognan vineyards have poor soils, constituted of the famous 'Graves' (rolled pebbles, various gravels mixed with clay, sand, silt, hardpan and limestone). These types of soils drain particularly well and provide less surface clay than those found in the Médoc or the Right Bank, for example. This is typically an asset as the region has a fairly rainy oceanic climate, often exceeding the optimum rainfall for wine, but it can also become a liability in very hot and dry vintages such as 2022. Risks range from the loss of a significant percentage of the harvest, to overripe and somewhat scorched grapes, to poor balance due to lack of acidity and high alcohol content…
This vintage seemed difficult and risky on paper, suggesting that the wines would be too sunny. And yet, as you will find in our top picks below, despite the analyses which effectively reveal fairly low acidity levels (relatively high pH) and alcohol levels often close to 14%, it is obvious that upon tasting, the wines are surprisingly fresh and well balanced, with a genuine aromatic freshness, intense fruitiness, and well-integrated tannins and alcohol. There is no denying that this is nevertheless a 'sunny' vintage, with a tannic structure that is generally noticeable, yet also elegant, and sunny in the right sense of the word: none of the wines lack maturity or possess vegetal characteristics. The Merlot grapes imparted intense fruitiness and freshness while the Cabernet Sauvignons brought concentration and structure.
This year, the white wines from these vineyards display a somewhat different profile than usual, far less marked by acidity (with pH levels comparable to 2015, 2016 or 2020), rounder, richer, and more sapid, with a bouquet that combines traditional citrus fruits with white fruits, sometimes tropical fruits, and hints of honey. The Sauvignon Blancs provide a delightful aromatic freshness (with citrus and floral notes) and the Semillon grapes bring structure and substance. These wines will likely charm enthusiasts who may at times be put off by the high acidity of Sauvignon, less present in this particular vintage.
Harvests
The harvest of white grapes in the Graves and Pessac started before 20 August, while the Cabernet Sauvignons were picked from the beginning of September until 15 October. Weather conditions made it possible to pick all the grape varieties at full maturity and to harvest healthy grapes.
Quite naturally, given the draining soils that gave the Graves appellation its name, these vineyards were affected by the drought, which diminished part of the harvest (small-sized berries).
Our Pessac-Léognan Top Picks
White wines
This 2022 vintage, consisting of 65% Sauvignon and 35% Semillon, displays aromas of citrus fruit, grapefruit, Sichuan pepper, and white flowers. These fragrances are echoed on the palate, carried by freshness and bitterness, particularly on the finish.
This Chevalier Blanc, a blend of 70% Sauvignon Blanc and 30% Semillon, bears a new label to celebrate the château's 40th harvest. It exudes sweet floral aromas and reveals great ripeness on the palate, a good balanced between freshness and roundness, power, and a pleasantly buttery texture that will appeal to amateurs of Burgundian whites. This wine is sapid, with citrus flavours, and offers a very good length, full of character and enhanced by fine bitters.
The percentage of Semillon is greater here than elsewhere (45%). On the nose, this wine reveals delicate aromas of white flowers such as acacia, citrus fruits and quince. The palate is subtle, unveiling a smooth, airy and elegant texture.
The wine produced with a large proportion of Sauvignon Blanc offers a lively and rich nose, combining floral, honey and exotic fruit aromas with hints of menthol. On the palate, it reveals a wonderful balance between the sweetness, freshness and bitterness. The texture is both round and light, ripe and sapid with a beautiful acidulous fruitiness.
Made with 90% Sauvignon Blanc, complemented by Sauvignon Gris and Semillon, this wine presents a (citrus) fruity and floral nose. The mouth is full-bodied, fresh, racy, flavourful, and offers great length.
Red wines
Made with a majority of whole bunches (70%), this wine exhibits an intense bouquet of red fruits and an incomparable silkiness on the palate, with great elegance, good substance, luscious fruitiness and superb length.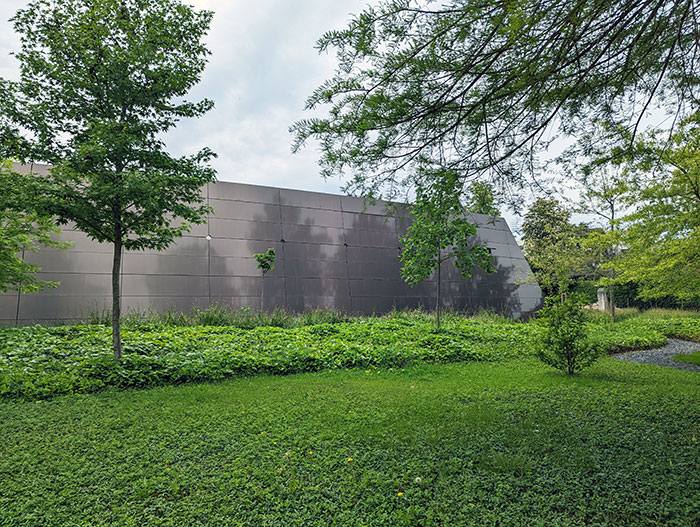 The nose reveals black fruit aromas and notes of undergrowth. The palate is full-bodied and powerful, yet fresh, well balanced, elegant and complex.
The nose is rather subtle and the first drop to reach the palate is soft, revealing an acidulous wine with a fluid, silky and quaffable texture. There is no shortage of depth in this very well-balanced ensemble with a beautiful length.
This biodynamically produced Pessac is made primarily from Merlot (45%), supplemented by Cabernet Sauvignon (35%), Cabernet Franc (12%), and Petit Verdot (8%). It stands out for its lovely fruity nose (delicious small red fruits) and a superb mouthfeel, sleek, light, quaffable and fresh. The tannins are prominent, especially in the finish, but they came from a gentle extraction when the wine was made, creating an infused style.
This wine is full of red and black fruit aromas, with hints of fresh menthol and liquorice. On the palate, it is well balanced with a dense, silky, round body, a pleasing minty freshness and a beautiful length. A particularly elegant and harmonious wine.
The nose is dominated by notes of cherries and red currants, while the palate is extremely round and smooth with a fruity acidity and a concluded by a wonderful length.
The nose reveals fruit and woody aromas and the fruity and silky palate is fresh, balanced, elegant and quaffable.
The nose is subtle, fruity and spiced while the very racy, balanced and fresh palate possesses a silky mouthfeel. This wine offers a lovely soft texture with great length.
See the Pessac-Léognan en primeur wines
See the Graves en primeur wines