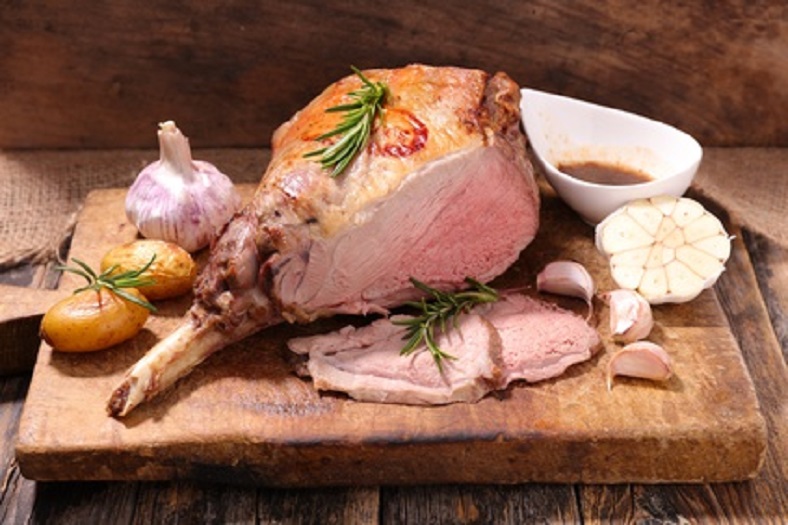 With Easter just around the corner, we asked our team which wines they are planning to serve alongside the festival's traditional dishes. From the classic leg of lamb to indulgent chocolate eggs, their suggestions are bound to make your mouth water.
The fact that Easter has come around during such an unprecedented period is no reason to refrain from cooking a traditional meal. You can buy a full leg of lamb, as usual, even if you won't be eating with your whole family! Once cooked, lamb can be kept in the fridge for quite some time, and it is a way of supporting small businesses that are currently up against it.
You might be on your own, or just with one or two others, but celebrate Easter however you can – an egg hunt inside and Skype with the rest of the family! Here is what we'll be cooking…and opening!
Aperitif: Salmon toast and Rosé de Saignée Sève en Barmont by Olivier Horiot
Astrid, who works in the buyers team and originally comes from the Champagne region, has decided to open one of her favourite cuvées. To kick off the festivities, she is serving a rosé from Olivier Horiot. This is a wine that can be enjoyed throughout the meal, but this time it will accompany an amuse-bouche of smoked salmon. The delicate texture of the wine will complement the oil of the fish wonderfully.
Starter: Asparagus and Les Romains by Alphonse Mellot
For a starter, Raphael is a great fan of asparagus, a perfectly seasonal vegetable! White or green? He's not sure yet. 'With white asparagus I would opt for one of my favourite wine makers from Sancerre: Alphonse Mellot, especially his Les Romains cuvée. This wine is rich but retains a good tension, pronounced minerality and citrus notes. With green asparagus you'll want a denser wine, perhaps a Condrieu from Georges Verney. Les Terrasses de l'Empire is a fresh and fruity Condrieu with great balance.'
A classic: Lamb with 2010 Château Belle-Vue
As is tradition for Lionel, he will be opening a bottle of Château Belle-Vue with his Easter dinner. This year, he has chosen the 2010, a great vintage. This is one of our favourite domains. Vincent Mulliez bought it in 2004 and was passionate about its development until his sudden death in 2010. Opening a bottle from here is a way of paying homage to a true enthusiast. Plus, this Haut-Medoc pairs perfectly with lamb: its delicate tannins go perfectly with the flavoursome character of this meat.
An alternative: Lamb with Terrasses du Larzac by Domaine de Montcalmès
Angélique has decided to go down a more original route with a Languedoc wine: 'I'm planning to open a bottle of wine from the Languedoc region that I managed to get delivered during confinement! This is the 2016 vintage from Domaine de Montcalmès. It has incredible energy, offering crisp and delicious aromas. It isn't too soon to drink it, even though it would undoubtedly have become more complex over time.'
Another variation: Lamb with thyme and honey, Figari from Clos Canarelli
Justine from the sellers team has also decided to move away from the traditional pairing of lamb with Pauillac wine. She'll be taking inspiration from further south, with the Figari cuvée from Clos Canarelli in Corsica. This is a blend of Syrah and Niellucciu, the emblematic Corsican grape variety. The delicate palate, intense aromas of dark fruits and the softened tannins will complement a thyme and honey leg of lamb. Justine has a penchant for organic and biodynamic wines, so we trust that this will be a delightful bottle to enjoy on Easter Sunday!
Dessert: Strawberry tart with Gewurtztraminer Furstentum Grand Cru from Domaine Bott-Geyl
For Constance, Easter is a wonderful time to get in the kitchen. She'll be making the most of the weekend to bake a superb strawberry and lime tart. And to complement this colourful dessert, she has chosen a Furstentum grand cru in the 2009 vintage from one of our favourite Alsace domains, Bott-Geyl. The natural acidity and residual sugar in this wine will underline the freshness of the fruit.
An after-dinner indulgence with mature Maury
One of the classic Easter activities is, of course, an egg hunt, and this year's might require a little more imagination. And for the adults with a sweet tooth, Elsa from the marketing team suggests pairing chocolate treats with a mature Maury. Its aromatic bouquet has hints of kirsch, cherry, gentle spices like cardamom, and menthol – these notes will complement dark chocolate with a high cacao percentage. A true pleasure for the taste buds, and an ideal way to round off the meal.
Head to our website to see all the wines we have for sale