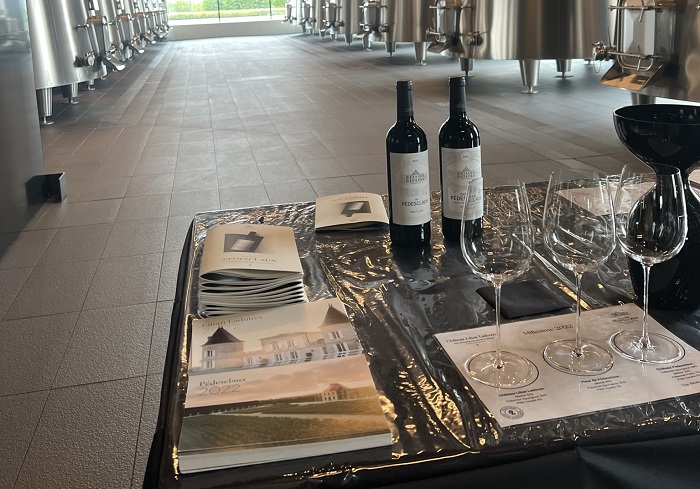 Following our review of the 2022 vintage in the Graves and Pessac-Léognan, it's time to travel up the famous Left Bank to embrace some of Bordeaux's most famous appellations. Here's an account of our many tastings in the prestigious Médoc, our top picks and our recommendations for stocking your cellar with the covetable 2022 vintage on Primeurs.idealwine.com
OUR 2022 EN PRIMEUR ARTICLES
2022 En Primeur | What's the latest coming out of Bordeaux?
En Primeur | Bordeaux 2022 Vintage: Weather conditions and wine profiles
En Primeur 2022 | Vintage analysis and top picks from Pessac-Léognan
En Primeur | Bordeaux 2022 Right Bank: vintage analysis and top picks
THE 2022 VINTAGE IN THE MÉDOC
To find out about the overall weather conditions during the year, refer to our dedicated article.
In a nutshell, 2022 was a very hot, low rainfall year which resulted in water stress for the vines and limited the size of the grapes. High technological maturities led to high concentrations of both aromas and alcohol, yet against all expectations, the wines emerged with fresh profiles, devoid of any heaviness or jammy aromas.
The Cabernet Sauvignon grapes –  Médoc's main varietal – which obviously did not suffer from under-ripeness this year are bewitching, and especially so in the great terroirs, offering brilliant tannic structure and a racy character. The perfect vintage!
OUR TOP PICKS IN PAUILLAC:
The plateau overlooking the vats at Château Lynch-Bages
This year, the Union des Grands Crus de Bordeaux tasting of Pauillacs and Saint-Estephe was held in the brand-new winery at Château Lynch-Bages, on the plateau overlooking the imposing concrete vats, an entirely glazed vinification facility with unparalleled luminosity.
On the nose, this wine reveals delicious, fresh red and black fruit. On the palate, this olfactory pleasure is matched by remarkable density and concentration, as well as an invigorating freshness that energises the ensemble. Depth, nobility and succulence blend harmoniously, culminating in an elegant and graceful finish.
The Duhart Milon wines come from fresh terroirs, showing their full potential in 2022. They are matured in 50% new barrels and around 50% barrels previously used for wine, alongside amphorae. The nose is pleasantly fresh, reflecting the perfect ripeness of the fruit. Smooth and velvety on the palate, with perfectly integrated, delicate tannins, this wine offers an intensely fruity experience. The finish offers a fine balance with peppery notes.
Château-Pontet-Canet's 2022 vintage displays monumental concentration combined with great voluptuousness and a silky texture. Its depth is captivating, transporting us to an intense combination of black fruits and complex aromas such as camphor, ink, graphite and balsamic. This is an outstanding wine with breathtaking length, a true icon that will stand the test of time.
The nose is fruity (black fruits) with woody fragrances. On the palate, the attack is powerful, giving way to a clean, ripe, sapid, dense mid-palate with plenty of substance and a lengthy finish offering fine bitters.
Considering the conditions of this year, this superb Château-Lafite-Rothschild 2022 vintage retains a surprising freshness right through to the finish. Matured in barrels, 80% of which are new and crafted in the Château's own cooperage with gentle, slow toasting, this wine displays a bouquet brimming with crushed red fruit and berries. The mouthfeel is perfectly balanced and well rounded, with a beautiful expression of black fruit and an elegant bitterness on the finish. On the whole, this is a serious, elegant wine of great nobility.
OUR TOP PICKS IN SAINT-ESTÈPHE
Tasting this wine reveals a delicate bouquet, where freshness is enhanced by mineral nuances of graphite and pencil lead, combined with slightly spiced aromas of wild fruit. On the palate, a soft, light texture unfolds, revealing flavours of liquorice and cocoa combined with black fruit. The tannins are soft and already well integrated.
This wine displays aromas of black fruit, bramble and floral notes. Smooth on the palate, with present but fine tannins, this wine is both punchy and delicious. One of our favourite Crus Bourgeois!
The Château Phélan Ségur 2022 reveals aromas of black fruit and hints of sweet spices. On the palate, the wine reveals silky, elegant tannins and a fleshy, slender, harmonious texture, combining power and elegance. A very full wine with beautiful length.
The Meyney 2022 boasts a very pure nose of black fruit, enhanced by spices (pepper, liquorice). On the palate, the attack is lively and all of it is structured by powerful tannins. Although these need to mellow, they promise excellent ageing potential. The ensemble is beautifully balanced, with an intense finish.
OUR TOP PICKS IN MARGAUX:
This year, the Union des Grands Crus de Bordeaux invited us to Château Lascombes, an illustrious Second Cru Classé in Margaux. The Margaux wines proved, as they do every year, not to be so easy to taste during the primeurs campaign. This was an interesting exercise for our team, involving identifying a wine's potential behind its sometimes predominantly alcoholic side.
The colour is dense, inky and velvety. The nose reveals floral notes delicately seasoned with peony. The attack is velvety and silky, coating the palate with a fully developed substance. The finish is lively, tangy and bursting with energy, offering a bouquet of black and forest fruits enhanced by light, peppery floral notes. The ensemble is outstandingly persistent, with intense freshness and tannins that are already well mellowed. A highly distinguished wine.
Château Giscours' 2022 vintage pulls off a superb balancing act, with a deep structure juggling bright red fruit and elegant black fruit, resulting in a complex, subtle wine with bewitching depth.
On the nose, this wine reveals aromas of undergrowth and black fruit. On the palate, the texture is soft, silky, dense and powerful, with robust yet well-integrated tannins. The undergrowth aromas add further complexity, and the finish is exceptionally long.
The ideal climate conditions during the harvest allowed the grapes to be picked several times, bunch by bunch, at perfect ripeness (up to four times per plot!). Thirty percent of the harvest was matured in amphorae, the rest in new barrels. Tasting the 2022 vintage reveals extremely pure fruit, a juicy body and very fresh aniseed and floral notes. The texture is silky and offers a lot of finesse. The finish is mentholated, lively and wrapped in delicate tannins.
Its powerful tannic structure frames beautiful aromas of ripe red fruit and redcurrant, offering a balance between power and freshness. The wine's mineral structure provides the finishing touch with good length.
OUR TOP PICKS IN SAINT-JULIEN:
The tasting for the Saint-Julien wines was held at Château Beychevelle. The wines are very successful, boasting silky tannins and velvety textures, with a finesse that will develop after long-term cellaring. Their balance verges on the exceptional, with fine aromatic concentration without ever lapsing into heaviness.
Château Gloria's 2022 vintage, true to form, is a great delicacy, with aromas of red fruit purée and a velvety, mouth-enveloping texture. It's a delightful concentration of round fruit that will be ready to enjoy after a few years' cellaring.
Château Branaire-Ducru's 2022 vintage oozes raspberry and cherry aromas. On the palate, it reveals freshness and vitality from the attack, with an almost tart aroma of fresh red fruit, imparting a lovely energy that extends to a softer, more delicate finish.
At this early stage of maturation, the wine displays light woody and vanilla notes which mingle with black fruit aromas. Smooth, refined, dynamic and deep substance in the mouth, in a powerful yet well-balanced style.
Château Talbot's 2022 vintage displays a characteristic freshness, offering a full, refined palate revealing the influence of the clay soils covered with thin layers of gravel. The structure is enlivened by a pleasant vivacity that mingles with a noble bouquet of black fruit, providing good length and great digestibility.
This wine displays black cherry aromas. On the palate, the first drop to reach the palate is gentle, revealing a beautiful silky texture, freshness and power that gradually intensify. The long finish ends on fresh, fruity notes.
On the nose, this wine reveals aromas of undergrowth. The palate stands out for its clean, elegant character, offering fine nuances of red and black fruit (blackcurrant, wild blackberry, raspberry). The remarkably fine tannins underline the complexity and aromatic depth. The freshness that emerges at the end of the tasting lengthens and balances this wine to perfection.
OUR TOP PICKS FROM ELSEWHERE:
While Pauillac, Margaux, Saint-Julien and Saint-Estèphe are on everyone's lips when the Médoc is mentioned, it would be a great pity to miss out on the gems that lie within the neighbouring appellations. Situated slightly further back than the Gironde estuary, but often benefiting from excellent quality terroirs, appellations such as Listrac-Médoc, Moulis-en-Médoc or Médoc and Haut-Médoc produce great wines, which are once again very successful this year. Many of the wines mentioned here have no reason to blush in front of their illustrious neighbours.
On the nose, this wine displays aromas of black cherry, blackcurrant and hints of undergrowth. On the palate, a solid tannic structure frames a smooth, dense and concentrated substance of remarkable fullness. An iron fist in a velvet glove. A firm favourite with the team!
The subtle, elegant fragrances of red fruit seamlessly blend with woody nuances. On the palate, a fine balance between power and freshness emerges, with generous tannins and a complex aromatic palette of black fruits and spices, unfolding towards a finish marked by a touch of complex balsamic.
Château Fonréaud's 2022 vintage reveals a magnificent structure, supple tannins and a velvety texture on the palate. The combination of black and red fruits that define its aromatic profile is extremely flavoursome, while maintaining a noble nature. This wine can be enjoyed after 3 to 5 years' cellaring but will reach its peak after 15 years without losing any of its charm.
Château du Taillan's 2022 vintage displays a silky, fine and mineral texture. On the mid-palate, bright red and black fruits take centre stage. The aromatic intensity is outstanding, with prominent red fruit coulis and a most intriguing depth on the palate, evolving to a long, refined finish.
The quality of La Tour Carnet continues to rise. This fourth Grand Cru Classé from the Haut-Médoc is at its finest this year. A powerful, complex wine, offering rich, concentrated aromas, boosted by admirable freshness from the attack to the finish.