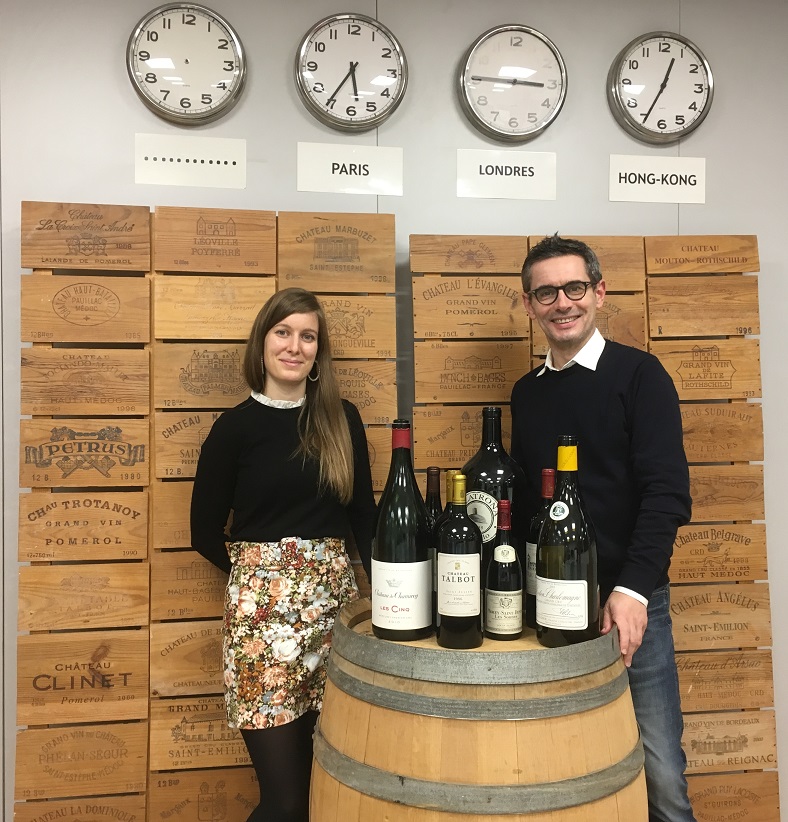 With a year of lockdowns and curfews, recently exacerbated by unprecedented situations in the UK and the US, we are living through a time so unusual that it has called into question much of what we took for granted. We held interviews with Lionel (Deputy Managing Director of iDealwine), Fanny (Sales Project Manager), and Alix (International Development Manager) to get an overview of the wine market at present.
Lionel, after two lockdowns in France, what changes have you seen at iDealwine?
This is a period like no other. In 20 years, I have never known such a moment in the auction world. Thinking about the lockdowns, France's first was a real gold rush for us. The site saw a huge increase in new clients, and we also saw an increase in the rate of bids placed higher than starting prices. As for the performance of our fixed price wines, we saw a real boom in sales. The element of surprise this year, with physical shops closing and fear of shortages, pushed many people to purchase lower priced bottles to enjoy at home.
Our second lockdown came in November, and wine lovers certainly weren't caught off guard this time. Their cellars were likely to be better stocked, too. Pressure was reduced since food businesses were able to stay open in certain forms. Nevertheless, we saw an increase in buying pressure once the curfew was introduced; it's likely that people are opening a bottle of an evening more often, since they will certainly be at home.
Despite the obstacles posed by the health crisis, iDealwine has managed to achieve some positive outcomes. Are you worried about a third lockdown?
Considering the current context, I reckon we need to prepare for this. A third lockdown would continue to anchor the importance of digital commerce, and sociological studies show that it takes is to eight weeks for a person to alter their habits. We saw this earlier in 2020, and the effect was a rapid growth of the market; in just a few months, it 'aged' five years.
What are the lessons and ambitions iDealwine can draw from this long health crisis?
Now that we've seen such an increased interest for purchasing wine online, we have to be more vigilant than ever about how the market evolves and how the habits of buyers are changing.
Fanny, you manage the auction administration. What conclusions have you drawn from the lockdowns?
We counted quite a lot fewer individual sellers in 2020, though the sales were dynamic. We went from 2,289 individual sellers to 1,941. We aren't too worried about this, as we know that lockdown has made it harder for people and products to move around. Also, the wines we did sell were of really good quality, with the average bottle selling for €93 in 2020 compared to €75 in 2019.
The second lockdown was less limiting as we could provide travel certificates for clients who wished to drop their wines off at our warehouse.
More generally, lockdown has meant more time for wine enthusiasts to think about their cellars and take an inventory. Fortunately, improving our procedures before the crisis has really come in handy. For example, documents can be signed electronically, and we've simplified our estimate request form.
As for the sales, we've never had such a low rate of unsold lots. Whereas before there was quite a consistent (though low) number of wines not sold from one auction to the next, we're now reaching a point where most find a buyer every time. It's very rare to see a bottle that remains unsold after three auctions. We're always looking for products to replenish our catalogues! 😊
What kind of sellers do we see at iDealwine?
The proportion of private and professional buyers has stayed the same. For three years, 97.5% of our sellers are private clients. At the same time, if there is another lockdown, we are likely to be approached by more professionals. Some restaurant and hotel owners might have to sell off some of their stock.
In terms of the products themselves, which wines have been the most sought-after in recent months?
Honestly, we've never seen such diversity in our wine sales, in terms of region and vintage. There's a real thirst for new discoveries, and all kinds of wine have been selling well. Of course, natural wines and certain emblematic domains in the Loire and the Jura have seen their value soar. Big vintages and prestigious Burgundy names, especially Domaines Leroy, d'Auvenay, and Romanée-Conti, have attracted the crowds. Only some of the more traditional wines and very recent vintages have seen less interest since there is no lack of this kind of cuvée. Rarity reigns.
Alix, what are the most significant developments outside France that have impacted our activity?
The most pressing issues are in the US and the UK. In the US, the question of extra tax placed on imported wine began all the way back in 2019. These have recently been extended, now applying to all still wines and cognacs. Italian and sparkling wines aren't impacted by the taxes. This has been a hot topic of conversation, as many clients are hoping that the arrival of new president Joe Biden might see this measure overturned.
The situation in the United Kingdom, which is our second market, is more complicated and totally linked to Brexit. For the moment, none of our products can circulate between the two countries, so we're doing everything we can to find a solution. Of course, our customers in the UK can still place orders with us in the meantime, and their wines will be kept in our specialist warehouse. Storage will be free for these customers.
See all the wines we currently have for sale
Request an estimate for your wines