Wines from South Africa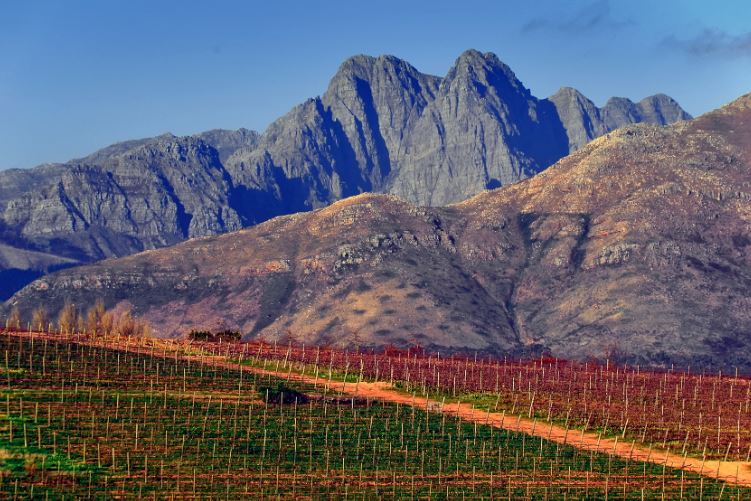 Although vine cultivation has a much longer history in this country, the wines of South Africa rose to world fame thanks to Klein Constantia, the wine drunk by Napoleon during his exile on St. Helena. However, the country's vineyards have endured many hardships since then. Firstly, because of the commercial embargo as a result of apartheid; and secondly, because of a national fall in wine consumption. The wine industry has succeeded in its move upmarket, and South Africa has regained its previous status.
The country's vineyards are located mainly in the Cape region, and particularly in the south-west (Western Cape). This region enjoys high rainfall, a temperate climate and a long period of grape maturation. South Africa produces mostly white wine (55%), particularly from its famous "Steen" (the local name for Chenin Blanc). However, quality is fairly inconsistent.  Sweet dessert wines are produced from Muscat of Alexandria or, in the case of Klein Constantia, from Muscat à Petits Grains. Sauvignon and Riesling are increasingly common plantings. The same is true of Chardonnay, which is still fairly rare, but produces very convincing wines from limited yields.
Red varieties in the Stellenbosch area produce superb results. Here, Cabernet Sauvignon is king, but often has a deeper colour than in Bordeaux. Syrah is also gaining a foothold. When very ripe, it more closely resembles a Shiraz from Australia or the Southern regions. Lastly, Pinotage – a local crossing of Pinot Noir and Cinsault – produces red wines for everyday drinking.
Here at iDealwine, we're fans of Orrance whites, produced from Chenin or Chardonnay. From the Stellenbosch area, we can recommend the red wines of Glenelly (from the former owner of Château Pichon Longueville Comtesse), offering its own interpretation of a South African Cabernet Sauvignon. Lastly, north of Stellenbosch, but still within the Western Cape area, is the region of Swartland. Probably the best producer in these parts is The Sadie Family.
Australia
Australia covers a vast area. Vines were planted by the first colonists, who were spared the misfortunes of their North American counterparts. The wine region is located mainly on the southern side of the continent, along the coastal regions of Western and South Australia, New South Wales and Victoria, as well as the island of Tasmania. The vineyards of Australia are divided into GIs (Geographic Indications) for compliance with European legislation. These have little to do with the major regions listed above. Irrigation is permitted, but some producers attempt to make do without it.
South Australia
This state alone is responsible for 50% of Australian wine production. This region was also never affected by phylloxera. It mainly produces fruity wines for everyday drinking… but also a few of Australia's finest wines, from the Barossa Valley and Eden Valley, and also McLaren Vale.
Barossa Valley and Eden Valley
Barossa Valley (near Adelaide) is the favoured region of the Shiraz (Syrah) grape. Harvested when very ripe, it resembles the Syrah of South Africa. It was Penfolds who championed Shiraz wines from this region. Grenache and Shiraz were gradually introduced to the region to be blended with Shiraz. Further to the south-east is the adjoining Eden Valley. A throwback to colonists from Germany, it produces fine Rieslings, but in a rich, opulent style.
McLaren Vale
With its Mediterranean climate, McLaren Vale produces excellent Shiraz wines which are less rich and opulent than their Barossa Valley counterparts. The vineyards of Arenberg provide some of the best examples. The wines are produced in a style which is probably more to the European taste.
Western Australia
Margaret River
Western Australia may only account for 3% of wine production by quantity… but the quality here is excellent. In particular, we can recommend the wines of Margaret River. This area is home to some superb Cabernet Sauvignon wines, blended with Merlot. The region is often compared to the maturity of a dry vintage in Bordeaux. But when it comes to the white grapes, Sémillon and Sauvignon have replaced Chardonnay, producing wines with a character reminiscent of a white Graves. We can particularly recommend the produce of Cullen Wines.
Wines from New Zealand
The vineyards of New Zealand are shared between its North and South islands. Vines arrived in the 19th century, but the vineyards quickly fell victim to phylloxera. Kiwi growers opted to plant American vines instead of soldiering on with their European cousins. The 20th century was thus a story of slow, profound decline. It was not until the 1970s, and the serious agricultural crisis which hit the country, before the situation began to turn around. This was the decade when the first Sauvignon vines were planted…
South Island
Marlborough
This is New Zealand's most famous region. Winter here can be very cold, as can spring. Summer, however, is hot and dry, and the vines suffer from water stress. This region accounts for three quarters of the country's production. Sauvignon Blanc rules supreme; the famous Cloudy Bay is a case in point. Here at iDealwine, we can recommend the wines of Dog Point Vineyard.
Central Otago
This region experiences considerable temperature variation, with very severe winters and hot summers. In the north-facing vineyards, however, there are magnificent expressions of Pinot Noir, such as the generous, slightly sugary Felton Road.
North Island
Hawke's Bay
The climate here is hot, but tempered by the ocean. With an area of 5,000 hectares, it is the country's second largest wine region (although, admittedly, far behind Marlborough's 22,000 ha…). The predominant grapes are the Bordeaux varieties for the reds, and Sauvignon and Chardonnay for the whites. Here at iDealwine, we've been very impressed by the wines from the Te Mata Estate.
See all wines from the New World currently on sale 
Read further on iDealwine Le Blog:
Bordeaux 2011-2014 for every style and pocket
Register here to access auctions and fixed-price sales