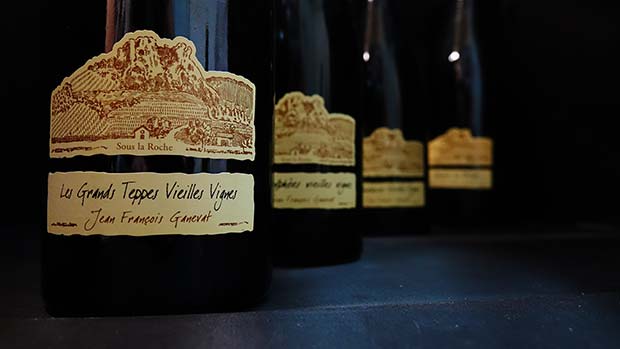 For a few months now, a new phenomenon has emerged on iDealwine online auctions: some marginal wines, called natural wines or "nature" wines have soaring prices. Is this a simple fad or a new long-lasting trend? What should we think of this surprising inflation and will it concern an increasing number of domains? Analysis.
Several renowned bottles have seen their prices increase tremendously, like Lafite-Rothschild, Romanée-Conti and Clos Rougeard. For such names to be expensive, it's quite normal. What's worrying amateurs is that even lesser very qualitative bottles are becoming more expensive like a confidential Sauvignon from the Loire, auctioned lately at nearly €200 or Sancerre Clos de la Neore Edmond Vatan, which went under the hammer for the same amount as a great cuvée from Burgundy would. At this point, amateurs begin to wonder: will they have to give up ​​drinking good wines which, less than ten years ago, were still within reach?
The sharpest enthusiasts consoled themselves with very qualitative confidential bottles that only they knew, produced by winegrowers who didn't attract fortunate "label drinkers", like Pierre Overnoy and Jean-François Ganevat from Jura, or Richard Leroy from Anjou. But no, over the past few months Overnoy's yellow wines sold nearly for €1,000 per bottle at iDealwine online auction, Ganevat's cuvées reached €150 and Richard Leroy Coteaux-du-Layon, an appellation that was never sought-after, are gradually approaching the symbolic price of €100. We thought these wines weren't very famous! Sharp amateurs no longer know what to do. Is the whole world becoming "naturist"? Before analyzing this new phenomenon highlighted by our recent auctions, let's first try to define what a "nature" wine is, a term more and more used in the wine industry, but still quite vague to understand.
Natural wine?
Certifications exist for organic and biodynamic wines, but there aren't any for nature wines, even if there is the AVN (Association des Vins Naturels: Association of Natural Wines) which specifies in particular:
The aim of AVN winemakers is to produce wines "through natural winemaking", which means without any inputs
Cultivation must be certified organic or biodynamic
Grape harvesting must be manual
Only indigenous yeast (used in recent winemaking) are used for current winemaking
The grape constitution is not voluntary modified, and therefore no brutal and traumatic physical techniques are used (reverse osmosis, tangential filtration, flash pasteurization, thermo-winemaking, etc.)
No added sulphites or any other inputs
The problem is that although a significant number of winegrowers are part of this association, many who claim themselves "nature" are not part of it. Unfortunately, neither Richard Leroy nor Jean-François Ganevat nor Pierre Overnoy are members. So, for most sharp consumers, who don't necessarily consider natural wines as almost always deviant, a wine of this type is certainly an organic or biodynamic wine and made as naturally as possible, especially with as less sulfur as possible.
What's sure, however, is that it is almost always a matter of slightly marginal wines in their respective appellations, produced by rebellious vine growers. Natural wines were produced by domains only known among great wine lovers, at the beginning, at least. In any case, wines we imagine protected from globalization. Yet, what is happening in our online auctions proves the opposite. How can we explain this phenomenon?
A temporary bubble?
How can a wine only known by French amateurs increase that much at auction? Several possible explanations:
A fad. No good dreaming. If a few "trendy" wine merchants and wine bars (from Paris or the rest of France) put forward some domains, by saying wonders to their customers, this phenomenon won't stop at the borders of the hexagon. In New York, Tokyo, Shanghai or Hong Kong, there are also wine shops, wine bars and "fashionable" restaurants that offer these "delicious French natural wines" over which French consumers are fighting. Demand is becoming global and auctions increase.
The small quantity of these wines offered at auction also explains soaring prices, especially with a brutal fad. If only three or four lots of Pierre Overnoy's yellow wine are for sale, auctions are more likely to explode than if there were dozens of them, as it is the case for Bordeaux wines, for example, even for first classified growths. The production of these domains is initially quite weak and nobody had the idea of keeping them to resell them after. Most of them were drunk when bought many years ago, which reinforces their rarity.
The quality of these wines. For sure, some wealthy amateurs are simple "label drinkers", but if the wines of Richard Leroy, Ganevat and Overnoy (like Clos Rougeard or Vatan) weren't any good or had defects, this trend would have quickly faded away!
A little help from destiny. This is probably the main reason for Richard Leroy's wines. Indeed, a comic strip published in 2011, "Les Ignorants", describes the jobs of two different people, one being the author of the comic, Étienne Davodeau, and the other a winemaker, Richard Leroy. A rather austere comic strip, in black and white, not at all funny, a little serious but very nicely done and which has had an incredible success in its league, sold in tens of thousands of copies. Such success implies many interviews of both "heroes" on television, and this all benefited to Richard Leroy drawing attention to his production.
Future similar cases?
Obviously, all those who have in their cellar a good "nature" wine bought during their tastings in the vineyard, will inevitably wonder if, one day, their €15 or €20 finding will sell itself ten times the price on iDealwine. If we knew which wines will be touched by inflation, we would certainly not tell you! But jokes aside, it is obviously very difficult to predict. In the same way that no amateur owning Richard Leroy's wines in his cellar could imagine, even only two years ago, reselling them one day with a solid profit. Who knows if in two years thousands of Chinese, Japanese or Americans will not suddenly crave for wines from Gilles Berlioz from Savoie? Or Stéphane Bernaudeau from Anjou? Or from Alexandre Bain from Pouilly-Fumé? No one, fortunately! One can of course gauge the rarity and quality of a wine, but that is not enough to make it an auction star. It is also necessary to feel that it will become fashionable, possibly with a boost from destiny, and there you become a fortune teller. And it's even more random than the stock market!
Our advice? Keep track of the domains we offer for fixed-price sales, of course. We have a growing number of partner-domains every month, which still haven't yet hit the headlines, but in our opinion, they deserve amateurs' attention for a simple reason: the care given to the vine and the quality of the wines produced.
A few iDealwine Auction Price Estimates of these wines during the latest auctions:
| | | | | | |
| --- | --- | --- | --- | --- | --- |
| Lot | Hammer price of lot | Hammer price of bottle | iDealwine Price Estimate | Δ/ iDealwine Price estimate | Date of the sale |
| 2 bottles of Saumur-Champigny Le Bourg Clos Rougeard 2010 | €1,068 | €534 | €360 | 48% | 21/06/2017 |
| 2 bottles Sancerre Clos la Neore Edmond Vatan 2011 | €288 | €144 | €67 | 116% | 28/06/2017 |
| 2 bottles Côtes du Jura Les Vignes de mon Père Ganevat  2006 – Blanc | €300 | €150 | €150 | – | 28/06/2017 |
| 1 bottle Jura Vin jaune Pierre Overnoy  Arbois pupillin 1985 – Blanc | €900 | €900 | €900 | – | |
| 1 Bouteille(s) Coteaux du Layon Faye d'Anjou Sélection de Grains Nobles Richard Leroy 50 cl 1996 | €74 | €74 | €48 | 54% | 28/06/2017 |
See all wines currently on sale
Register here to access auctions and fixed-price sales
Receive a free estimate of your cellar
Read further on iDealwine Le Blog: