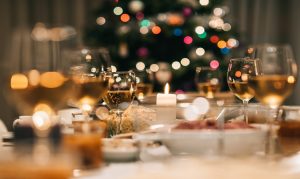 Christmas is a time for spending time with our loved ones, probably while sharing a meal together with a glass or two of our favourite wines. Join us on a journey to different wine-producing countries to explore their Christmas traditions.
With twinkling lights decorating the most famous boulevards as well as tiny village streets, Christmas can be magical in France. Not to mention, there's plenty of opportunities to see snow if you head to the mountains. Traditionally, families in France gather on 24th December to sit down for le Réveillon, their feast of foie gras, oysters, capon, Yule log, and other sweet treats. Some families are now choosing to come together on 25th December for their meal as it can be easier for more members to join them.
The Christmas festivities conclude on 6th January when galette de roi, a frangipane or brioche cake depending on the region, is served to mark Epiphany. Meaning King's cake in English, there was a bean hidden in the cake traditionally (nowadays, you'll find a little figurine) and whoever finds it is the king or queen for the day with their own crown.
Hoping over the border to Italy, Christmas celebrations begin on 8th December when nativity scenes adorn houses and churches to mark the Immaculate Conception. This is the start of a month of celebrations which sees Santa Lucia honoured on 13th December and Novena celebrated during the nine days leading up to Christmas with people going door-to-door signing carols. Families gather on 24th December to feast on delicious dishes before heading off to midnight mass if they are religious.
Traditions and food differ throughout Italy so it's difficult to summarise them in a paragraph, but you'll likely to find panettone, originally from Lombardy, on the dessert menu throughout Italy. Christmas also isn't complete in Northern Italy without tortellini in brodo, a broth with fresh pasta which can be filled with meat, fish, or vegetables. In the south, they cook dishes such as ravioli, lasagne, and stuffed pasta served with an array of sauces.
Like Germany, Christmas is in full swing in Austria throughout December with Christmas markets and a visit from Nikolaus (Saint Nicholas) in the evening of 5th December. Nikolaus knocks on the door and gives each child a small sack containing treats such as chocolates, oranges, and nuts as well as maybe gloves or a small book.
Food is also a large part of Christmas traditions in Austria and many people will bake Weihnachtskekse, Christmas biscuits flavoured with spices synonymous with this time of year, throughout the month. Examples include Vanillekipferln (crescent-shaped, vanilla shortbread-like biscuits), Linzeraugen (two biscuits sandwiched together with red currant jam in the middle and the top biscuit will have a circle or star cut-out), and Zimtsterne (star-shaped, cinnamon biscuits). People gather together on 24th December when the Christkind (the baby Jesus) places presents under the tree and a meal, traditionally with carp as the main course, is enjoyed.
Argentina – Feliz Navidad
As Christmas occurs just as spring is turning into summer in Argentina, you won't find the hearty meals seen in the Northern Hemisphere. When Argentinians gather on 24th December to celebrate Christmas, they tend to opt for cold dishes such as vitel toné, an Italian dish of veal slices smothered with a creamy tuna sauce, and ensalada rusa, literally meaning Russian salad, this potato salad with peas and carrots has nothing to do with Russia itself. These are accompanied by an asado, a barbeque, with a sweet, white bread with dried fruits, nuts and chocolate sprinkled through it called pan dulce for dessert.
Following their evening meal, people head outside and light globos, paper lanterns, making a wish or setting an intention for the year ahead as they release them. As Christmas Eve becomes Christmas Day, fireworks light up the sky with people watching on from their houses, gardens or at local events.
Christmas in Australia is a mix of Northern and Southern Hemispheres traditions due to the strong European influence in the country and fact that it's summer in this part of the world in December. You will see Christmas trees, fake snow, and winter wonderlands, but the celebration also falls at the start of the school summer holidays, so you will find people celebrating Christmas at the beach.
In the lead up to Christmas, families attend outdoor Carols by Candlelight events, which are organised in every state, city, and community. They will take their picnic mats and will sing carols under the stars while holding candles. Christmas is celebrated on 25th December but when it comes to the food served at Christmas dinner, there are two differing ideas. Either people choose to cook the hearty roast turkey, roast potatoes, and vegetables, or they embrace the summer weather and barbeque meats and prawns, which are accompanied by salads and other cold side dishes.
We hope you enjoyed this trip, exploring Christmas traditions in other countries. Be sure to have a look at our dedicated Christmas dinner selection where you'll find wines from each of these countries as well as from several other wine-producing nations. And for those of you who prefer spirits; don't worry, we haven't left you out. The selection also includes fantastic bottles of your favourite liquors.
See our Christmas dinner selection
Argentinian wines for Christmas