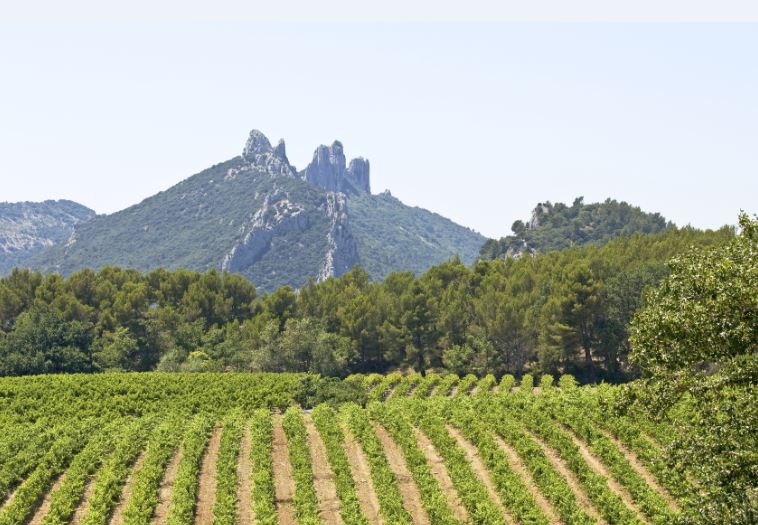 It's difficult to let the name Châteauneuf-du-Pape pass you by, since it's one of the world's most famous appellations. But have you heard of Beaumes-de-Venise, Rasteau or Lirac? In this second part of our guide to Rhône wines, we're looking to the south of the region. An overview of the terroir that produces some of the finest wines on the planet, without you needing to break the bank.
Let's continue our tour of the Rhône to the south. The winemaking land of the southern Rhône is located between Montélimar and Nîmes. Whilst the northern Rhône is home to one or two grape varieties, the south is the beating heart of the region's blends. There are, to begin with, 13 grape varieties authorised in the Châteauneuf-du-pape specification – a record in France! And the landscape is totally different from the north: the vines are planted on the plains – what would have been the river- and sea-bed – rather than on the slopes. Indeed, the Mediterranean plays a central role, even if it lies hundreds of kilometres away from this point. In the summer, the climate is hot and dry, marked by the Mistral wind, whilst in the winter temperatures can drop to particularly low levels, most notably in areas close to the rocky mountains. Surrounding these vines are olive trees, scrubland and cicadas, all signs that we find ourselves well and truly on Mediterranean soil.
The grape varieties
It is difficult to list and describe all the grape varieties you might come across in the southern Rhône. We'll just cite the most important ones, including the famous GSM trio (Grenache-Syrah-Mourvèdre), a blend used across the world as well as in neighbouring vineyards: those of the Languedoc to the west and Provence to the east.
Red varieties
Grenache Noir: this grape is king of the southern Rhône valley. As the name suggests, it comes from the Grenache family, which can also be found in white and grey. Not particularly strong in colour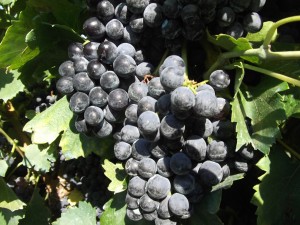 (some grenache wines are very clear), this is a grape that brings much structure and alcohol to its wine. It is often blended, since it's difficult to bring it to perfect maturity. Its nose gives off aromas of ripe and candied fruit (strawberry, blackberry etc). To taste it carries at once a warming sensation due to the alcohol and a suppleness from its fruity quality. The most beautiful expressions of Grenache Noir are found in Châteauneuf, bringing together structure and finesse. It is also the most prolific variety in the Côtes-du-Rhône. Its cellaring potential can be very impressive.
Mourvèdre: this is the variety that made Bandol's reputation what it is. Harvested very late, it brings a lot of structure and power to its wines. It can be recognised by its deep colour, as well as by its nose of black fruits and its bitter palate (cacao and dark chocolate). It's a variety that ages beautifully and gives wines of great distinction once the tannins have softened.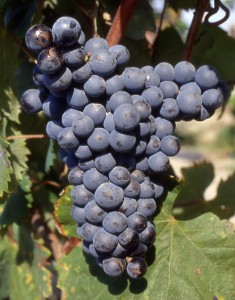 Syrah: there is less of this variety in the south since the climate is generally too hot. Whilst it isn't produced in great quantities in the Côtes-du-Rhône, it does give great results in some of the best crus' colder climates. There is even a handful of Châteauneufs that are 100% Syrah. Spicy and fresh, this grape brings complexity to blends.
Cinsault: the amount of this grape grown is becoming smaller in the Rhône, the Languedoc and the rest of the world. However, this variety that is often vinified into rosé in Provence, gives lovely results. It can be found at Tavel, but also at Gigondas and Châteauneuf. Cinsault can be recognised for its fruity character, both in scent and taste. It is part of the 'Picpouls' family, which includes the eponymous grape, Counoise, Picardan, and Terret which are permitted in the blending of Châteauneuf cuvées.
Carignan: the neighbouring Languedoc's flagship grape variety, it also gives superb results in the southern Rhône. Its special feature is that it brings the acidity necessary to a wine's balance. Quite productive when young, the produce of these plants turns out beautifully.
White varieties
Grenache blanc: this grape is the counterpart of grenache noir, sharing with it its ampelographic characteristics. It gives white wines that are well-structured with a high alcohol content. Its nose is understated but complex, with notes of flowers, yellow fruits, aniseed and fennel.
Roussanne: this northern Rhône grape can be found in Châteauneuf blends with its well-known, natural generosity in flavour, including notes of peach and apricot.
Bourboulenc: this grape variety is only grown in France, so it is pleasing to see that it is still produced in the Rhône. It is a fresher and less alcoholic grape with floral aromas. Used in Châteauneuf, it is found at levels as high as 50% at Château d'Anglès.
The appellations
There are three levels of appellation in this area: regional AOCs, sub-regional AOCs and crus.
Regional AOCs
Among the regional AOCs we find the famous Côtes-du-Rhône, the vast majority of which is produced in the south of the region. The appellation brings the three colours together but red represents 95% of production (mainly Grenache). With almost 40,000 hectares, this is the biggest AOC. The wines are supple, fruity and some of the cuvées offer the best price/quality ratios in France. Some that come to mind are the Sommelongue d'André Brunel from Domaine Charvin, and the unbeatable Emmanuel Reynaud at Château des Tours.
There is also the Côtes-du-Rhône villages appellation: it brings together 95 villages from Gard, Vaucluse, Ardèche and Drôme. The specification here is stricter than for the more classic appellation. Of these 95 villages, 17 can attach their names, and these are the CDG villages like Sablet and Laudun. This is the first step towards being recognised as a cru, such as Cairanne which has just been promoted.
Sub-regional AOCs
These are especially vast appellations. Some of the wines produced here are undoubtedly high in quality at very modest prices, but you have to know what you're looking for…or trust iDealwine's expertise. The principal sub-regional AOCs, from north to south, are: Grignan les Adhémar, Côtes du Vivarais, Ventoux, Luberon (which looks towards Provence), Uzès and Costières de Nîmes which look towards Languedoc. At iDealwine, we're particular fans of Gallety's vibrant Côtes-du-Vivarais and Ventoux from Ferme Saint Martin.
Crus
Vinsobres: this most northern cru of the region (located in the Drôme) was only promoted in 2005. The wines are rich and ample but remain (for the moment) in the shadow of other crus. The Perrin family (Beaucastel) produces a beautiful Vinsobres.
Rasteau: known for its production of natural, sweet wines, this AOC began making red wines in 2010. They are powerful, structured, and have a good ageing potential. We appreciate Domaine de la Soumade and the excellent Gourt de Mautens (which also produces white wines).
Cairanne: this is a new arrival from 2015 and one of our favourites at iDealwine. Two particular domains stand out: Marcel Richaud and l'Oratoire Saint-Martin (before 2015, you'll see the name Côtes-du-Rhône Villages Cairanne). This appellation produces all three colours. For the reds, we find the GSM trio with a 20% tolerance for grape varieties that aren't as widely planted in the region. For the whites (rarer), we find Grenache Blanc is used alongside numerous other Rhône varieties. From entry-level cuvées that are full of flavour to more sophisticated wines, this is a cru to discover without delay!
Gigondas: at the foot of the Montmirail mountains (with Vacqueyras and Beaumes de Venise), this appellation offers some of the southern Rhône's finest and most sophisticated wines. It is composed of a mosaic of secondary, tertiary and quaternary soils pushed to the surface by the geological phenomena that brought the mountains into being, particularly the clay layers that are so important for conserving water in the summer. The appellation largely favours Grenache (at 80%), Syrah and Mourvèdre (15% minimum). At iDealwine, we love Domaine de la Bouissière, or the cuvées from Château de Saint Cosme, sought after all over the world.
Vacqueyras: this cru, along with Gigondas, is one of the best alternatives to Châteauneuf, though it is coarser in style. The three colours are produced here, even if red represents 97% of production. The varieties grown reflect this: at least 90% Grenache, Syrah and Mourvèdre. Like in Châteauneuf, here we find stones and pebbles that are perfect for drainage and hold heat for the vines at night. From Vacqueyras, you should consider la Monardière, Beaucastel, and the unmissable but rare Château des Tours.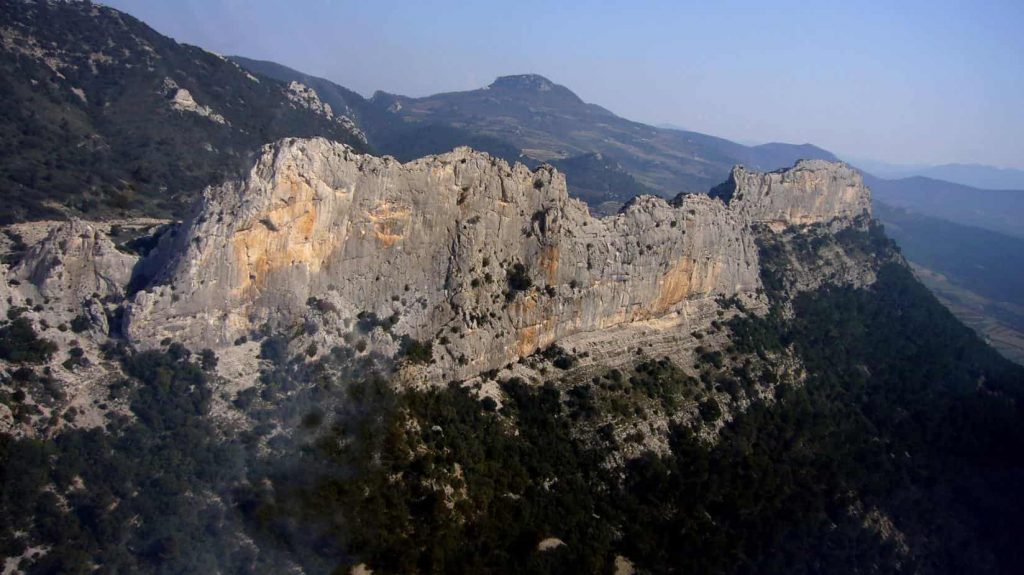 Beaumes-de-Venise: perhaps this name rings a bell. Known primarily for its naturally sweet wines made from Muscat grapes, the area's red wines were recently recognised as crus in 2005. The appellation is in three distinct terroirs to produce generous yet elegant wines. We like Domaine de la Ferme Saint Martin.
Châteauneuf-du-Pape: this is an enormous appellation of 3161 hectares which is found on an incredible mosaic of terroirs. Its size means that it isn't a homogenous appellation. But the biggest domains produce some of the most beautiful wines on the planet. Generally, the domains produce a traditional cuvée, blended from the grapes of various terroirs. Some among them, such as the brilliant Vieux Donjon, produce only two cuvées, a red one and a white one. Others have been producing, since the 1980s, single-parcel cuvées in the same way that is often seen in Champagne, making use of one soil, one grape variety etc. There are, for example, André Brunel's Cuvée du Centenaire, l'Hommage à Jacques Perrin, Papet du Mont-Olivet's cuvée and the mythical Rayas by Emmanuel Reynaud (100% Grenache from the appellation's only sandy terroir). Rayas presents the most beautiful expression of Grenache, improving with age over the years and decades. Châteauneuf is a whole world unto itself, and an exciting one at that!
Tavel: here we're moving to the other side of the river, where all of the production is dedicated to rosé. If you like clear wines, this is one for you. Made from Cinsault, Tavel wines are clearly destined to be served at the table. At iDealwine, we like Mordorée's Tavel with seafood dishes like red mullet – a magical pairing to be sure!
Lirac: a modest but up-and-coming cru! The reds are meaty and fine, the rosés are reminiscent of Tavel, and the whites have good structure. Here again, la Mordorée produces superb reds and rosés that are certain to please!
See the list of Rhône wines for sale at iDealwine
Read our guide to the Northern Rhône here