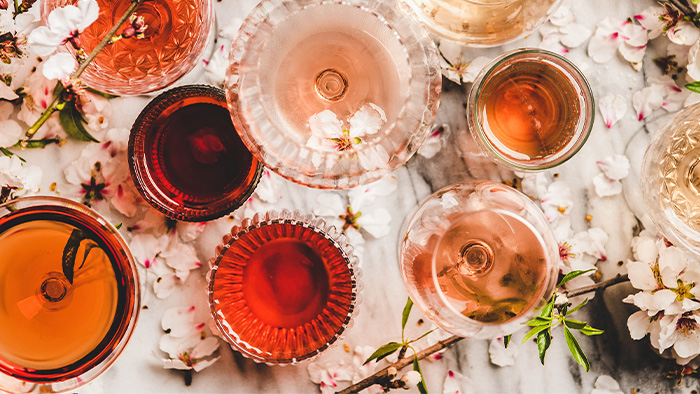 France is number one when it comes to producing and consuming rosé. Even if Provence rosés remain the reference for many, there is more than one type of rosé produced in France, or even within Provence for that matter. Let's set off for our tour of France stopping off at the regions where life is en rosé is summer.
Rosés often have the reputation of simply being interchangeable as you pair them with your summer barbecues. This was partly true at one point but luckily, things have now changed today.
There are a few nuances to bear in mind when you're buying rosé or fine-tuning your pairings. These nuances can be contributed to the wine production methods used or from where the wine comes.
Production methods
The first thing you notice when comparing rosés are their colours. A rosé pale in colour will be less perfumed and vinous than a rosé with more colour. The first would be closer to a white wine, while second would almost resemble a light red wine. The amount of colour a rosé has is all down to how long it has been macerated for (maceration is the time that the grape skins have been in contact with the juice). Rosés that are pressed straight away will have very little time to macerate (in a nutshell, they are made in the same way as a white wine would be) while on the opposite end the scale, rosés de saignée (saignée comes from the French verb 'to bleed' as the juice is bled, or drained off, from the grape skins) will be macerated with the black grape skins for several hours. The latter can be even come from red wine production when some of the juice is drained off after a few hours of maceration. This has two advantages – a rosé is produced and the density of the red wine left in the vat is also increased. As you may well know, the only rosés produced in France from a mix of white and red wines are Champagnes rosés. What is more, Champagnes rosés de saignée exist (it is generally specified on the label).
Bright and slightly vinous rosés are a great wine to serve as an aperitif or with sea food dishes (grilled sea bream or sea bass and the fish stews of bouillabaisse and bourride) as well as some Provençal dishes such as aïoli. Deep and vinous rosés accompany most meat grilled on the barbecue (sausages, merguez, lamb and pork chops, chicken breast. A light, fresh red suits grilled beef better).
Rosé and the French wine-making regions
Provence rosés
Provence  is synonymous with French rosé and it is, in fact, the largest producer of French rosés. 90% of production in the vast Côtes de Provence appellation are wines of this colour.
The "Provençal" marketing worked perfectly, and we now tend to associate rosé with holidays, barbecues with friends, and sipping wine at the edge of a pool. A large proportion of rosés from Provence are 'technical' wines, meaning that there is nothing wrong with them perse, but some would argue that they are soulless, because they don't reflect their terroir, are vinified with commercial yeasts that exacerbate their artificial tropical fruit aromas. However, there are so many Provençal domains who take their rosés seriously and produce beautiful, light wines.
Rosés from here are composed of Grenache, Cinsault and Syrah, often with a touch of Cabernet Sauvignon or Mourvèdre. Two Provençal appellations stand out from the others. Bellet creates rosés made from local grape varieties such as Braquet and Folle Noire, while Bandol crafts rosés that contain a high proportion of Mourvèdre. As a result, Bandol rosés are generally much more vinous and fuller-bodied than others from the region. A word of advice for those intrigued by Bandol rosés – try to drink them at least a year later, or even a few years later.
Corsica, often compared to Provence, produces rosé in a similar style to the mainland region. Its rosés are made from the island varieties of Nielluccio and Sciaccarello and are generally rounded off by Grenache.
Languedoc-Roussillon rosés
The second largest region producing rosé is Languedoc-Roussillon where the summery climate is very similar to that in Provence. But that is where the comparison stops. Rosés from this region tend to have a deeper colour and more pronounced flavours, especially those from Roussillon as they must contain Carignan, Syrah and or Mourvèdre. Those from Languedoc are produced from Grenache and Cinsault, with a complementing amount of Syrah and Mourvèdre.
Rhône rosés
Production of rosés in the Rhône Valley is minimal. This is down to the dominance of Grenache in the southern Rhône which is not the best variety to use rosé. There is however one appellation in the Rhône which is dedicated to rosé and that is Tavel. The varieties that can be used to produce this rosé are Grenache Noir, Cinsault, Mourvèdre, Syrah and Picpoul Noir, as well as the white varieties Grenache Blanc or Gris, Bourboulenc, Clairette Blanche, Clairette Rose, Picpoul Blanc and Picpoul Gris. It's these varieties that bring the much-needed acidity to balance the Tavel wines.
Champagnes rosés
As we mentioned above, Champagne produces rosé from blending white and red grapes or wines together. Having said that, there is one Champagne appellation that is a little different. Rosé des Riceys, produced in the eponymous Aube hamlet, is a Champagne made from an 100% Pinot Noir base wine and is similar to a red but without all its tannins.
Rosés from elsewhere in France
In other French regions and some in other viticultural countries, rosé production generally comes second to red or white wine production. Bordeaux bases its rosé on its usual varieties. Sancerre also produces a small amount of rosé from Pinot Noir, as does Marsannay, the only Burgundy appellation authorised to do so. In the Loire Valley, you will find two original rosés (alongside classic dry rosés), Rosé d'Anjou and Cabernet d'Anjou which are, unlike many other wines of this colour, demi-sec. A pairing idea of these wines would be desserts with red fruit. Similarly, Bugey, in the east of France, produces a demi-sec sparkling rosé called, Cerdon, which contains less alcohol (around 7 or 8%) and is bursting with fresh pomegranate flavours.
View the rosés currently on sale on iDealwine
Shop all wines available on iDealwine
Also on the iDealwine blog: 10 things you need to know about rosé