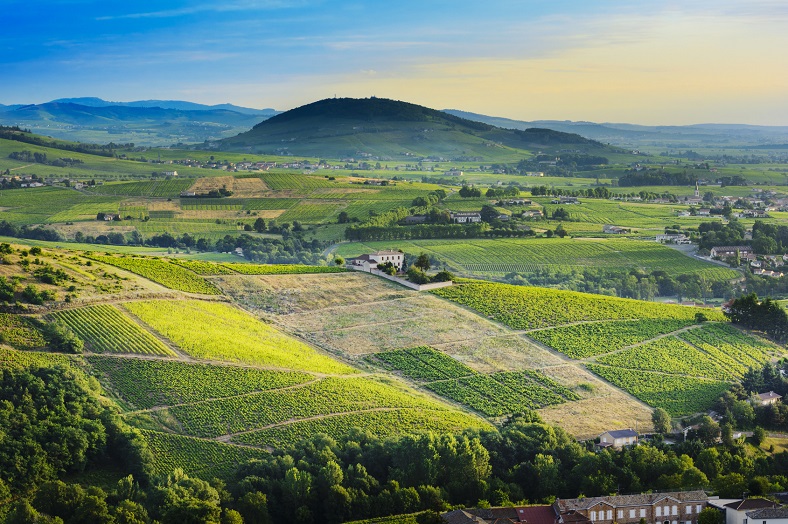 The Beaujolais appellation, which was created in 1937, stretches from south of Mâcon down to north of Lyon and covers 14,500 hectares. 12 AOCs exists Beaujolais, Beaujolais Villages and 10 crus (Brouilly, Chénas, Chiroubles, Côte de Brouilly, Fleurie, Juliénas, Morgon, Moulin-à-vent, Régnié, Saint-Amour). Here's a tour of the Beaujolais region's ten crus, an incomparable palette of expression for the famous and delicious Gamay grape. 
The delicate ones
Chiroubles (315 ha)
Chiroubles has the highest-placed vines in terms of altitude, which ranges from 270m to 600m above sea level. In warmer years, this is a great advantage, though there is a risk that the grapes won't ripen sufficiently when the climate is cooler. This altitude, combined with thin, sandy soil, gives Gamay grapes that are light and fruity. They are elegant with low tannins and floral notes like peony. Great for pairing with charcuterie.
Fleurie (840 ha)
In terms of surface, Fleurie is the third largest cru in the region. The highest-placed area is located on steep slopes, with most of the vines growing on gentler slopes towards the east and south. The granite-rich soil confers much finesse and charm to Fleurie wines, often labelled the most 'feminine' of the Beaujolais crus. It carried aromas of iris, rose, and violet. A very elegant Gamay.
Saint-Amour (315 ha)
Along with Juliénas, Saint-Amour is the northern-most Beaujolais cru and is located entirely in the Saône-et-Loire region. It is also one of the smallest in terms of surface area. The soil here is rich in clay and silica, producing wines characterised by a delicate side. Notes of red fruit and peony are dominant. These wines are to be enjoyed in their youth. The name of this cru gives it a certain boost on the foreign markets, usually finding its way onto many a Valentine's Day table.

The structured ones
Brouilly (1,200 ha)
With the most expansive vine-growing land in the region, the Brouilly cru circles Mount Brouilly. Note that there isn't actually a village with the name Brouilly. The soil here is thin and not very fertile, with granite that has eroded from the hill. Brouilly wines are ample and very fruity. Their pleasant and enticing profile makes for a 'bistrot' wine par excellence, especially in Paris!
Côte de Brouilly (310 ha)
Planted on the hill of the same name, Côte de Brouilly is pretty much the heart of Brouilly, with terroirs generally judged higher quality and better exposed. Prudence is called for, however, when it comes to the cooler years, especially if the wine comes from a north-facing parcel; this is a 'circular' cru after all, so exposure does vary. In the glass, Côte de Brouilly expresses the power of its soil with strong personality, and it often has a very mineral and "wildflower" side to it.
Juliénas (575 ha)
The western part of the Juliénas terroir is made up of arid terrain with veins of manganese and porphyry running through it. Towards the east, the terrain is more sedimentary with old alluvium. Sheltered from northerly and easterly winds, the grapes from this appellation tend to ripen a little later than average foe Beaujolais. Notably aromatic, especially with peach and red fruit, this is also quite a structured wine that can be aged for a few years.
Régnié (550 ha)
Whilst most of these crus became official AOCs at the end of the 1930s, Régnié trailed behind a little bit, not getting its controlled appellation label until 1988. Whether this classification is appropriate is actually still debated and its notoriety hasn't quite taken off…On soils of pink granite it gives quite a fleshy wine with only subtle tannins.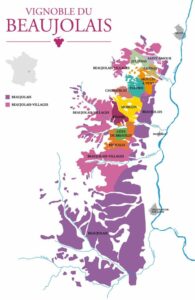 The cellaring ones
Chénas (250 ha)
The smallest of the Beaujolais crus, Chénas has always lived in the shadow of its prestigious neighbour, Moulin-à-Vent. In general, Chénas wines have a good density, sometimes with notes reminiscent of a Burgundian Pinot. This is a wine that evolves well over time; it is recommended to keep it for a few years to develop a lovely, floral bouquet.
Le Moulin-à-Vent (640 ha)
Moulin-à-Vent is the most reputed Beaujolais cru. The soils are made up of pink granitic pebbles with veins of manganese, features that confer an intense colour to the resulting wine. When uncorked young, it has floral and fruity notes, especially notes of violet supported by a cherry flavour. Over the years, though, it will evolve to give off aromas of iris, rose, and spices. This is the cru that tends to most closely resemble a good Burgundy when aged.
Le Morgon (1,090 ha)
Very vast, Morgon is undoubtedly the cru that produces the finest expressions of the Gamay varietal, notably from the exceptional, volcanic terroir of the Côte du Py. Located mainly in the commune of Villié-Morgon, its characteristics come from a soil of decomposed granite schists and manganese, which confer all their particular features to the resulting wine. Morgon cuvées are rather powerful, dense, and fleshy. They often carry aromas of ripe stone fruit like cherry and plum. These wines evolve well over a period of ten years in their good vintages.
See our full selection of Beaujolais wines here