Whether through film, music or literature, the holiday season always manages to paint us a picture of snow-capped mountain landscapes and cosy nights spent around the fireplace. Here at iDealwine, we spend the season daydreaming of the vineyards so specially placed that they transform each year into a winter wonderland of vines. Keep reading below to learn more about some of our favourite holiday season locations along with recommendations to bring a little piece of the seasonal magic home with you.
Alsace, France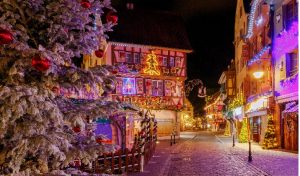 Could there be a better place to begin our tour than the reigning king of French Christmas markets. Each year, millions of visitors descend upon the Christmas markets of Strasbourg and Colmar while just around the corner the Alsatian wine producers let out a sigh of relief following the excitement of harvest season. There is so much to love about Alsatian wine during Christmas time that making just one recommendation is a difficult task. However, since many of us associate the holidays with a little extra sweetness, we can't help but recommend the Alsace Gewurztraminer Clos Windsbuhl Zind-Humbrecht 2013, whose vineyard is located a mere 15km north of the wonderful holiday celebrations taking place in Colmar each year.
Burgundy, France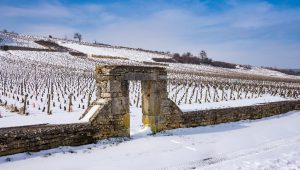 Thanks to the incredible number of micro-climates in Burgundy it's difficult to pin down what the "average" Burgundian vineyard might look like around the holidays. Nevertheless, we can certainly dream of scenes like the photo above, captured in Pommard in the Côte-d'Or. Average December snowfall in this area of France is about 30 mm (1 inch), which means a white Christmas is never impossible! If you're looking to spend the holidays with a taste of the wonderful terroirs found in this region we recommend Pommard Philippe Pacalet 2019 or Pommard 1er Cru Les Epenots A.-F, Gros 2011. Both bottles are a brilliant example of the appellation's character and reputation.
Piedmont, Italy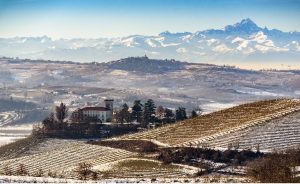 Each winter, the vineyards of Piedmont transition into a fairy-tale-like landscape filled with rolling hills which look over their shoulder towards the snowy alps to the north. The region produces some of the very best wines in the world, perfect for sharing with friends and family during special occasions like Christmas, Hanukkah, or New Year's Eve. For those who love the idea of sharing a Barolo, Barbaresco or Barbera d'Alba with their loved ones, iDealwine carries plenty of delicious options. Take a peek at the Barbaresco DOCG Pajoré Sottimano 2018 or perhaps the Barolo DOCG Le Vigne Luciano Sandrone; the latter of which was awarded 97 points by James Suckling.
Stellenbosch, South Africa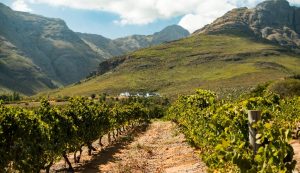 For those of you in the Northern Hemisphere who have grown tired of the winter weather around Christmas time, we understand that you may not want to think about snowy hills, scarves and hot chocolate. For these customers, we can't help but think of a much warmer holiday paradise located in the southern hemisphere – South Africa's very own Stellenbosch. In Stellenbosch, we can keep the beautiful mountains we see in so many holiday movies while leaving behind all that cold, snowy weather! Nearby Cape Town keeps the holiday spirit alive with Christmas markets, Santa's Village, and holiday lights illuminating the famous Adderley Street downtown. If your mind wishes to drift off into the warm, natural beauty of Stellenbosch for the holiday season, we suggest trying a bottle of Kanonkop Pinotage 2012. The satisfying fruitiness and mild spices of South Africa's native grape will instantly transport you to this fantastic corner of new-world wine! (at-least in spirit)
In Brief
Whether you prefer a glass of wine that evokes images of rolling hills and snowy landscapes, or one which conjures a sun-drenched world of new discovery, there are so many great options to choose from this December. While sharing each of your carefully selected bottles with friends and family, give a thought to the beautiful vineyards that the grapes call home. This way, we can spend the holidays being reminded of the uniqueness behind every bottle, giving us a special connection to the origin of the wine.