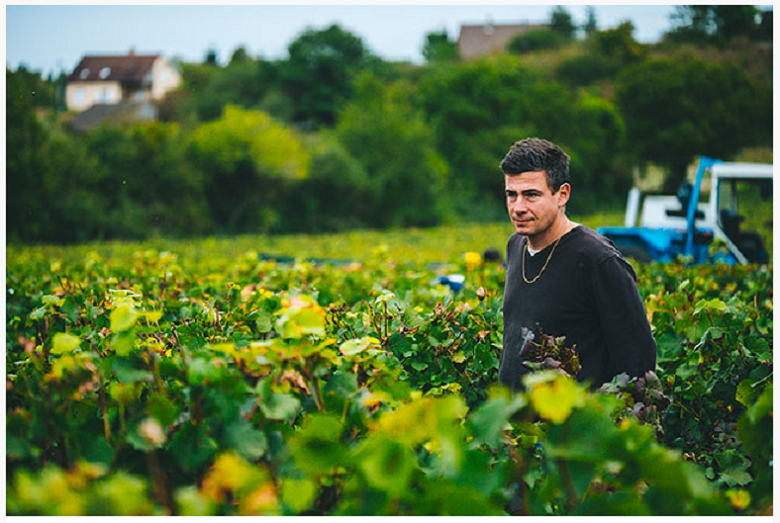 The Janthial family has lived in Rully since the 13th century; their history is as deeply rooted in the area as its vines. With the help of his wife, Vincent Dureuil-Janthial produces the finest wines in the Côte Chalonnaise for truly reasonable prices for this part of Burgundy. It's not surprising, then, that in 2019, he was named 'winemaker of the year' by French wine publication La Revue du vin de France.
Geographically, Rully sits between the villages of Mercurey to the south and Chagny to the north. Bouzeron lies to the west. Rully is, geographically-speaking, a continuation of the vineyards of Chassagne-Montrachet and Puligny-Montrachet, and geologically-speaking can be considered a continuation of Burgundy's great Côte des Blancs. While the Rully wines don't have the power of the prestigious wines of Chassagne-Montrachet or the finesse of Puligny-Montrachet, they nonetheless express the limestone precision of their terroir.
Vincent Dureuil-Janthial and his wife took over the running of the domain in 1994. They tend 17 hectares of vines spread over the appellations of Mercurey and Rully, as well as a couple of hectares in Puligny-Montrachet and Nuits-Saint-Georges. Vincent Dureuil-Janthial is intensely dedicated to his vines and tends the vineyards following environmentally friendly agricultural practices. 2016 was a very difficult year: rain, hail, disease in the vineyard… They lost more than 75% of the harvest and were forced to treat the vines so as to not lose all of their grapes. As a result, the domain lost organic certification… Yields are limited in the vine, with Guyot training for the whites and Cordon or Guyot for the red grapes: the aim is to only allow one spur to grow per cane. The domain only harvests grapes when they are perfectly ripe, physiologically and phenolically.
In the winery, the domain destems most of its red grapes before leaving them to slowly macerate in cool temperatures so as gently extract colour and tannin while conserving the freshness of fruit. The white grapes are pressed directly, and the wines undergo alcoholic fermentation in new barrels. The domain is intransigent as regards its barrels: it buys exclusively from the Chassin coopers, whose barrels are available only by allocation, and whose team tastes the wine themselves in order to pick the barrels that would be best adapted. This choice and the limited use of oak allows the domain to get the best of their terroir. A combination of stainless-steel vats and new barrels permits the wine to gain in precision and generosity without imparting an excess of fat or reduction.
This domain is one of the greatest names in Burgundy and a must-try of the Côte Chalonnaise. Calling all lovers of taut, full, well-crafted Burgundy: this one's for you.
What the guides say about domain Dureuil-Janthial
RVF (2* sur 3)
Vincent and his wife Céline pride themselves in producing memorable cuvées. […] We also salute the very reasonable pricing, much appreciated by wine lovers at this level of excellence.
Bettane + Desseauve (4* /5)
Vincent Dureuil is THE reference point for the Rully appellation. He and his wife manage this 17-hectare domain with remarkable talent and humility. […] He is part of a young generation of winemakers whose ambition it is to pass down a healthy vineyard to those who come after him.
Bourgogne Vincent Dureuil-Janthial 2016
A lovely introduction to a rising star of Burgundy. This well-crafted Chardonnay delivers a complex bouquet of notes of citrus fruits, brioches and minerals. On the palate, it combines fruitiness and great tension.
Rully 1er Cru Vauvry Vincent Dureuil-Janthial 2017
Once made this Rully Premier Cru is aged in barrels (25% are new). On the nose, it expresses aromas of white-fleshed fruit and white flowers, as well as empyreumatic notes. Lovely tension, a fat body, volume and beautiful bitter tones in the finish are what characterise this wine on the palate. It can equally well accompany fish, poultry or white meat.
Rully En Guesnes Vincent Dureuil-Janthial 2017
This cuvée is aged in barrels for approximately 18 months (33% are new). The nose is exquisitely mouth-watering with lovely aromas of red and black fruit (cherries, blackcurrants), embellished by discreet notes of aging (vanilla). On the palate, there is a fruity quality with beautiful freshness, delicate and elegant tannins and slightly spicy great length. This is a wine which can accompany both red and white meat.
Rully Vincent Dureuil-Janthial 2016
Rully Rouge from Domaine Dureuil-Janthial is made from vines that are on average 40 years old and planted on clay-limestone terroir. A wine that has remarkable focus and reveals wonderful red fruit aromas on the palate, overall this is a beautifully crafted wine.