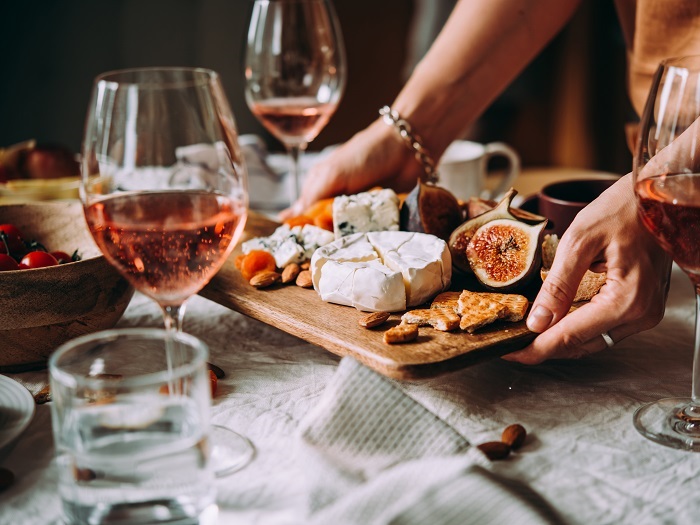 "Rosé goes with everything." You've likely heard this before, maybe even multiple times, especially during summer. And it's true that a number of summery dishes pair well with this type of wine, but there are still rules to respect and some areas to explore. Join us as we take a look at how it's made, the different type of rosé, and, of course, a few delicious recommendations for how to pair the bottles that are chilling in your fridge.
These summery wines – which can be enjoyed year-round but seem too perfect for summer not to sip in the sunshine – are actually more technical to make then red or white wines. The amount of colour a rosé has is all down to how long it has been macerated for (maceration is the time that the grape skins have been in contact with the juice).
Contrary to red and white wine, the appellation and vintage have a relatively low impact on rosé. The most important thing to consider is the style of the wine, which the winemaker chooses. Rosés generally fall into one of two categories – one where the grapes are pressed straight away, creating a pale wine or a rosé that is more vinous, where the juice was in contact with the skins for about a day. If you are unsure what production method you prefer, have a look at the colour. If it's pale, then it's generally lighter and those with a deeper colour tend to have more pronounced flavours.
Delicate rosés are generally perfect for apéritifs paired with tapenade, prawns, fresh goat's cheese toast, etc. You could also serve them with light starters such as a tomato salad or salade niçoise. Or why not some grilled fish (but not something as strong as sardines) if you would like to stay in the pink world after your apéritif? But these rosé lack a bit of body and structure to create the perfect pairing with meats, even barbecued ones. They can, however, be served with relatively fresh goat's and sheep's cheese. We can classify the rosés from Triennes, Rimauresq, Château de Roquefort and basically all the wines that full under Côtes de Provence in this category, for example.
With a rosé that's deeper in colour and typically has more structure and depth, it can be paired with all summery dishes. For example, meat and sausages grilled on the barbecue (except maybe for beef which is better suited to light, fresh reds), all grilled and oven-cooked fish as well as salads with slightly spiced ingredients (curried chicken breast, for example) would all be excellent choices. They would also pair with four great Provençal classic dishes – ratatouille (especially when cold), fish soup, aïoli, and fish stew, as well as another classic from the other side of the Mediterranean Sea, couscous ! Another option would be to serve it with goat's cheese that's not too young, perhaps even those which have been aged a bit. In this rosé family, we can include the rosés from Roussillon, like those produced by Clos des Fées or Collioure from Domaine de la Rectorie
More vinous rosé such as those from Tavel or some Provence rosés solely produced from the Tibouren variety (like those from Clos Cibonne) are a bit too pronounced for a simple apéritif but they would suit flavoursome fish like red mullet or capon (not the bird that might adorn your Christmas table but a type of scorpionfish). Pizzas and pasta with tomato sauces or more the acidic, lightly spiced Asian cuisine are also possible pairing ideas.
And then, there are Bandols rosés. In comparison to wines from the Côtes de Provence, Bandol is characterised by a significant proportion of Mourvèdre in the blend, but it's a variety that is rarely used to produce rosés outside of this appellation. This grape variety gives the wines more structure which determines the possible pairings. It also allows them to be aged for a few years, something that is only recommended for a handful of rosés from outside of Bandol, as they become very interesting after three or four years in the cellar. We're talking about wines like those from La Bégude, Château Pradeaux, Tour du Bon, and Terrebrune here.
Possible pairings for Bandol rosés depend on the intensity of their colour, just as it does for other rosés. The paler ones generally contain more Grenache and/or Cinsault and less Mourvèdre. Their paleness is probably linked the grapes being pressed straight away quickly followed by vinification which creates lighter wines. These can be used for "stronger" apéritif pairings such as lightly spiced seafood, chorizo or Lebanese meze. It would also go wonderfully with mixed salads, the perfect summer lunch, and some grilled fish.
Deeper coloured Bandol rosés pair brilliantly with all summer dishes including most meats, except beef (even when cooked on the barbecue, it would not go well with this type of very vinous rosé). Lamb, both a leg or shoulder, would work with these wines, without forgetting couscous and tagines as well as meat or fish.