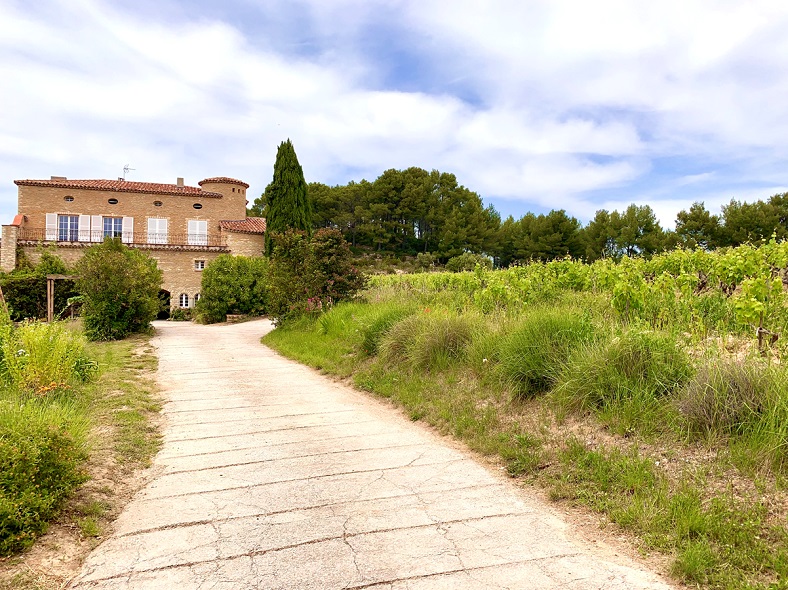 Here we tell the story of Domaine de la Tour du Bon, painting the portrait of a verdant Bandol estate and its owner Agnès Hocquart-Henry. A magnificent landscape serves as a backdrop for an experimental wine maker and her inspiring project.
Domaine de la Tour du Bon doesn't make itself immediately known, hidden away in the heights of west Bandol. The chalky plateau stretches across 15 hectares, 12 of which are planted with vines. Agnès Henry finds this to be a location with good balance, 'not too high' and enjoying the influence of the sea breeze. From the vineyard, the vista is breath taking, inspiring a sense of tranquillity away from the liveliness of the nearby coast. The protective tower that gave the estate its name no longer exists, but the  highest point can still be reached via the circular stone staircase that was built by its previous owners.
We were lucky enough to get our own tour of Tour du Bon, a visit which began with the sensory immersion of Agnès' garden. Roses, nasturtiums, and aromatic herbs such as verbena and lemon grass made for a charming welcome to the wine estate.
As for the vines themselves, Mourvèdre is the grape that rules the roost in these parts. A late-blooming and capricious varietal, Agnès likes to blend it with Grenache for its kirsch character, Carignan for a burst of energy, and Cinsault to bring the whole thing together.
Agnès' own viticultural story was marked by a decisive encounter with Elisabetta Foradori, a vintner crafting exciting cuvées in Tuscany and the Dolomites. Open to alternative methods of wine making, Agnès was inspired by this Italian vintner to try ageing her wine in terra cotta containers called tinajas. These hand-crafted, clay pots hark back to the ways of the past, symbolising a respect for the roots of winemaking. To this Agnès adds a sense of energy, explaining how the tinajas stand vertically, a position she sees as livelier than the barrels that are placed lying down.
The arrival of the tinajas led to the creation of the 'En sol' cuvée. With the containers having passed through the Dolomites to reach Bandol, and the cuvée itself containing the Spanish-born Mourvèdre grape, this is a wine that oozes Mediterranean charm. Agnès confirms that she wanted to craft a cuvée with the power to take you away. 'Sol' encompasses both the ground and the sun, and Agnès has kept this particular cuvée labelled under 'Vin de France' in order for it to retain a southern identity as she would wish. The 2018 is beautifully light in colour with a delicate nose of pine, red fruits, and nectarine. Its subtle hint of cumin might well surprise you! On the palate, 'En sol' has a nice maturity alongside floral finesse and a vibrant finish. Agnès advises serving this cuvée with lighter, simple pairings, especially vegetarian dishes.
After 30 years of building her livelihood at Domaine de la Tour du Bon, Agnès has found meaning and coherence in her produce. Each of her cuvées has its own personality. The Saint-Ferréol cuvée, for example, is a 'mystical' wine according to the vintner, the Carignan bringing a 'luminous' quality to the blend. The 2018 we tasted had a good energy and presence on the palate, alongside a bitterness through its notes of olive, pepper, and gentle spices. It is elegant and precise on the finish, a feeling that lingers.
The domain's fantastic rosés and citrus-leaning whites will be wonderful as an aperitif or paired with seafood dishes. As for the domain's classic red Bandol – the 2019 is made up of 55% Mourvèdre, 30% Grenache and 20% Cinsault – it stands out for its tannic underscore, present but not excessive, and its dark fruit-driven profile.
You'll find all the cuvées available from Domaine de la Tour du Bon here