Similar to other wines, certain champagne styles will benefit from time in the bottle. Vintage champagnes in particular are well-suited to ageing, while the brut style is generally intended for immediate consumption.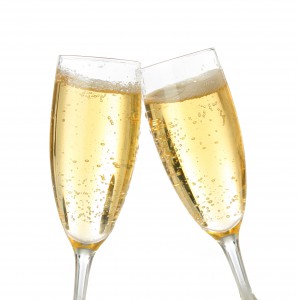 When ageing champagne, the bottle format (such as magnum or jeroboam) plays an important role, as well as the storage conditions (humidity, cellar temperature). While vintage wines available after three, five or even 10 years of cellaring, are usually ready to drink, it is not uncommon to keep some for even longer.
Producing champagne takes time. It spends a minimum of 15 months on lees and another 36 months in bottle at the majority of large champagne houses. In the case of vintage champagne, the wait is usually much longer.
Once sold, these wines are mostly ready to drink. However, a further five or more years can enhance the drinking experience. Champagne evolves while ageing and the aromas become more complex and intense. The perceived flavours also change, from initial floral and fresh aromas, to earthy characters, truffles and toast.
This is an important factor to consider, since everyone may not like this evolved style and may be surprised by the development in older champagnes. Regardless, ageing imparts a more mature character.
At the table
Served as an aperitif, champagne pairs well with creamy poultry dishes, veal or foie gras on brioche. When paired with cheese, opt for strong, not too acidic cheeses, such as a well-refined Chaource (soft and creamy French cow's milk cheese) or 24 month-old Comté (creamy, nutty-tasting French cow's milk cheese).
Rosé and sugar content
When it comes to rosé champagne, there is little reason to let a brut rosé age. Vintage rosés are delicious to drink within two years and will pair perfectly with crayfish, lobster or red fruit desserts.
Champagne with higher sugar content is interesting to pair with spicy food or dessert, as long as they are not too sweet (which was often the case in the past, with the dosage containing 30 g/l sugar on average).
Good to know
If you intend on keeping an opened bottle of champagne, forget about the silver spoon, it is advisable to remove the air with a vacuum and store the bottle in the refrigerator. But don't keep it for too long, since the bubbles are short-lived and will start to disappear.
Translated from the original French article written by Veronique Raisin for iDealwine
Visit iDealwine.com