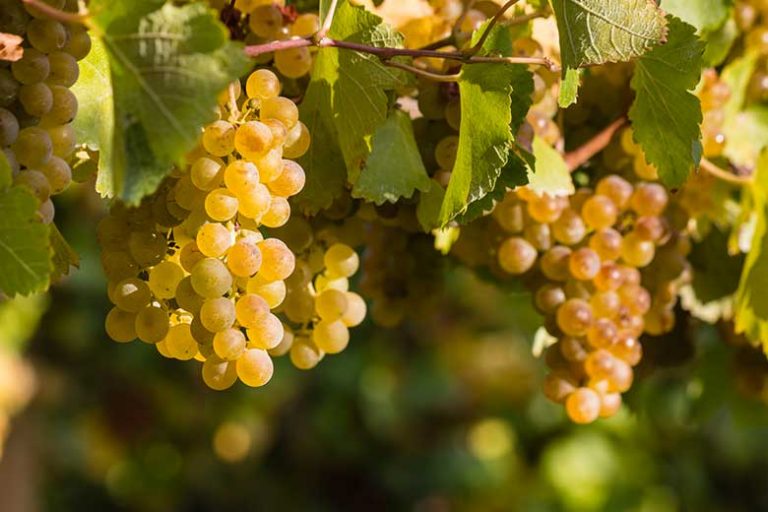 French vineyards are divided into several large regions which differentiate from each other in the climatic conditions and specific terroirs, as well as the grape varieties for which these regions are known. We take you on a tour de France of symbolic varietals.
Champagne: Pinot Noir, Pinot Meunier and Chardonnay
Let's start our journey around France with prehaps the most famous French wine region – Champagne! Although seven varieties can be used in a Champagne – Arbanne, Petit Meslier, Pinot Blanc, Pinot Gris, Chardonnay, Pinot Meunier and Pinot Noir – the last three grapes make up 98% of the region's planted surface. Montagne de Reims and the Aube are made up predominantly of Pinot Noir, Pinot Meunier in the Marn valley and Chardonnay in the Côte des Blancs to the south of Epernay. Champagnes can be produced using only one of these varieties, or two of them or all three. Champagnes produced from Pinot Noir (or Pinot Noir-dominated blends) are generally full-bodied and powerful, those dominated by (or solely produced with) Chardonnay are more vibrant and crystalline, while Pinot Meunier produces light, vibrant and very fruity champagnes.
See the Champagnes currently for sale
Alsace: Riesling
It is difficult to define one single variety as 'emblematic' in a region known for producing grape varieties which are often vinified individually. Riesling, Gewurztraminer, Pinot Gris or Sylvaner all have their place in the vineyards of Alsace. Riesling, however, sticks out from the crowd: for the grandeur that it can achieve on the finest terroirs as well as its incredible aging capacity. When it is vinified without residual sugars, its profile is almost crystalline and astoundingly pure, making it the perfect wine to taste with seafoods, high-quality fish and inevitably, a good sauerkraut! It can also produce excellent sweet late-harvest or Selection de Grains Nobles – whereby only the grapes highest in sugar are used – wines.
See Alsace wines currently for sale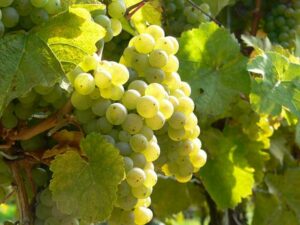 Jura: Savagnin
In addition to the omnipresent Pinot Noir and Chardonnay, the Jura has several native varietals: the red Poulsard and Trousseau and the most symbolic of all – a white grape – Savagnin. This is the only grape variety used in an altogether unique wine: Vin Jaune (and Château-Chalon). Raised for more than 6 years in casks, this wine develops distinctively oxidative notes (green nuts, curry), rendering it a truly one-of-a-kind wine, the prerogative of seasoned connoisseurs. There is also an emerging tendency for Savagnin to be vinified as a 'normal' white wine in the Jura.
See Jura wines currently for sale
Savoie: Mondeuse
In the same vein as the Jura, the grapes used in the Savoie range from a selection of varieties also found elsewhere – including Pinot Noir, Gamay and Chardonnay – to its native varietals, such as Jacquère, Persan, Gringet and Altesse, to name only a few. Mondeuse is arguably the most emblematic of the region, for the quality of wines it produces on the finest terroirs of the region (Arbin, for instance), and its ability to age well. These are red wines which are rather tannic, juicy, with good body and lovely aromas of blueberries.
See Savoie wines currently for sale
Provence: Mourvèdre
In Provence, too, several grape varieties are used, particularly red grapes, including Cabernet Sauvignon and most of the Southern Rhone varieties. Mourvèdre, however, is a grape which, although grown in other areas of France (particularly the Languedoc and southern Rhone), reaches such heights in Provence – more specifically in Bandol – that it produces fine red wines whose aging ability competes with the greatest appellations of the country. This variety is very well-suited to the local climate in that it never produces wines which are too heavy or alcoholic.
See Provence wines currently for sale
Languedoc-Roussillon: blending country
The Languedoc and Roussillon regions are without a doubt the most difficult to assign an emblematic grape variety, quite simply because the wines produced in these regions (in particular the reds) are traditionally blends. None of the region's 5 main grape varieties – Grenache, Carignan, Syrah, Mourvèdre and Cinsault – really dominate in the wines. There are of course cuvées in which one of the grapes dominates, but the majority of red wines are composed of a blend of the five. The same holds true for white wines as many varieties are permitted in the local appellations: Grenache Blanc, Piquepoul, Bourboulenc, Clairette, Marsanne, Roussane, Vermentino, Macabeu and Ugni.
See Languedoc-Roussillon wines currently for sale
Bordeaux: Cabernet Sauvignon and Merlot
It's difficult to separate this double act, even if they do respectively represent the two banks of the Gironde, with Cabernet Sauvignon on the Left Bank – with Margaux, Saint-Julien, Pauillac and Saint-Estèphe and Merlot on the Right Bank with Saint-Emilion and Pomerol as two of the most important references. Cabernet Franc shouldn't be forgotten either, as it is far from being a minor grape in this region. It is widely-used in Saint-Emilion, especially by the greats: Ausone, Cheval Blanc, Figeac and Angélus. Cabernet Sauvignon produces wines which are often austere in their youth, with a nice tannic structure lending a guaranteed excellent aging potential, whereas Merlot produces rounder wines which are more open when young but can equally age very well.
See Bordeaux wines currently for sale
South-West: a bit of everything
In terms of varieties, this region is quite original. Whilst certain varieties from neighbouring regions are grown here (particularly Merlot), unique varieties abound in this region which, as in Italy, are grown solely in this area. In terms of red grapes, you will find Malbec in Cahors, Tannat in Madiran, Fer Sarvadou in Marcillac, Duras, Prunelard and Braucol in Gaillac and Négrette in Fronton. As for white grapes, Petit Manseng and Gros Manseng are found in Jurançon and Irouléguy in particular, as well as Colombard, Len de Lel, Ondenc and Mauzac (particularly in Gaillac).
See South-West wines currently for sale
Loire: Chenin and Cabernet Franc
As in Burgundy, the Loire winemaking region is based on two emblematic grapes: Chenin and Cabernet Franc. Chenin is fascinating in that it can produce dry, semi-dry and sweet wines depending on the harvest date and the vintage; one single parcel can thus produce three different cuvées, weather conditions permitting. Its organoleptic characteristics are similar to Riesling, and Chenin wines (dry and sweet wines alike) can age extraordinarily well. Cabernet Franc (which is also frequently grown in Saint-Emilion) can produce excellent, fresh red wines, particularly in a sunny vintage, whose tannic structure allows them to age well (for instance the wines from the mythical 1989 vintage are still incredibly young).
See Loire wines currently for sale
Burgundy: Pinot Noir and Chardonnay
Burgundy is slightly simpler in that the multifarious local appellations dictate that red wines only be produced from Pinot Noir and white wines with Chardonnay (apart from Aligoté, of which production is relatively sparse). The whole world (or almost…) agrees that Pinot Noir achieves its finest expression right here in Burgundy, rendering wines with sublime finesse and delicacy. The price of these wines have a tendency to be equally vertiginous… Chardonnay too gives its best here, especially in the Côte de Beaune (Montrachet and its satellite appellations), but undoubtedly the distinction is less pronounced, given that in France (the Jura for example) as in many other countries, Chardonnays are produced which rival with Burgundian production.
See Burgundy wines currently for sale
Northern Rhône: Syrah
In the northern Rhone, Syrah has no competition. No matter the appellation – Côte Rôtie, Hermitage, Saint-Joseph, Crozes-Hermitage or Cornas – only Syrah is used. Whereas in the southern areas where this variety is also used, Syrah can produce wines which are a little heavy and over-alcoholic, the northern Rhone is its preferred terroir. The red wines produced here are of great finesse and proverbial longevity, particularly in Côte Rôtie and Hermitage. After 15 or 20 years, the best wines assume a sort of Burgundian grandeur. It's also worth noting the particularly aromatic white grape, Viognier, which produces white Condrieu wines with wonderful notes melding white flowers and stone fruits (apricot).
Southern Rhone: Grenache
Southern Rhone wines – both red and white – are produced from several varieties. Despite this, Grenache is symbolic of this region, first of all because it is almost always the dominant variety in the region's cuvées (for example in Châteauneuf-du-Pape, it makes up on average 75% of the blends. Grenache also owes its reputation to one of the region's emblematic wines, the châteauneuf from Château Rayas, produced from 100% Grenache.
See Rhone wines currently for sale
We hope you enjoyed this trip around the French wine regions, exploring their most important varities!