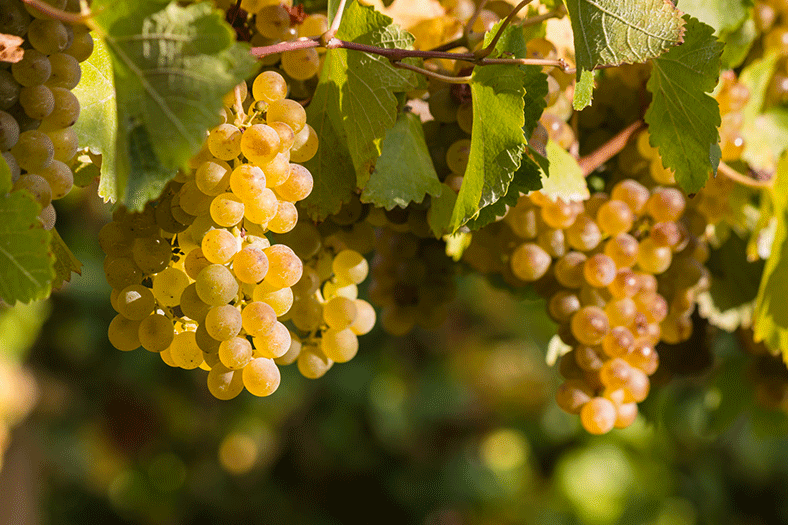 A Burgundian varietal that gets around
The Chardonnay grape is thought to originate from France's Burgundy region, a Mâconnais village of the same name likely to have baptised the famous varietal. Understood to be a cross of Pinot and Gouais, it made a relatively recent arrival into the viticultural world at the end of the twentieth century. Since then, Chardonnay has turned into a real jet-setter, making its way across continents to become the world's most widely-planted white grape.
The origin of this grape has been accorded several different back stories. One version recounts how the Chardonnay vines were brought back from Syria at the time of the Crusades. Indeed, among the crusading knights were numerous nobles who belonged to the Order of the 'Pauvres Chevaliers du Christ et du Temple de Salomon', a military and religious order founded by Hugo de Payns, himself a member of the Count of Champagne's family.
Pierre Gallet, a renowned ampelograph (someone who studies grape varietals), managed to fully differentiate Chardonnay from Pinot Blanc in 1958, the two having been often confused before. It was such a successful grape, especially in South America and Australia, that its plantation rates rocketed. In France, it comes second only to Ugni Blanc, used most notably in the distillation of Cognac and Armagnac.
This varietal is strong and simple to grow, with the capacity to flourish on a wide variety of terroirs, even if it prefers ground that is under-fertile. It's also quite an early-blooming grape, so more at risk of being impacted by spells of frost. In any case, it's clear that Chardonnay has become the planet's favourite white grape due to its adaptability, thriving as it does in many different climates. Mostly made into dry white wine, it is also commonly used to make sparkling cuvées (notably in Champagne), and sometimes dessert wine.
Another plus of the Chardonnay grape is its versatility. It doesn't have especially marked characteristics, meaning that it can work as a kind of blank sensorial canvas, developing different traits depending on where it's grown and how it's vinified. To cite Jancis Robinson, Chardonnay 'routinely takes on the form of whatever character the winemaker desires'[1], making this a grape of almost infinite possibilities.
How does Chardonnay differ around the world?
Chardonnay in France
In Burgundy, Chardonnay is the driving force of white wine production, counting for the vast majority of the region's white grape planting, and even covering 51% of total vines (red included). Just within this one region, it's possible to understand the range of styles that can be achieved when a producer works with Chardonnay. In the Côte de Beaune area, Chardonnay is typically matured in wooden casks, resulting in a rich and concentrated wine with fruity and butter-leaning notes. Grands crus of this kind can actually be quite powerful with excellent ageing potential. On the other hand, Chablis Chardonnay tends to carry more of a pleasant acidity and mineral aromas, equally apt for ageing. The Côte Chalonnaise is also home to some fantastic variations on this wine, with cuvées that are a little less dense than those we find in the Côte de Beaune and lighter in style. Finally, in Burgundy's Mâconnais area, the Chardonnay wines have a mature character, often carrying notes of ripe white fruit and floral hints.
Chardonnay is also found in the Jura, where it has been cultivated for as long as in Burgundy. The variety covers 48% of the region's vineyards, well ahead of the Savagnin grape (17%). Here, freshness and minerality are the key characteristics that emerge, with a subtle profile. When blended with Savagnin, what results is a classic Jura wine carrying oxidative notes and nutty aromas.
This versatile grape is also used to make our favourite fizz! The sparkling cuvées crafted in Champagne are distinguished by their brioche-like notes and subtle almond flavour, though there is sometimes a hint of fruit in the mix, as well. Often (though not always) blended with other varieties, Chardonnay is an essential grape in Champagne, representing 30% of the region's planted vines.
A lesser-known fact is that Chardonnay is grown in the south of France; in fact, it the most planted white variety in the Languedoc-Roussillon region. Growing in a warmer climate necessarily alters the resulting wine, and here we find cuvées with a ripeness to them, even giving off notes of tropical fruit.
Shop Languedoc-Roussillon whites
Around the world
Beyond the borders of the Hexagon, we can head south to Italy, where the Chardonnay grape flourishes in the northern regions of Piedmont, Trentino, and Alto Adige. Here, it takes on a notably aromatic profile of citrus and apple, with varying unctuosity depending on whether it is aged in oak or not. Italian Chardonnay isn't as well-known as its French neighbour, although it was designated a DOC in the Langhe region in 1994, consolidating its good reputation. Some of the country's finest producers, like Angelo Gaja, craft their excellent cuvées using the grape, and at Querciabella, for example, Chardonnay is used in a blend.
As versatile as this grape may be, it has its limits. When we really turn up the heat, such as in the vineyards of Spain and Portugal, Chardonnay is trickier to cultivate, so winemakers in these warmer countries harvest the varietal in limited quantities.
On the other side of the Atlantic, we find Chardonnay widely planted in California. The climate here makes for rich and deep white wines thanks to its quick ripening. Oregon is another US region that has found success with the Chardonnay variety, moving away from the buttery cliché and producing wine marked by the freshness of the area's cooler climate.
Finally, Australia is big on Chardonnay. Like other countries, it has seen its stylistic phases in wine, and after a period of oak-heavy whites, the general trend has now moved towards something much crisper. This is especially the case in Victoria, a region producing some of the world's finest Chardonnay. Unfortunately, rising global temperatures are hitting Australian Chardonnay production pretty hard, with the grapes suffering a 12% yield drop in the summer of 2019[2].
To conclude, the character of the Chardonnay grape can't be neatly summed up, and this is arguably its greatest strength. From round and unctuous to crisp and fruity, it's a variety that can cover all bases, letting the terroir in question and the chosen style of the wine maker really shine.
[1] Robinson, Jancis & Johnson, Hugh, The World Atlas of Wine 8th Edition (London: Octopus Publishing Group, 2019)
[2] Daniels, Sarah, Climate Change Is Rapidly Altering Wine As We Know It (winemag.com, accessed 10/09/2021)