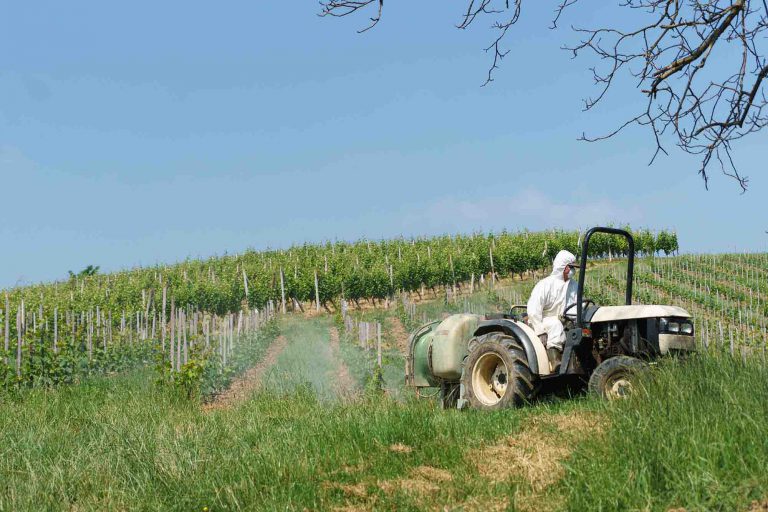 The topic of pesticides in wine and particularly in the wines of Bordeaux has become a recurring topic in the news and specialised media over the past several years. A UFC Que Choisir study has recently given a rather positive assessment of the changes in pesticide residues in Bordeaux wines, showing that they have been reduced threefold over four years.
The consumer protection magazine UFC Que Choisir published a survey of pesticides and Bordeaux wines at the end of December (No. 565, January 2018). The consumer association looked at the pesticide residue content of 40 Bordeaux red wines, 38 classified crus and two unclassified wines for the 2014 and 2013 vintages following a first inventory of fixtures four years ago (UFC 518, October 2013) to assess its evolution. This first test, done in 2013, covered 92 bottles from all over France and had shown a general contamination of wines, particularly those of the south-west. At the time, 33 different molecules had been detected, two of which were banned in France. In addition, the bottles contained on average 268g/l of residue. Today this proportion has fallen to 91 /l. Four years later, although there is still progress to be made, there is no denial that the situation has already greatly improved and that Bordeaux wines are on the right track.
What does this study on pesticides in Bordeaux wines tell us?
The study involved 177 molecules from pesticides, fungicides, herbicides or insecticides. Sulphur and copper, for example, (fungicides systematically used regardless of the type of viticulture) were not relevant in this work. The result may at first sight be worrying: only three of the wines were not "contaminated"; the others contained one to six of the molecules in question (as compared to fourteen, four years ago). "In total, 11 different synthetic chemical compounds were detected," the study reveals. It should be noted that the molecules in question are neither carcinogenic, mutagenic nor reprotoxic, nor considered as endocrine disruptors, except iprodione, a fungicide that is present in "very small quantities" in only three wines and that out of 40 wines tested, there was no evidence of the maximum authorised limit being exceeded.
Compared with the situation in 2013, the results are actually positive: in just 4 years, the presence of pesticides in bottles of Bordeaux grands crus has reduced more than threefold. "Three bottles out of 40 tested without residue: these results may seem disturbing, but they are actually indicative of the efforts made in this area," states UFC-Que Choisir.
However, some people regret the lack of quantitative targets and schedule for reducing the use of pesticides, as the sector could use this to accelerate the reduction of pesticides. In any case, both consumers and wine growers seem to have realised the urgency of the need for reducing pesticides in wines, even if, let us not forget, these are above all harmful to the people who handle these products in their pure state (winemakers)[1]. Pascal Chatonnet, a researcher, oenologist, winemaker and director of the Excell laboratory, says: "This improved management [editor's note : of the use of pesticides] is motivated first and foremost by a desire to protect the users and vineyard workers and then by greater respect for the environmental impact of the treatments. The improvement is not driven by a desire to reduce the toxicity of the wine delivered to the consumer who, to the chagrin of the followers of the controversy, could not be seriously questioned about the measured residue levels in this research. "
Which Bordeaux wines come out best according to this study?
The three wines that have no trace of pesticides are the following: Château Durfort-Vivens, Pontet-Canet and Clerc Milon. The first two are biodynamically certified châteaux (Demeter, since 2016 for Dufort-Vivens and Biodyvin since 2010 for Pontet-Canet), while Château Clerc Milon has no certification but combines techniques of sustainable farming, both organic and biodynamic. Recently, during Bordeaux Tasting, we had the opportunity to taste Durfort-Vivens 2016, a magnificent wine, with exceptional purity and finesse!
Four other wines only contain traces that are too weak to quantify: Château Beychevelle, Alter Ego de Palmer and Malescot-Saint-Exupéry.
Pesticides in wine, a fatality?
First of all, let us make it clear there is no such thing as wine without pesticides: even organic and biodynamic agriculture uses phytosanitary preparations which are pesticides. Several analyses have proved the presence of traces and residues of pesticides in organic wines[2]. Likewise, organic does not necessarily mean good for one's health and the environment. It just means that the wine has not been produced with any synthetic chemicals or GMOs. Although the development of organic and biodynamic production is undeniably great progress for health and for the planet, naturally this does not mean that everything that is organic is healthy and good for the environment and vice versa.
The use of copper is a well-known example: At high doses, it pollutes the soil and groundwater and is harmful to biodiversity[3], yet it is the only effective product registered in the biological fight against diseases such as mildew, so it should be used sparingly and intelligently. This example demonstrates some of the limits of organic farming: the regulation can still be greatly improved, often by making it more restrictive, or sometimes, on the contrary, towards more flexibility (for example, many winemakers who lose their certification because of a single use of chemicals which is deemed necessary to save their crop).
The solution lies mainly in a maximum reduction of pesticides whatever they are, above all to protect the health of winemakers and the environment, then to minimise residue in the wine (although their impact is probably very low on health). As Pascal Chatonnet reminds us, "It is certain today, as we had shown before, that by selecting the least residual and least aggressive molecules and by optimising the application programmes, we can obtain satisfactory protection whilst finding ultimately extremely low or even undetectable residue levels which can be scientifically proven."
This UFC Que Choisir study should delight wine lovers and calm the ardours of "Bordeaux bashers". This is therefore encouraging news for Bordeaux wines and a trend that should, hopefully, continue in the years to come, as Allan Sichel, president of the Conseil interprofessionnel du Vin de Bordeaux pointed out when commenting on the figures from the consumer association study: "These results are a step in the right direction, but we need to ensure that they are part on an on-going trend".
1 In Sami Youakim, "Occupational health risks of wine industry workers" , BC Medical Journal
2 In "Des pesticides même dans le vin bio" , 60millions-mag.com, 25/04/2012
3 In Gaëlle Berriau,  "L'utilisation du cuivre en viticulture : réduction de doses, seuil de toxicité et réglementation" . L'agriculture biologique en Pays de la Loire – résultats de recherche, n°115, décembre 2012
Access the article by UFC Que Choisir "Comparatif Pesticides dans les vins de Bordeaux"
Access the press Press Excell Laboratory "Résidus de pesticides dans les vins : tempête dans un verre de Bordeaux ? Réaction et mise au point de Pascal Chatonnet"
See all organic and biodynamic wines currently for sale
Register here to access auctions and fixed-price sales
Receive a free estimate of your cellar
Read further on iDealwine Le Blog:
Voir les vins bio et biodynamiques actuellement en vente sur iDealwine