We want to maintain high standards when it comes to all the in-house work that goes into the running of our auctions, so we've decided to alter our buyers' commission slightly. From 28th January 2022, the fees applied to your bids will be 20% (24% VAT incl.).
iDealwine's service is evolving. As you've probably spotted, our website is constantly changing to provide you with ever more precise and specialised options, and we're still expanding what's on offer. To give you an example, one of our biggest projects in place for the benefit of buyers is the NFT WineDex system, free for any bottle with a value of over €500. This is a kind of reinforced insurance for buyers that allows for better traceability and security thanks to the Ethereum blockchain, as well as various assessment details. Sound like gobbledigook? You can find out more about WineDex here at Winedex.io.
Alongside this is our team of experts who assess every bottle we sell, as well as our upcoming wine storage service, perfect for buyers looking for a place to stock their collection. These innovations are keeping iDealwine at the top of the fine wine game, consolidating our position as France's number one wine auctioneer for seven years running.
Where can I see the commission change on the website?
Every lot that goes up for auction has its own page on the website, and the full sum of your bid (VAT included) is always visible on this page: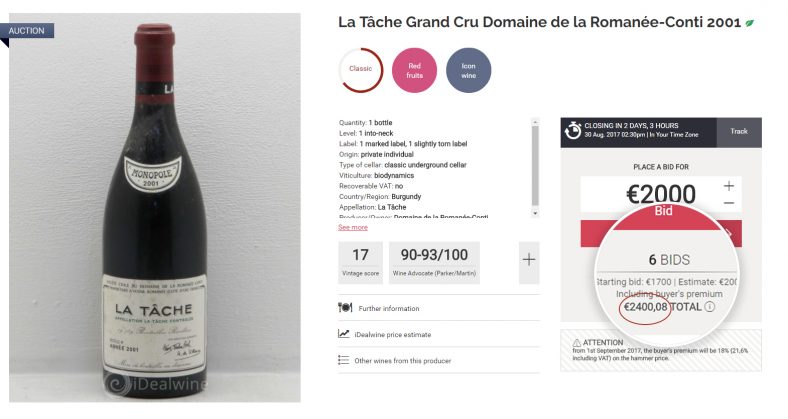 Also, by clicking on the symbol « i » at the right of the VAT incl. amount, you have all the information concerning the cost calculation for your next bid on this lot.
Commission up slightly, iDealwine never better
Our subsidiary International Wine Auction (IWA) – which manages the wine auctions on iDealwine – is in a league of its own, entirely specialised in wine auctions when this product represents just a tiny proportion of the activity for competitors.
Be reassured, we are determined to secure our leading position by offering you the most fabulous and rarest bottles, but also an incredible choice of vintages and formats. We would also like to seize the opportunity of this article to thank you for your loyalty. Thanks also to those of you who trust us to resell part of their cellar and thus get wine to buyers in 60 countries.
The new commission will be applied on all bids placed from 28th January 2022. No changes on fixed-price sales, however, as the price displayed is the final price including VAT.
Bid on our current auctions here