The iDealwine team
We've come a long way since we first started 18 years ago and, with exciting projects in the pipeline, it's onwards and upwards for iDealwine! We thought we'd take a moment to remind seasoned and new iDealwiners alike of all the great services available for those who are a part of our wine loving community. Read on for a breakdown…
Who we are
First things first, who are we you might ask? iDealwine was founded in Paris in 2000 by Cyrille Jomand, Angélique de Lencquesaing and Lionel Cuenca, three wine enthusiasts and former Paris Stock Exchange executives. In 2014 Arthur de Lencquesaing joined the team as International Development Director. 18 years on, and with a community of 450,000 wine lovers from over 120 different countries as well as offices in London and Hong Kong, iDealwine has developed a strong international presence.
What we offer
Quite simply, iDealwine is an online platform that allows you to buy and sell fine wine at auction as well as participate in fixed-price sales. We are France's leading online wine auction house (and second in the world) and a key player in the world of fixed-price internet sales and work closely with over 300 domains to source wine at competitive prices direct to our customers. What's more, iDealwine offers its customers extensive and up to date market analysis including price listings, real-time cellar estimates, Winedex indices and the option to create alerts for your favourite bottles. And it's all free. Simply create an account with us and you're ready to bid, buy and sell.
Here's a more detailed look at the services we offer.
Buy wine with us
1. AUCTION
Our auctions take place online but guarantee you the same services you'd expect from a classic in-room auction house: wine appraisal, authentication and auctioneer services ensure a transparent and proper sales process. Auctions are managed by the legal entity IWA Auction and approved by the French public auction regulation authority, the CVV (Conseil des Ventes Volontaires). Our team of experts check everything from the bottle condition to the cellars the wine has been stored in so you can bid in confidence. We offer a reasonable buyer's premium of 21.6% (inc. tax) on the final bid price and your wine will be delivered by our trusted couriers (unless you choose to collect).
2. FIXED PRICE
iDealwine also gives you the opportunity to buy wine at fixed price. There are 3 different types of fixed price sales:
Short-term fixed-price sales:
A number of flash fixed-price sales take place every month and last for 10-15 days. Normally centred around a theme (a region, for example), these sales offer fantastic wines that our team source direct from the hundreds of domains in our network. Our fixed-price sales work on a first come first served basis so it's best to get in early.
Permanent fixed-price sales:
The Must Haves is a small, manageable selection of wines that every collector should have in their cellar. We keep it constantly updated with our choice wines from the top winemaking regions. It's the perfect collection for those who want to start a cellar.
La Cave at iDealwine allows you to buy hundreds of wines all year round. We replenish it constantly so that you can keep your cellar topped up with your favourites.
Sell wine with us
Free cellar estimation service:
If you choose to auction your wines with us, our team of specialists will be delighted to guide you through the process and with a network of over 450,000 members, you can be sure that your wines are reaching important bidders. Simply fill in our online form or send us an email specifying the wines you wish to sell and we will get back to you within 7 days with a free cellar estimation. For rare or valuable bottles we ask that you provide us with pictures. Our sales fee is 15.6% (inc. tax) of the hammer price.
Keep up to date with the wine market
Our website is geared towards helping you keep up to date with the latest market developments. As an iDealwine member you have free access to:
Price estimates:
Our price estimates are updated weekly and reflect current market developments. The price estimate of a wine is calculated from the hammer price plus buyer's premium at iDealwine auctions as well as other big French auction houses.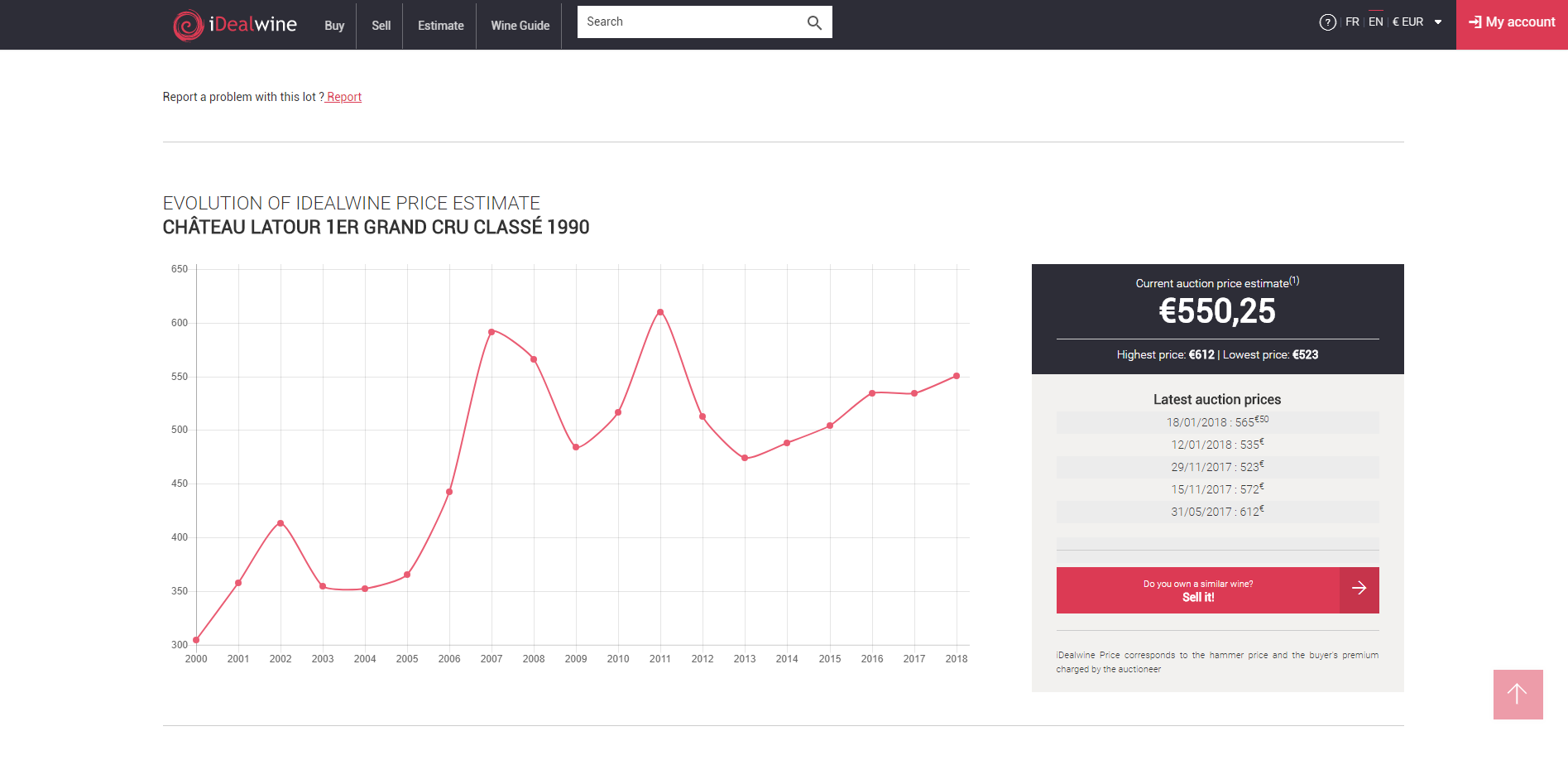 An example of the price estimate that you will see for every bottle on our website
Winedex indices:
Our comprehensive knowledge and experience as well as our position as the leading French wine auctioneer puts us in a favourable position to understand the wine market as well as anticipate future trends. We decided to set up the indice iDealwine, a range of four indices that tracks French fine wines:
iDealwine indice100: based on the 100 most sought-after Bordeaux, Burgundy and Rhône wines
iDealwine indiceBordeaux: based on the 40 most sought-after Bordeaux wines
iDealwine indiceBurgundy: based on the top 40 Crus from Burgundy
iDealwine indiceRhône: based on the 25 most sought-after Rhône wines
Wine guide:
Informative wine guides and vintage guides are available on our website to aid you in your quest for the perfect bottle. They'll provide you with everything you need to know in order to bid, buy and sell like an expert and choose wines that best suit your tastes.
Newsletter:
Subscribe to our bimonthly newsletter and receive all the latest news from the world of wine. Alternatively, just visit our blog. We'll always keep you updated via social media too so come and say hello on Facebook, Twitter, Instagram and LinkedIn.
Create alerts:
As an iDealwine member you can set up alerts to keep track of your favourite wines in your virtual cellar.
So there you have it, our services in a nutshell. In short, whether you're buying or selling wine, you can have complete faith in our knowledge and expertise. We're always happy to hear from you so feel free to pick up the phone (+33 1 56 05 86 10) or send us an email at info@idealwine.com if you ever have any questions. It's all go chez iDealwine as we gear up for an exciting 2018, we hope you'll join us. Santé!
See all wines currently on sale
Search the price of a wine
Not yet registered to buy wines with us? Sign up here for free!
Other things to read on the iDealwine blog:
America leads the way in wine consumption
China on course to be the world's second largest consumer market for wine by 2020
Bordeaux wines now contain three times fewer pesticides than less than 4 years ago