The arrival of beautiful sunny days, blue skies and the first barbecues create an almost holiday-like atmosphere, and with it comes a desire for good rosé. Our Fixed-Price Sale offers a superb selection to choose from!
Rosé has become a real phenomenon. In France, it represents nearly 30% of wine consumption. Unfortunately, lower prices often lead to a certain mediocrity in quality, which becomes more acceptable when you are relaxing in the sun or at the seaside…
For this sale, however, we were particularly careful to select only the very best rosés (after having tasted many). We completed this selection by adding some beautiful Provençal reds, as well as whites, that will perfectly complement your grilled fish or meat this summer.
Here are a few pointers to help you choose:
Rosé as an aperitif
The typical Provençal rosés are lightly coloured, delicate and easy to drink. We selected a few classics that our loyal customers will be familiar with, like Rimauresq (the domaine and "R" version; a little vinous, but always delicate) and Clos Cibonne (the "generic" version).
This year, we also added two new products from this family. First, the magnificent Léoube (the classic and "Secret de Léoube"); these wines are vinified by the Ott family, who has contributed greatly to the revival of Provençal wines for over 40 years. And secondly, Roquefort, to the west of the Côtes de Provence, above Cassis, which offers delicious organic wines produced in a cooler terroir.
Classic rosé with food
In general, rosés that are a little more colourful and vinous go perfectly with a nice aperitif like tapas, but can also be paired with an entire meal, including barbecued meats. This sale includes a wide selection of this style, with wines from very diverse origins.
Of the Provence appellations, you can choose between five rosés from Bandol, produced of Mourvèdre. This includes the delicious La Tour du Bon (at a very reasonable price), great historical classics like Pibarnon and Pradeaux, as well as La Bégude or the Bandol domaine of Terres Promises.
Apart from Bandol, you can also look to Roussillon, with two very nice rosés: Les Sorcières d'Hervé Bizeul from Clos des Fées and Collioure from La Rectorie, two powerful wines to enjoy with an entire meal.
And if you want a rosé from the 2015 vintage, then try the Mathilda from Chapoutier in Australia, harvested late February this year, summer in the Southern Hemisphere!
Unusual rosés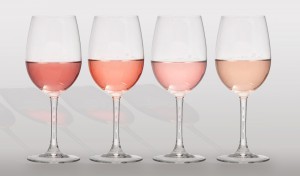 If you find that the classical Provençal rosés are too light for your palate, we also offer several out-of-the-ordinary wines. This includes, like every year, the "Tibouren" of Clos Cibonne – a rosé produced almost entirely (90%) from the rare and typically Provençal grape variety, Tibouren. It is a vinous rosé, moderately coloured, but tasty and perfect to accompany food.
Another rosé with personality is the "Baron G" of Bellet, from the eponymous appellation, located on the hills of Nice. A small appellation, with the grape variety that exists only here – Braquet – making the rosé fairly colourful, complex and especially rich in aromatics, with a pleasant spiciness.
In Tavel, the Dame Rousse of La Mordorée surprises with its very vinous character, almost like a light red, which will accompany all sorts of grilled meats.
Reds and whites
This sale also offers a superb selection of Provençal red and white wines. The red (and white) of Trévallon (IGP Les Apilles), probably the best red of Provence, is produced in equal parts from Cabernet Sauvignon and Grenache. In Bandol, there is a quartet of delicious reds, with Tempier, La Tour du Bon, Pradeaux and La Bégude.
Other reds from Provence – which are in our opinion too little known and undoubtedly offers great discoveries – include Rimauresq, Roquefort and Léoube, the stunning "natural" reds of Milan, Côtes de Provence and Coteaux Varois with Terres Promises, not forgetting the exceptional "Baron G" of Bellet.
To top it all off, there is a small, but very qualitative selection of white wines, whether it be the Bandol from La Tour du Bon, the Genêts of Roquefort, the "Baron G" of Bellet or the whites with little or no sulphur added from Henri Milan near Aix-en-Provence.
New this year: the Provence sale is expanding to the south, with the arrival of Corsica and the beautiful Patrimonios reds and whites by Yves Leccia of Domaine E Crocce.
And finally, a little nod to our featured colour, with a small, but pretty selection of rosé champagnes, for those who missed our last Champagne sale!
This Fixed-Price Sale ends Tuesday, 23rd June – enough time to extensively browse these delicious wines. Enjoy a pink holiday!
This Fixed-Price Sale closed on 23rd of June 2015.
Access the current sales on iDealwine
Search the price of a wine
Visit iDealwine.com