Today marks the end of the Second World War in Western Europe, when 70 years ago on the 8th of May 1945, Germany unconditionally surrendered. In France, the churches rang out the end of the war and people took to the streets in joyous celebration, while General de Gaulle announced that "victory is ours".

As if to celebrate the end of the war, 1945 is also considered one of the best vintages of all time in Bordeaux! Some wine regions may claim to produce a great vintage, or even a "vintage of the century", every other year, but there are still some truly great ones – those that entice fine wine buyers, especially at auction. And 1945 was one of those…
Château Mouton Rothschild of 1945 is a stellar example and to celebrate the Allied victory and mark the return of Baron Philippe to his estates, he commissioned the artist Philippe Jullian to illustrate the wine's label with the "V" for Victory. The label for each subsequent vintage has been illustrated with the reproduction of an original artwork created for Mouton. This wine's current iDealwine price estimate is €9,185.34 and reached €9,086 on Online Auction last year.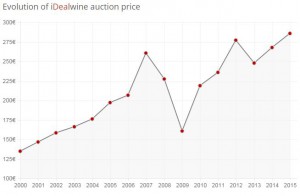 Château Haut Brion 1945 is another historic wine of quite remarkable quality. This "Victory Year" wine is described as being powerful and complex, with great tannic richness; ample, fat and complete. The current iDealwine price estimate is €2,072.67, although it managed to reach €2,500 and €2,124 on Online Auctions last year.
Although these two legendary 1945s aren't currently available on iDealwine, why note celebrate the 8th of May by placing some bids on other wines form 1945?
Read more about the true vintages of the century
Visit iDealwine.com