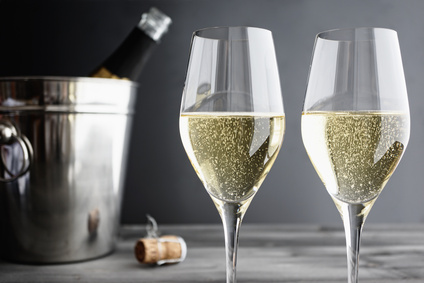 Let's continue the regional rankings of grands crus sold at auction during the first half of 2017, with great champagnes. Within this TOP20 we only find vintage (and old) champagnes with renowned names.
Our series of regional rankings is not far from being finished, but it was impossible to ignore champagnes. As a reminder, in order to establish this first half-year ranking, we decided to keep only the most expensive wine of each property, auctioned on iDealwine. Moreover, if the wine was sold in a magnum, its price is converted to its bottle equivalent to allow a fair comparison between the different wines.
The first obvious fact, without being unexpected, is the omnipresence of old vintages. Indeed rarity has prevailed in these auctions. In this TOP 20, there are only vintage cuvées. The oldest vintage is nearly a century old (1923) and the most recent one is 2002, which is the only cuvée from the 2000s in this ranking. Moreover, this ranking only gathers the most renowned champagne names, no niche domains, except for one more confidential champagne from Pierre Peters (more information below). Prices start at nearly €200 (€192 more precisely); proof if necessary, that great mature champagnes value remarkably at auction. The first five bottles of the ranking are way above €1,000 and one of them even nearly reaches €3,500: Salon Cuvée "S" 1959. Finally, these very expensive champagnes have interested almost exclusively private buyers, mostly French, but also British, Belgian, Danish, Italian, Russian and from Hong Kong. We also regularly observe in our auctions how North-European amateurs are attracted by great mature champagnes.
Back to the podium. Salon Cuvée "S" 1959, auctioned €3,480 is at the first place of the ranking. This Champagne, well-known by amateurs and owned by the Laurent-Perrier group, concentrates several characteristics that make it truly unique. The champagnes are only made from Chardonnay grapes (Blanc de Blancs, so no blending), all from the Côte des Blancs terroir and even from a single cru, Le Mesnil-sur-Oger. This underlines how prestigious the production is. Salon does not use reserve wine but only the production of the current year, producing only one vintage cuvée. Moreover, it produces its champagne only in the greatest years, which represents 37 vintages during XXth century1. Finally, the production remains confidential with 60,000 to 80,000 bottles produced per vintage. And to feed the myth, the 1959 vintage is excellent.
At the 2nd place, the Champagne Philipponnat Clos des Goisses 1947 was auctioned €1,560. This cuvée is the finest from this domain, coming from an exceptional plot, the oldest champagne clos (walled vineyard), full south and with an extreme slope (45°). Once again, the old – and cult – vintage explains the price, since more recent years are currently trading between €100 and €200.
At the 3rd place, we find, as often in the iDealwine auction rankings, the famous cuvée Krug Clos du Mesnil, here in the 1981 vintage. This house is clearly one of the most prestigious ones from champagne. It produces only exceptional cuvées with a very particular style, and the Clos du Mesnil is its jewel!
Then, Bollinger Vieilles vignes françaises 1988 ranks 4th. This other house of excellence produces a unique champagne with this cuvée from centenary and pre-phylloxeric vines. Unique in the world, this cuvée is always sold at the highest prices (never below €500), especially when it comes to great mature vintages. Roederer comes in the 5th place, with a simple Brut cuvée, in the 1923 vintage, leaving behind its emblematic Cristal. This Brut 1923 is an absolute rarity with this almost-centenary champagne. Ranking 6th, Jacques Selosse, a small but immensely famous house, is loved by Asian amateurs and regularly hits the headlines of our auction reports, as prices regularly increase.
Iconic and more mainstream champagnes are ranked afterwards (Dom Pérignon 7 th, Lanson 8th, Charles Heidsieck 9th, Ruinart 10th, Veuve Clicquot Ponsardin 11th, Billecart-Salmon 12th, Perrier Jouët 13th, Laurent Perrier 15th, Mumm 16th, Pol Roger 18th, Pommery 19th and Piper Heidsieck 20th). Note that the Champagne Comtes de Champagne from Taittinger is one of the cuvées, of which the price at auction on iDealwine has increased the most in recent months, and this, very regularly.
Finally, one of the surprises of this ranking is Pierre Péters, ranking 17th in this TOP 20. This family domain has 20 hectares spread over excellent terroirs, especially in the heart of Mesnil-sur-Oger and produces classic champagnes, combining power and elegance. It only produces with its own vines and therefore does not buy grapes. Really appreciated by professional tasters (18/20 B + D, 95/100 Parker), this special cuvée Les Chétillons, which is rarely seen in iDealwine auctions, was auctioned at €216, in the superb 2002 vintage.
To summarize, and if we had to remember only one thing from this ranking, it is that mature champagnes are very successful at auction. When it comes to great champagnes and exceptional vintages, their ageing potential is much more important than one could imagine; they even sparkle after several decades. Moreover, mature champagne lovers also appreciate them for their great white wines quality, once the bubbles have faded away with time… So think about it if by chance you find great mature champagnes in your cellar: don't throw them away and organize yourself a memorable tasting (or resell them on iDealwine, you should not be disappointed!).
| | | | | | |
| --- | --- | --- | --- | --- | --- |
| # | Wine | Vintage | Hammer price | Buyer | Country |
| 1 | Salon Cuvée S | 1959 | €3,480 |  Private Ind. | FRANCE |
| 2 | Philipponnat Clos des Goisses | 1947 | €1,560 | Trade | FRANCE |
| 3 | Krug Clos du Mesnil | 1981 | €1,560 |  Private Ind. | FRANCE |
| 4 | Bollinger Vieilles Vignes Françaises | 1988 | €1,200 | Trade | UNITED-KINGDOM |
| 5 | Louis Roederer Brut | 1923 | €1,080 |  Private Ind. | FRANCE |
| 6 | Champagne Selosse Grand cru Blanc de blancs Extra Brut | 1999 | €456 |  Private Ind. | HONG KONG |
| 7 | Moët & Chandon Dom Pérignon | 1971 | €444 |  Private Ind. | HONG KONG |
| 8 | Champagne Brut Lanson Lanson Red Label | 1971 | €384 |  Private Ind. | DENMARK |
| 9 | Charles Heidsieck Réserve Charlie | 1979 | €384 |  Private Ind. | HONG KONG |
| 10 | Ruinart Dom Ruinart | 1976 | €348 |  Private Ind. | FRANCE |
| 11 | Champagne Brut Veuve Clicquot Ponsardin | 1964 | €336 |  Private Ind. | FRANCE |
| 12 | Billecart-Salmon Clos Saint Hilaire | 1995 | €336 |  Private Ind. | ITALY |
| 13 | Perrier Jouët Cuvée Belle Epoque | 1973 | €312 |  Private Ind. | RUSSIA |
| 14 | Champagne Taittinger Comtes de Champagne | 1995 | €300 |  Private Ind. | HONG KONG |
| 15 | Laurent Perrier Grand Siècle Cuvée Alexandra | 1998 | €284.40 |  Private Ind. | BELGIUM |
| 16 | Mumm René Lalou | 1979 | €216 |  Private Ind. | FRANCE |
| 17 | Champagne Brut Pierre Péters Grand Cru Les Chetillons Pierre Peters | 2002 | €216 |  Private Ind. | FRANCE |
| 18 | Pol Roger Cuvée Winston Churchill | 1993 | €192 |  Private Ind. | FRANCE |
| 19 | Pommery Brut | 1969 | €192 |  Private Ind. | FRANCE |
| 20 | Champagne Brut Extra Piper Heidsieck | 1966 | €192 |  Private Ind. | FRANCE |
1 1911, 1914, 1921, 1925, 1928, 1934, 1937, 1942, 1943, 1946, 1947, 1948, 1949, 1951, 1953, 1955, 1956, 1959, 1961, 1964, 1966, 1969, 1971, 1973, 1976, 1979, 1982, 1983, 1985, 1988, 1990, 1995, 1996, 1997 et 1999
See all Champagnes currently on sale
See all wines currently on sale
Register here to access auctions and fixed-price sales
Receive a free estimate of your cellar
Read further on iDealwine Le Blog: