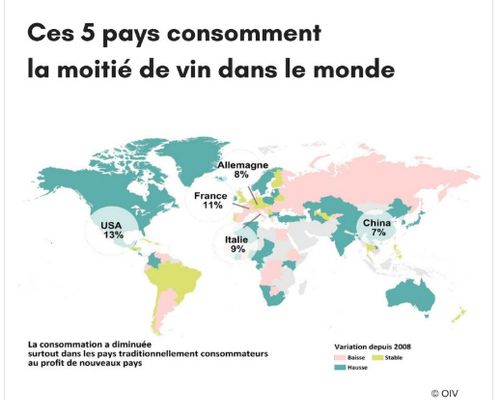 The International Organisation of Vine and Wine's (Organisation Internationale de la vigne et du vin; OIV) latest press release looks at the current state of the world wine market. We look at some of the key figures.
Last week saw Jean-Marie Arnaud, director general of the OIV, give an economic assessment of the global wine market in 2017.
The OIV is an "intergovernmental organisation" and "the scientific and technical reference of the vine and wine in the world". With 46 member states, the OIV represents the principle wine producing countries in Europe and the New World.
This "Global State of Conditions Report", presented in Paris on the 23rd April, showed that the total world surface area under vines is 7.6 million hectares, a figure that appears to have stabilised. This is due to a decrease in the surface area of Turkish (-20,000 ha since 2016) and Spanish (-8,000 ha since 2016) vineyards to make way for the cultivation of other food crops and the increasing number of vines being planted in China (+6,000 ha since 2016).
Despite this stabilisation, 2017 was a historically low production year at just 250 million hectolitres, a decline of 8.6% on 2016. This decrease is explained by various climatic events, such as the influence of El Niño on Southern American vineyards. While Argentina and Brazil grew in comparison to 2016, Chile had a less productive year. Despite France's climatic afflictions, it remained the second largest producer in 2017, behind Italy.
Production may have seen a decline in 2017 but consumption registered a slight increase at 234 million hectolitres. The historically significant consumer countries (France, Italy, Spain) have stabilised while consumption figures in emerging markets show no signs of slowing. The USA confirmed its position as the biggest global consumer at 32.6 million hl (France is second at 27mhl).
Finally, international trade is on the rise in terms of both volume (+3.4%) and value (+4.8%) compared to the preceding year. Sparkling wine sales registered a particularly strong performance, especially in the USA where Champagne and sparkling wine is enjoying a renaissance (a trend we've noticed here too at iDealwine).
Interested in knowing more? Our look at 2017 at auction gives an overview of the trends observed in the 2018 iDealwine Barometer that shaped the fine wine auction market last year. Looking onwards into 2018 raises questions as to how the current economic climate and the mixed 2017 vintage will influence consumer habits…
See all wines currently on sale
Not yet registered to buy wines with us? Sign up here for free!

Other things to read on the iDealwine blog:
Romanée-Conti 2000: new auction record on iDealwine at €17,146
America leads the way in wine consumption
China on course to be the world's second largest consumer market for wine by 2020