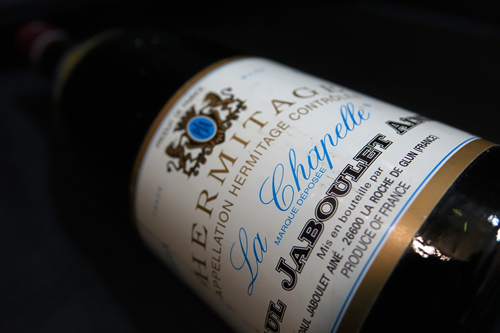 In the auction closed on 1st June, the jewels of the Rhône valley – the bottle of Hermitage La Chapelle 1961, and others besides – made their mark. In Alsace, the Rieslings from the Trimbach stood out. 
As usual, our connoisseurs were on the look-out for the kind of quality bottles they love. And in the auction that closed on 25th May, there were ample bargains to be had from every region.
From Bordeaux, several cases of grands crus of the 2008 vintage (Latour, Petrus, Haut Brion, Cheval Blanc, Margaux, Mouton Rothschild) sold for €4,400 a case, 21% higher than their price estimate. Apart from these cases and a lot of 12 Château Margaux 1988 (€4,032, +26%), bids on the Bordeaux remained relatively reasonable. Only the 2000 vintages showed marked gains, such as a lot of 12 Fleur Petrus 2000 (+11%) and a bottle of Lafite Rothschild 2000 (+11%).
Of the Burgundies, the undisputed champion at this auction was the Coche-Dury estate. Enthusiasts fearlessly battled it out for the best vintages from here. Among the whites, a bottle of Meursault 1er cru Les Perrières 2010 changed hands for €1,440 (+72%), while a Meursault 1er cru Genevrières 2010 went for €780 (up +93%!) to a British connoisseur.  Among the reds, the Armand Rousseau estate drew particular interest: a Hong Kong wine aficionado got his hands on a Chambertin grand cru Clos de Bèze 1998 for €600 (+57%).
But it was the Rhône which triumphed at this sale: a bottle of Hermitage La Chapelle 1961 from the Jaboulet estate outshone all others, and by a large margin.  This ultra-rare example, in an exceptional vintage, sold for €13,320, compared with a reserve price of €12,000, surpassing its iDealwine estimate by 67%.   It was an Austrian enthusiast who managed to secure it after a remarkable round of bidding.  It should be mentioned that the bottle, which had recently been reconditioned, came with a certificate issued by the domaine. Besides this shining star, the region distinguished itself with numerous other examples. A bottle of Côte Rôtie Côte Brune 1990 from Marius Gentaz-Dervieux was sold for €900 (+41%) to an American professional buyer. The name Château Rayas remains as prestigious as ever, as demonstrated by the lot of two bottles of Châteauneuf du Pape 2008, which sold for €720 (+36%). And finally, even in the absence of its famous Cathelin label, Jean-Louis Chave still manages to get pulses racing: a lot of two Hermitages 2007 made one French connoisseur's day, after he secured it for €432 (+64%).
Other wine lovers concentrated on the other French wine-growing regions… and rightly so. In Alsace, the Rieslings from the Trimbach estate attracted particular interest from wine buffs in Hong Kong. A lot of two bottles of Clos Sainte Hune 2005 went under the hammer for €528 (+31%), while a Clos Sainte Hune Late Harvest 1989 sold for €504 (+13%), compared with its reserve price of €300. It is fair to say that the future is looking rosy for the Trimbach estate, not just in France.  In Languedoc, the Grange des Pères domaine continued to score highly, not just on "classic" reds: a French connoisseur acquired a magnum of white 2012 for €432 (+6%) and one from 2011 for €384 (+7%). The Jura region also drew a great deal of interest, via the name Pierre Overnoy: for example, his Arbois Pupillins captured the attention of a Spanish bidder, who acquired a Savagnin Ouillé 1997 (50cl) for €180 (+50%).
And let us not forget the Loire, and its famous Clos Naudin (by Philippe Foreau), which was its best ambassador at this auction. A French wine enthusiast set his sights on the Vouvray Goutte d'Or 2011 from this estate, paying €780 for it (+27%). It is interesting to note that, generally speaking, most of the buyers of the big-name wines from the Loire are French – hooray for them J. François Cotat is also on the up with his Sancerre wines Les Monts Damnés 1999 (a lot of 6 bottles went for €276, +35%) and La Grande Côte 1994 (the same size lot, sold for €228, +12%). Finally a special mention for the Domaine des Roches Neuves and its red wine, "La Marginale", which seems to be climbing in value all the time: a lot of three bottles of the 1996 vintage was snapped up by an American professional buyer for €120 (+8%).
Read further on iDealwine Le Blog
Auction Report 17th May: Daguenau grabs headline
Auction Report 27th April: 1966 vintage and Yquem
Auction Report 13th April: stagnant Bordeaux & Burgundy
Register here to access auctions and fixed-price sales
See all wines currently on sale