This year, our trip to Bordeaux to taste the 2019 vintage looked a little bit different from in previous years. We're starting our highlights with the general condition of the vintage as well as our favourites in Pessac-Léognan, specifically in Graves and Sauternes.
Whilst, of course, this year has seen a very different organisation for Bordeaux's primeurs campaign, this didn't put us off from travelling to the south to take part in the tasting sessions. Quentin, Raphael and Elsa headed to the properties to try the latest samples. This gave them a good idea of the vintage in several appellations. We're starting south of the left bank, in the appellations of Graves, Pessac-Léognan, Sauternes and Barsac.
A general reminder of the 2019 vintage in Bordeaux
The climate conditions were largely marked by a mild, dry winter, a cool spring, and an incredibly dry, hot and sunny summer from mid-June. This brought a slight drought, but this tends to be good for Bordeaux wines. This really was one of the driest summers Bordeaux had ever seen, though the humidity seen in the spring meant that the soil had built up water reserves that ensured continued growth for the vines. This was, in the end, a year of extremes with very little calm in the seasons.
The harvest was plentiful, bringing small, concentrated grapes with good levels of sugar, acid, and phenolic richness, as well as high alcohol percentages. The white grapes were exceptional in quality, at once sweet, acidic and aromatic. As for the dessert wines, quantities are low because there were issues developing enough botrytis. Having said this, the grapes were still very aromatic, fresh and flavourful.
All in all, everything points towards a fine red vintage and an exceptional white one!
The best of Pessac-Léognan
Overall, everything we tasted in Pessac-Léognan was remarkable – in our humble opinion, this is one of the most successful appellations in terms of the 2019 vintage. Here are some of our favourites:
Clos Marsalette red (50% Merlot – 49% Cabernet Sauvignon – 1% Cabernet Franc) Matured 15-18 months in 35% new wood
Fruity nose (red and black fruits), hint of spice
Dense, deep palate; good tannic structure; body; nice length
Clos Marsalette white (53% Sauvignon Blanc – 47% Sémillon) Matured 30% new wood
Lovely nose, ripe white fruits, white flowers, citrus
Silky palate, balanced by a lovely freshness, complex, charming, fluid and elegant texture.
Haut-Bailly.II – previously La Parde (60% Merlot – 40% Cabernet Sauvignon)
Nose of ripe, dark fruits, pencil lead, peppery notes
Silky palate, tannins appear gradually, fruity, flavourful
Château Haut-Bailly (56% Cabernet Sauvignon – 36% Merlot – 4% Cabernet Franc – 4% Petit Verdot) Favourite!
Deep and complex nose, aromas of black fruits
Gentle attack, silky tannins, elegant mouthfeel, pure and precise, beautiful finish. Very accomplished, superb finesse and balance despite the volume, in the property's classic style.
Nose of dark fruits, cherry, graphite
Fresh and silky palate, creamy, elegant, charming
Château Carbonnieux white
Nose of white fruits, exotic fruits, white flowers, honey
Light palate, lovely freshness, fruity with citrus flavours
Nose of black fruits, spices, slightly oaky
Dense palate, creamy, powerful but not too much, nice length
Château Pape-Clément white
Intense nose of white fruits and citrus
Powerful palate, white fruits, saline notes, intense and mineral finish
Nose of ripe, white fruits, lemon, grapefruit, peach
Very fresh palate, tense, good texture, carried by a nice bitterness, well-balanced
C de Carmes Haut-Brion – Favourite!
Complex nose, a basket of fresh red and black fruit, floral notes
Gentle attack, fresh palate, tannins that build gradually and remain for the finish, quite powerful, silky tannins
Will be matured for 2 more years
Château les Carmes Haut-Brion – Favourite! 55% whole bunches
Almost Médoc-like on the nose, black fruits, dried rose, leather
Very light and fresh attack, dynamic palate, silky texture, tannins that appear on the finish, beautiful length. Elegant mouthfeel, harmonious, tart and sophisticated.
Château du Thil red (90% Merlot – Cabernet franc 10%)
Nose of mature black fruits
Tart palate, powerful tannins, still balanced
Nose of red and black fruits, smoky notes
Balanced palate, fruity and charming; a good price/quality ratio.
Very Sauvignon on the nose, white fruits, citrus, mineral and smoky notes
Balanced palate, light texture, saline finish. Very good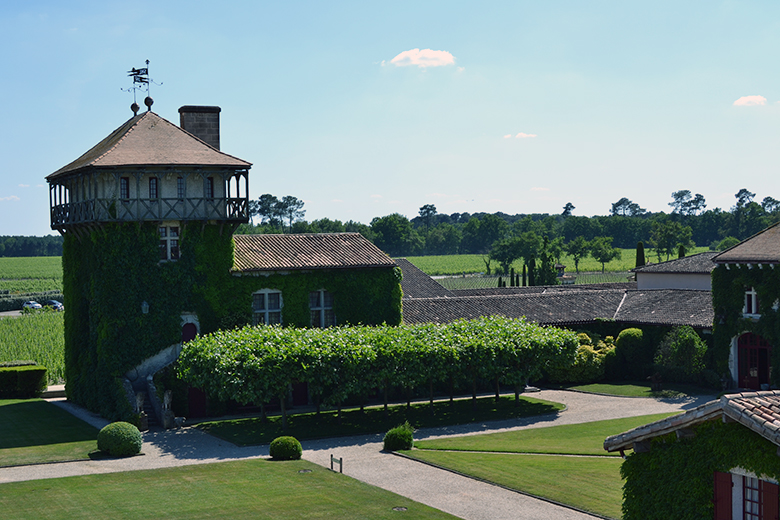 Château Smith Haut-Lafitte – Favourite!
Charming nose with aromas of dark fruits, smoky notes
Super silky palate, very delicate, fresh, balanced and racy. Top class.
Château Smith Haut-Lafitte white – Favourite!
Complex nose, mineral, flint notes, white fruit, citrus
Dynamic palate, fresh, very long, saline finish. Refreshing palate, nice texture, sweet pear flavours to finish.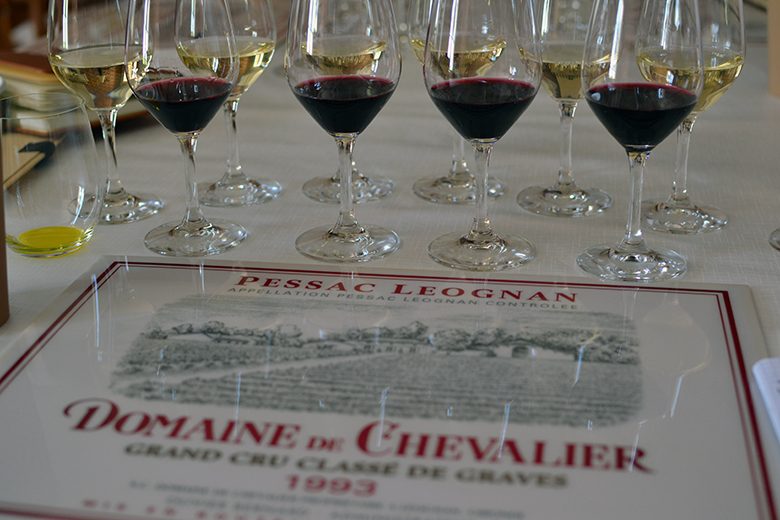 Nose of white fruit, white flowers, honey
Silky palate, fruity, dense, good body, lovely saline finish
Domaine de Chevalier red – Favourite!
Nose of ripe black fruits (black cherry, blackberry), mineral and minty notes
Elegant palate with lovely tannins, flavoursome, dense, well-integrated alcohol thanks to the balance and freshness. In the property's classic style.
Domaine de Chevalier white – Favourite!
Subtle and elegant nose of white fruits (pear and peach), citrus and white flowers (acacia, honeysuckle).
Unctuous and ample palate, precise and crystalline, mature, citrus notes (orange zest), nice length
See all the Pessac-Léognan wines currently for sale
The best of Graves
Nose of forest fruits, blackcurrant, liquorice
Silky palate, supple tannins, freshness, nice vigour, long finish
Nose of citrus (lemon, orange, grapefruit), white fruit (peach), mineral and floral notes. Subtle and delicate.
Pure, precise palate, elegant with some substance nonetheless, crystalline finish
See all the Graves wine currently for sale
The best of Sauternes
Symphonie from Haut-Peyraguey
Nose of fresh pineapple, passion fruit, honey
Balanced palate, fresh and silky, with a light and pleasant texture
Nose of mango, citrus, candied fruit
Elegant palate, freshness, long finish
Château Doisy-Daëne – Favourite!
Intense and complex nose of exotic fruit, mineral hint, floral and light citrus notes
Balanced, elegant palate, flavours of candied citrus fruit
Subtle nose, ripe fruit notes, patisserie notes
Opulent and creamy palate, riche, a bit of freshness and a long finish
L'extravagant from Doisy-Daëne
Intense nose of candied citrus, pineapple
Syrupy mouthfeel, rich and very concentrated, powerful, fruity, precise and elegant, long finish
See all the Sauternes wines currently for sale