The proprietor of Château Haut-Bailly, a classified cru vineyard in Graves, died at his home in New York on Saturday, 16th December. The world of wine has paid tribute to this businessman who was CEO of the American M&T Bank Corporation and also a great lover of wine and art and supporter of many French and American cultural institutions.
An entrepreneur, Mr Wilmers was both a financier and a wine connoisseur. He was Chief Executive of the American M&T Bank Corporation and acquired Château Haut-Bailly in 1998 and Château Le Pape in 2012.
As an art lover, he was a patron of Bordeaux institutions such as the Cité du Vin and the Opéra National de Bordeaux. Alain Juppé awarded him the grade of Officer in the Légion d' Honneur system, on behalf of the President of France, at Château Haut-Bailly on September 21. Robert Wilmers was also very involved in education, providing funds for education grants and research and cooperation programmes between French and American universities.
This great wine lover once admitted to Terre de Vins magazine: "I run a bank and I don't know if it will still be there in 100 years time. But Haut-Bailly has been around since the 17th century and will still be here in 200 years time. At Haut-Bailly, I'm the manager of something that's part of history and this aspect touches me deeply."
Robert G. Wilmers played an active role in his wine properties, contributing to every strategic decision.  He also invested heavily to modernise the property, and under his guidance Haut-Bailly grew steadily. One of his best decisions though was to hand over the reins of Château Haut-Bailly to Véronique Sanders. At the time, there were few women in the wine industry, but the grand-daughter of former proprietor Jean Sanders rose to the challenge with panache. She and Robert (Bob) Wilmers formed a brilliant and close partnership.  At a dinner to open the 2015 en primeur tastings, Robert Wilmers regaled guests with both a succession of fine dishes and his legendary humour. In the midst of the US presidential election campaign, he mused on a possible family connection between Véronique Sanders and the candidate Bernie Sanders. The evening's tasting, featuring the 1975, 1985, 1995 and 2005 vintages also confirmed that Château Haut-Bailly wines are definitely some of the most elegant and silky in Bordeaux.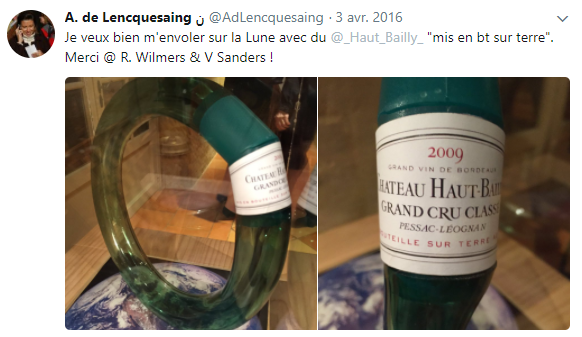 The evening also showcased Octave De Gaulle's "space bottle" designed for an exhibition organised at the Musée des Arts Décoratifs et du Design de Bordeaux, with the title "Civilising Space". The bottle was created to hold a few drops of the precious 2009 vintage of Château Haut Bailly.
Robert Wilmers left this world on December 16.  Will he take some of his iconic wine with him on the journey that awaits him? The iDealwine team sends its most sincere and heartfelt condolences to his family, Véronique and everyone at Haut-Bailly.
See all wines currently for sale
Register here to access auctions and fixed-price sales
Receive a free estimate of your cellar
Read further on iDealwine Le Blog: