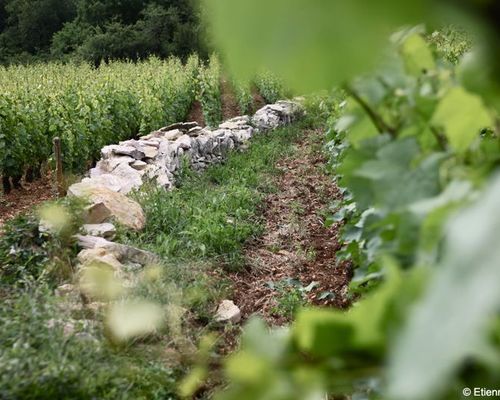 A reference of Puligny-Montrachet, Domaine Etienne Sauzet produces refined and elegant wines that are world renowned. Part of the iDealwine network since early 2018, we thought we'd tell you more about this prestigious partner domain.
It all began in 1903, when Etienne Sauzet inherited a few hectares of vines on the fabulous Puligny terroir, complemented by some later acquisitions of Montrachet. In 1974, Gérard Boudot, Etienne's granddaughter's husband took over the domain and worked tirelessly and passionately to propel it to new heights. Gérard also became involved in some négociant activity, buying grape must from other vineyards to complete his production, without affecting the quality of his cuvées.
Today, it is Emilie Boudot (the founder's great-granddaughter) and her husband Benoit Riffaultat at the head of this great domain who continue the family tradition. Like the generations before them, they work meticulously to produce wines under the Sauzet signature that have become synonymous with purity and elegance.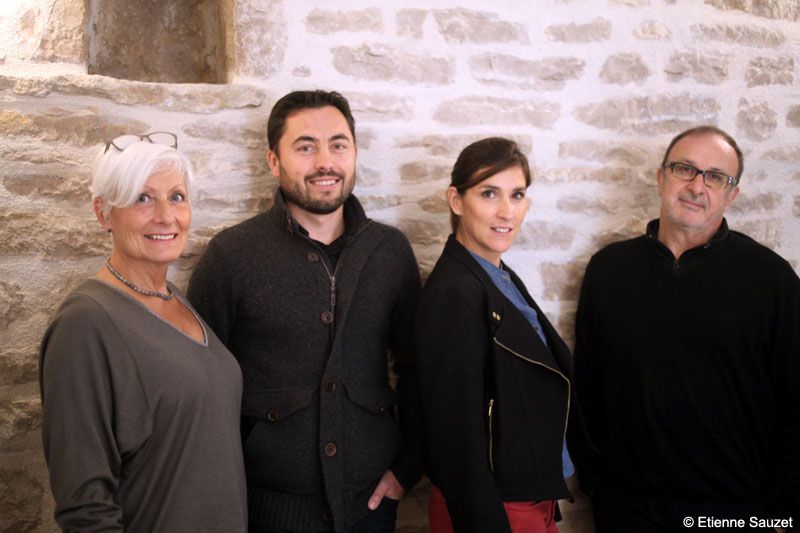 Emilie and Benoit know the exceptional terroir of their parcels extremely well. Benoit has developed the domain's cultivation methods over time, firstly taking it an organic direction (receiving certification in 2006) before transitioning to biodynamics (the domain has held its biodynamic certification since 2010. Yields are therefore limited, and grapes are harvested late. In 2005, Benoit looked to refine the Sauzet style by improving maturation techniques. After a classic vinification, the wines are matured on fine lees to enhance their expression of terroir and produce the refined wines so typical of this producer.
The crus from Domaine Etienne Sauzet are universally recognised as a reference of Puligny-Montrachet and praised amongst enthusiasts and critics alike for their remarkable character, finesse and elegance. Luckily for you, some of these precious bottles are currently available to buy on our site!
The wines from Domaine Etienne Sauzet currently on sale
Situated below Montrachet, Bâtard-Montrachet is considered one of the finest white wines in the world. Light gold in colour, it develops a yellow gold hue and an exceptionally powerful bouquet. This wine is rich and complex with aromas of lemon, butter, almond, honey and spices. Powerful and majestic, the Bâtard-Montrachet from Domaine Sauzet is a true reference in this appellation. From vines aged around 30 years and vinified in 50% new oak, it needs approximately 8 years to reach perfect maturity.
Bettane & Desseauve score: 19/20
The Champ-Canet terroir in Puligny-Montrachet always gives rounder, fatter wines that drink well in their youth. They keep for a minimum of 5 years.
Bettane & Desseauve score: 17/20
Robert Parker Wine Advocate score: 90-92/100
The Puligny-Montrachet Premier Cru La Garenne is an elegant white with good concentration. It needs 7 to 15 years in the cellar to reach its drinking peak.
Robert Parker Wine Advocate score: 88-90/100
The Puligny-Montrachet 1er Cru Les Combettes comes from a hectare of old vines (around 50 years). Ample, generous and streamlined, it also very mineral and is one of the domain's flagship wines. It shares a similar ageing potential to grands crus (a minimum of 5 to 10 years).
Bettane & Desseauve score: 17.5/20
Robert Parker Wine Advocate score: 91-93/100
Le Puligny-Montrachet Premier Cru Les Perrières is a wine that is both generous and tender. The Perrières terroir always gives rounder, fatter wines that can be enjoyed in their youth. It will age for around 5 years, longer in the best vinatges.
Robert Parker Wine Advocate score: 91-93/100
The Puligny-Montrachet 'Villages' is fermented and matured in oak (20% new). From parcels spread out across the commune (Le Trézin, Les Meix, Charmes et Les Corvées), this harmonious wine should be enjoyed after 2 to 3 years in the cellar.
Bettane & Desseauve score: 15/20
This Chassagne-Montrachet opens on a very delicate nose with fruit (citrus, apricot, mango) and floral (white flowers) aromas. It also boasts a distinct minerality. This wine deserves to be cellared for a few years.
See all wines from Burgundy currently on sale
See all wines currently on sale on iDealwine
Search for the price of a wine
Other things to read on the iDealwine blog:
Domaine Pinson in Chablis rooted in Kimmeridgian terroir
Meursault and Marsannay return to the forefront
Burgundy Grands Crus: prices keep on soaring | Auction Report