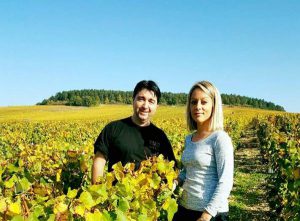 The Pinson family have cultivated their vines in prestigious Chablis for nearly four centuries now. Laurent Pinson's grandparents were, in times past, winemakers, but they were also cattle farmers and this mixed farming approach worked well in their three hectares, protecting them from Mother Nature's occasional hijinks. After the Second World War, the Pinson family decided to devote their full attention to viticulture, and they still do to this day. Read our interview with Laurent Pinson…
After completing their studies in viticulture and oenology in Beaune in the 1980s, Christophe and Laurent Pinson came home to learn the family business from their grandfather. After a few years, and lots of hard graft, the family domain grew from 4 hectares to 13, and the Pinson family soon realised that their chai needed to be bigger and better to cope with the intake of these new plots and, in 2004, a beautiful new cuverie was built. In 2008, Charlène Pinson, daughter of Laurent and the first female winemaker of the family also joined the family business and so the stage was set for a bright future for Domaine Pinson.
Interview with Laurent Pinson:
How was the 2016 harvest for you and the year in general?
Like for all winemakers it was complicated what with the frost and some issues with powdery mildew. Then, in summer the temperature went back to normal so the year finished very well. The quality is certainly there but not the volume.
Can you explain your approach in the vineyard to us in a few words?  Do you have any guiding principles?
Of course we do, if you want to make wines with character you must have guiding principles. We always want the best quality grapes as this is what allows us to best express our terroir. So we always carry out ébourgeonnages (getting rid of any unwanted shoots) which means that the grapes that do remain on the vine get plenty of ventilation from the wind. A lot of hard work goes into looking after the vines before the grapes arrive in the chai.
How would you describe your approach in the vineyard?
We are very reasonable. Our approach is organic but we haven't applied for the certification. We don't use pesticides, even though many official farming bodies and technicians recommend it, but we won't totally disallow because in some rare instances it can really help in a cold terroir like this. We do use farming equipment but, in order to make sure our wines are rich, structured and balanced we do a small batch at a time. For example, for Grands Crus, laws state that the yield must be limited to 54 hectolitres per hectare and we operate between 40 and 45.
You and your brother were trained in viticulture and oenology in Beaune, as was your daughter years later. What's changed in 30 years?
Vinification techniques are pretty much the same. What's really changed is the analytical monitoring in winemaking. Today we can look at things like malolactic fermentation in great detail. Charlène did a lot of her training in the Rhône, a region that has other factors to think about such as the relief. In Ampuis in Condrieu the vineyards are terraced so she discovered that there are vineyards that demand a lot more manual labour.
How is it going in the cuverie for you at the moment?
We have had to make some changes so as to adjust to the low yield this year. Smaller yields require smaller tanks so we've been busy getting the tanks ready. Also, since we pick the grapes by hand we have automated the process of bringing the grapes into the chai. We vinify 10% of our wine in oak and 90% in stainless steel, and then we blend.
Please explain to us the main difference between the wine produced from the left bank of the Serein and the right bank.
The Serein is a tributary of the Yonne and diagonally cuts the vineyards in this area in two. The type of soil differs on either side. On the left bank the soil is rich in calcium and white clay while on the right bank, the bank of the Grands Crus, has what we call kimmeridgian soil that is rich in calcium and marl. You can find old fossils of oysters that we call "Exogyra virgula" in this soil. It was formed about 150 million years ago.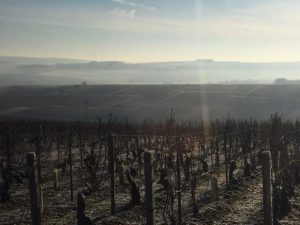 Here are some of the Domaine Pinson wines available to buy on iDealwine.com:
Chablis 2016:
Chablis 1er Cru Mont de Milieu 2016: This plot is situated on the right bank with a south facing orientation. They are warm wines with much elegance and finesse and are excellent examples of the Chablis style.
Chablis 1er Cru La Forêt 2016: From the left bank with south easterly facing exposure, the wine from this plot is slightly cooler. The calcium rich soil of this terrain gives the wine much energy.
Chablis GC Les Clos 2016: Vinifications for this wine are done 20% in oak and 80% in tanks with 12 months in oak. Laurent suggests enjoying this wine with pan fried scallops.
Chablis GC Les Clos Cuvée Authentique 2015: The grapes for this cuvée also come from the Les Clos Grand Crus plot but spend time in new oak at the beginning before spending 24 months in old oak to soften it. When young this wine is woody and will age beautifully.  Laurent suggests enjoying this wine with a good filet mignon in wild mushrooms or with a savoury cheese such as an old comté, soumaintrain or with a white meat curry.
See Domaine Pinson wines currently on sale
See all Chablis currently on sale
Access the current White Burgundy sale on iDealwine
See all wines currently on sale on iDealwine
Search for the price of a wine
Other things to read on the iDealwine blog:
What do you and Churchill have in common?
Understanding sulphites in wine?
Natural wine, Isabelle Legeron MW