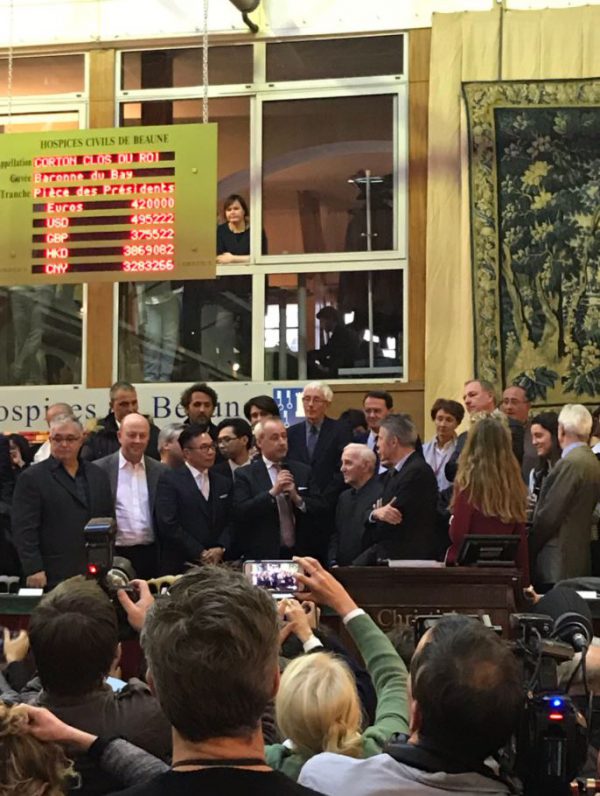 On Sunday 19th November, the 157th charity auction of the Hospices de Beaune was held. A sale that reached the record level of €13.5 million collected, reflecting the frenzy of connoisseurs for great Burgundy wines. An enthusiasm reinforced in recent weeks by the purchase of Clos de Tart by the businessman François Pinault.
Last Sunday (3rd Sunday of November), the traditional charity auction of the Hospices de Beaune was held. This hospital institution was founded in 1443 and owns 60 hectares, mostly in Premier Cru and Grand Cru, from legacies and donations.
In the wake of soaring prices for this wine region, the most famous charity auction in the world reached €13,529,301, a historical result -this annual auction was created in 1859-. The previous record goes back to 2015 with €11.3 million for a sale that took place in the tragic context of November 2015 Paris attacks (the sale was held on the 15th, two days after the attacks). For this 2017 edition, the partner associations receiving the donations from the sale of the wine barrel "Pièce des Présidents" (top auction of the day) were the Foundation for Alzheimer's Research, the Tara Expeditions Foundation (research foundation for the preservation of seas and oceans), and the Federation for Brain Research. Agnès B., Julie Depardieu, Charles Aznavour and Marc-Olivier Fogiel were chosen to sponsor this edition.
In detail, 787 pieces were sold (595 last year), from 50 different cuvées (33 red and 17 white), for a hammer price of €11,145,000, which represents an increase of 8.60% compared to last year. This year's growth was mainly driven by the rise in prices of white wines (+3.15% for reds, +29.65% for whites), even though the forecasts were rather at respite on prices. Most of the lots were red wines (630 pieces) with 157 pieces of white and even 10 pieces of 'eau de vie' and 5 of fine Burgundy. The two 'Pièces du Président' -there is only one traditionally-, composed of Corton Grand Cru Clos du Roi, were auctioned €420,000 (two pieces), below the record set in 2015 to €480,000, in favour of the victims of the Paris attacks. Chinese businessman, Shek Kong Leung, a customer of the Burgundy merchant Albert Bichot bought these pieces, helped at the last minute by a Brazilian buyer, Alaor Pereira Lino, who offered to add €10,000 to win the lot, in exchange of at least a bottle of Corton. The house Albert Bichot has also confirmed its rank of leading buyer with the acquisition of 115 pieces for a total of € 1,746,600.
The auction sales of  the "Pièce des Présidents" year after year
2005
Beaune Premier Cru-Guigone de Salins
1 piece of 228L
 €61,000
2006
Beaune Premier Cru-Dames Hospitalières
1 piece of 228L
 €200,000
2007
Beaune Premier Cru-Nicolas Rolin
1 piece of 288L
 €65,000
2008
Pommard Premier Cru- Dames de la charité
1 piece of 228L
 €50,000
2009
Meursault Premier Cru-Les Charmes et Corton Grand Cru Charlotte Dumay
2 pieces
 €81,000
2010
Beaune Premier Cru-Nicolas Rolin
barrel  of 500L
 €400,000
2011
Corton Grand Cru Clos du Roi
barrel  of 460L
 €110,000
2012
Corton Grand Cru-Charlotte Dumay
barrel  of 350L
 €270,000
2013
Meursault Premier Cru – Les Genevrières
barrel  of 456L
 €131,000
2014
Corton Bressandes Grand-Cru
1 piece of 228L
 €220,000
2015
Corton Renardes Grand-Cru
1 piece of 228L
 €480,000
2016
Corton Bressandes Grand-Cru
1 piece of 228L
 €200,000
As usual, iDealwine took part in this auction and set its sights on Beaune Premier Cru Cuvée des Dames Hospitalières. Our pieces are matured by Louis Latour, a long-standing partner of iDealwine. You will be able to find this wine in the context of fixed-price sales on our website, and thus become the owner of some bottles from these legendary auctions.
This auction is a sort of barometer of current and future trends for Burgundy wine prices, and it also reflects the frenzy on each auction of the region's grands crus, emphasized by the recent purchase of the Clos de Tart, for a record amount too.
See wines from the Hospices de Beaune currently for sale on iDealwine
See all wines from Burgundy currently for sale on iDealwine
See all wines currently for sale
Register here to access auctions and fixed-price sales
Receive a free estimate of your cellar
Read further on iDealwine Le Blog: