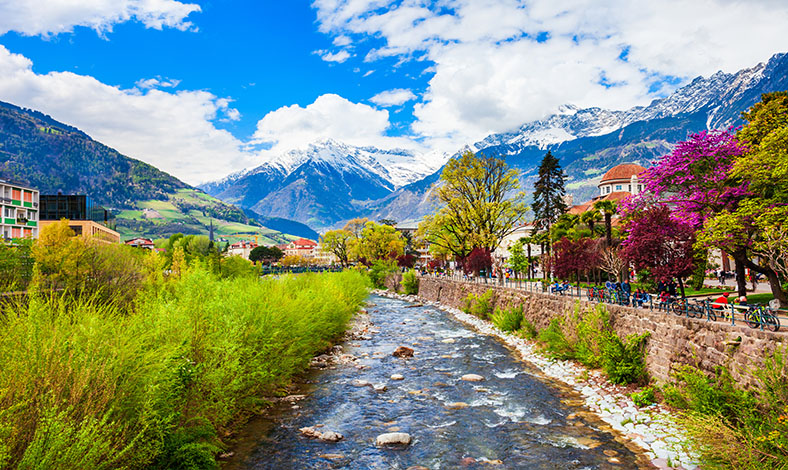 Our teams visit Italy and the UK |Our travel adventures
As the new year is approaching and many of us start thinking about where we'd like to travel to in the coming year, we thought we'd take a look at the iDealwine team's adventures from the start of November. One trio set off to Italy to attend the Merano Wine Festival while the other hopped on a train and travelled to London to visit the Decanter Fine Wine Encounter London.
MERANO WINE FESTIVAL
Merano, an old luxury tourist destination with spas and ski slopes located on the border with Austria, gains a new lease of life each year during the historic festival, which attracts the country's top wine producers and some participants from abroad ­ that's us at iDealwine. Wine enthusiasts from the four corners of Italy come together at the event, while others travel from nearby countries (Austria, Germany and Switzerland) or even further afield.
This year, our selection of wines illustrated the knowledge and talent of French winemakers. Here are the gems that Victor, Antonia and Laura presented there.
From Champagne:
Billecart-Salmon 2009: A classic from a great Champagne house. This wine, which is perfect when paired with a meal, is mainly made of Pinot Noir and was aged for 8 to 9 years in the cellar so it could develop its complex, flavourful palate.
L'Hommée Extra Brut Premier Cru from Roger Coulo: From the oldest vines the house owns on the Montagne de Reims. The name L'Hommée comes from a previous agricultural unit of measure that was once used in Champagne and corresponded with the number of vines a person could work in a day ­ 333 square meters.
Premier Cru Extra Brut from Leclerc Briant: With a majority of Pinot Noir grapes in the blend, this Champagne with a small dose (3g/litre) comes from Premier Cru vines, cared for using biodynamic methods.
From Burgundy:
Clos de Mazeray 2018 from Jacques Prieur: A wonderful, structured Meursault produced by a major player in Burgundy.
Pouilly-Fuissé Climat 2019 by Robert Denogent: A Chardonnay from 50-year-old vines that was aged for 32 months (stainless steel vats, barrels, amphora, etc.).
Nuits-Saint-Georges Le Village Vieilles Vignes 2018 from Edouard Delaunay: This wine comes from an négociant currently in vogue that has distributed La Romanée-Conti wines since the 1940s.
Nuits-Saint-Georges Premier Cru Aux Murgers 2018 from Edouard Delaunay: A Premier Cru divided into 595 bottles and 6 magnums, therefore a true rarity.
From Bordeaux:
Château Rauzan-Ségla 2006: A great Bordeaux classic from a vintage that is ready to drink now.
Château Smith Haut-Lafitte 2006: The top Pessac-Léognan wine which is also from a vintage that is ready to be opened
Le Puy cuvée Emilien 2017: With a large amount of Merlot (nearly 80%) and gentle vinification, this wine can be enjoyed young or aged for several years in the cellar.
From other regions were Morgon Corcelette 2020 by Jean Foillard, Riesling Le Dragon 2019 from Josmeyer and Savennières Gaudrets 2019 from Belargus.
We also had a little fun and every day, there was a different blind tasting challenge at our stand. The wine enthusiasts were confronted with the finesse of Alberto Orte (Valdeorras A Portela 2016), a classic Burgundy from Laurent Roumier (Chambolle-Musigny 2018), a bottle from the rising Beaujolais star Alex Foillard (Brouilly 2019) and two completely different Alsace wines (Gewurztraminer Vendanges Tardives 2018 from Ostertag and Le Village des Amoureux 2020 by Grange de L'Oncle Charles). The participants did not shy away from the difficult excise we had set them and enjoyed themselves.
DECANTER FINE WINE ENCOUNTER LONDON
On 5 November, the wine world also descended on London to attend the famous wine fair organised by Decanter. The British magazine welcomed over 1,000 visitors to The Landmark London hotel to celebrate its 25th anniversary. With more than 600 wines to taste under the same roof, it was a dream for those attending with included Margaux, Marion and Laure from iDealwine.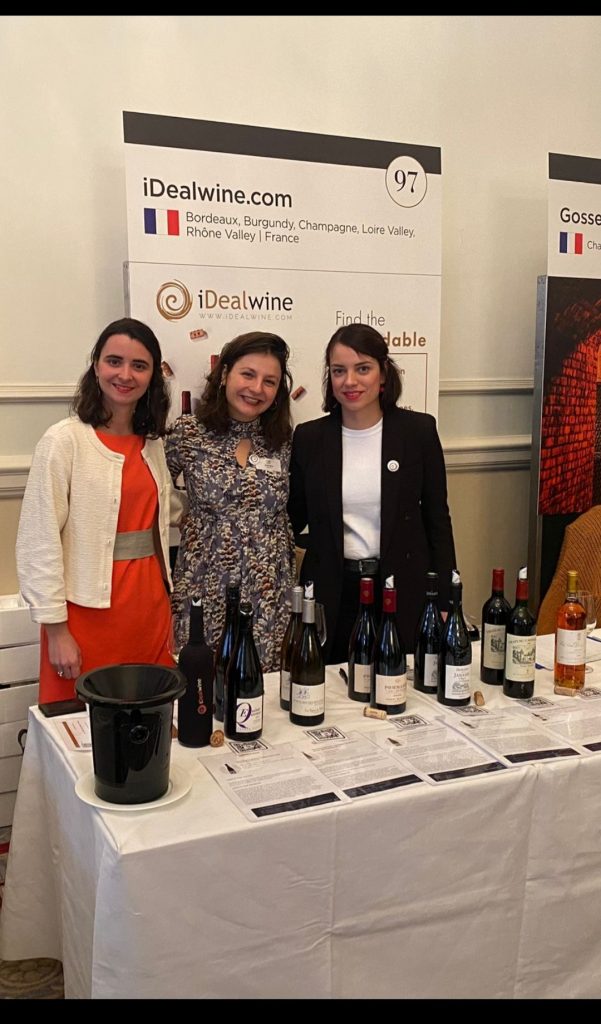 At the iDealwine stand, wine lovers could sample the following wines:
Champagne Quint Essence Blanc de Noirs 2010 Franck Pascal: With notes of stone fruits and brioche, this vintage Champagne delights all who try it.
Montlouis-sur-Loire Les Vignes de Michel 2018 Domaine du Rocher des Violettes: A dry Montlouis from old vines that are nearing their 120th birthday. It shows the best that this Loire terroir has to offer.
Pommard Premier Cru Les Rugiens 2008 Domaine Henri Boillot: Those in attendance made a beeline to our stand just to sample this wonderful Pinot Noir, which is ready to drink. It comes from the one of the most beautiful terroirs in Pommard and is crafted by a relatively unknown domain.
Châteauneuf-du-Pape Chaupin 2011 Domaine La Janasse: Enthralling, this Châteauneuf-du-Pape is solely composed of Grenache! It possesses a souple tannic structure and highly intense flavours.
Château Carbonnieux 1998: This captivating, classic Pessac-Léognan releases red fruit aromas as it swirls around the glass, while the palate contains tannins that become well integrated over time.
Sauternes 1990 Château Doisy-Daëne: This legendary wine from a splendid vintage is sophisticated, ample, fruity and elegant.
The wine lovers could also put their knowledge to the test and taste two wines blind:
Château Clarke 2005: Those who tasted this wine could identify the grape varieties present but not the appellation, Listrac-Médoc. Predominantly made of Merlot and Cabernet Sauvignon, it is both powerful and velvety.
Meursault 2018 from François Mikulski: Aside from the name of the domain, many visitors were able to pinpoint the appellation and the vintage due to the wonderful buttery aromas as well as its roundness, richness and freshness. It is also a pretty lively wine.
We hope you all have a brilliant 2023 and maybe we will see you on our travels next year!
All wines currently available on iDealwine