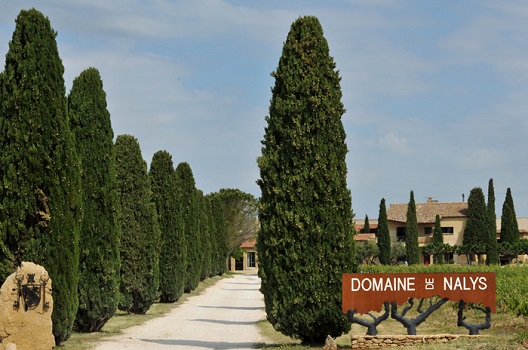 As in any industry, transactions are usual for the wine sector. Guigal acquired Domaine de Nalys at the end of July. A new adventure for the family historically from northern Rhône which now turns towards the southern part, starting with a prestigious name: Châteauneuf-du-Pape.
The wines from Châteauneuf-du-Pape are known worldwide and this may arouse certain interests. Consequence: at the end of July 2017, Guigal announced purchasing Domaine de Nalys from Groupama, which owned it since 1975. This acquisition enables Guigal, historically based in Ampuis, to conquer the South of the region, where it only had a negoce activity up until now. Domaine de Nalys sells approximately 300,000 bottles a year in collaboration with about forty winegrowers on site. Marcel Guigal, president of the eponymous company, says that the family has been breeding and selecting wines from the prestigious Châteauneuf-du-Pape appellation since 1946. It therefore seemed quite logical that Guigal wished contributing to the positive reputation of this region.
For those who do not know, the Domaine de Nalys uses about fifty hectares East from village Chateauneuf-du-Pape planted on the three great terroirs Castelpapal, all on hillsides, along the road of Courthézon. The former owner, Dr. Duffays, helped making Chateauneuf white wines famous. They represent 15% of the production. Now a dozen people grow 13 grape varieties on the property (grenache gris, noir and white, syrah, mourvèdre, cinsaut, counise, muscardin, vaccarèse, terret noir, clairette, roussane, bourboulenc, picardan, piquepoul) following responsible agriculture principles.
Estimated at €50 million, the transaction concerns the vineyard, buildings, winemaking tools and stock of wine, making all stakeholders happy. Even if if the cellar needs a bit of work done to it, Guigal  is enthusiastic of ​​acquiring a domain so well located and looked after. Meanwhile, Amaury Cornut-Chauvinc is pleased to hand over the keys of the property to a family renowned for its regularity and unfailing rigor. The inhabitants of the region themselves express their satisfaction, considering that this transaction will contribute to increase the prestige of this appellation where one hectare costs around €400,000.
Does this first acquisition in the southern Rhône for Guigal imply the start of a new era with other possible transactions? Stay tuned!
See wines from Guigal currently for sale
See Rhône wines currently for sale
See all wines currently for sale
Register here to access auctions and fixed-price sales
Receive a free estimate of your cellar
Read further on iDealwine Le Blog: