The South of France, and particularly Languedoc-Roussillon, is known for its mild, Mediterranean climate, modern production techniques and good value for money wines. A recent showcase by Sud de France in London highlighted this region's diverse offering, from easy-drinking and fruit-forward sippers to the more serious and individual wines.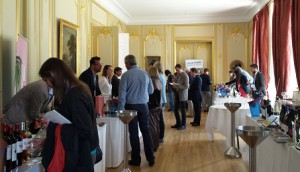 Languedoc-Roussillon is the world's largest vineyard and in 2013, more than 453 million bottles were exported. Germany remains its most important market, while sales in the US have doubled over the last five years.
Of the 20,000 growers in the area, around 1,000 have converted their vineyards to organic viticulture, compared to only 148 in 2000. Red wine makes up the majority of production at 69%, with varieties such as Carignan, Cinsault, Grenache Noir, Syrah, Mourvèdre, Cabernet Sauvignon and Merlot all playing a part.
It is no secret that this region produces a large volume of affordable wines and many of the bottles presented at the trade tasting sell for around €5 or less (ex cellar door)! But digging a bit deeper (and tasting a bit more), I discovered some true gems from this diverse and interesting area.
Mas Gabinele is situated in the small town of Laurens in the heart of Faugères. Comprising only 18ha, the vineyards are grown on sandstone-schist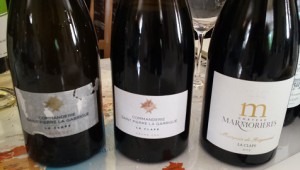 soil, which leads to very low yields. The Rarissime (literally meaning 'rare') white and red are both very interesting and unique, while the top of the range red blend of Mourvèdre, Syrah and Grenache is owner Thierry Rodriguez's personal "quest for quality". The Inaccessible 2011 retails for around €85 and is an exceptionally smooth and elegant wine.
François Lurton is the fifth generation of the Lurton family of Bordeaux and after years of experience, he created and developed his own estates in France and abroad. The Mas Janeil vineyards are grown in Fitou, Saint Chinian and Côtes du Roussillon. The Château des Erles 2013 from Fitou is a wonderfully rich, yet fresh and elegant wine. Export manager, Arnaud Irigaray, explains that the 2013 is the first production of this wine in 10 years, due to a replanting
of their Syrah vineyard, which makes up half of the blend (with Grenache and Carignan).
Château de Marmorières is the largest vineyard in La Clape, with around 150ha. Family-owned since 1826, owner Jehan de Woillemont presented the delicious 2014 Commanderie de Saint Pierre La Garrigue. From Hospitalier Languedoc La Clape, this white wine has subtle white fruit and creamy oak. A blend of Bourboulenc, Grenache Blanc, Roussanne and Marsanne, these vineyards are grown on the top of hill Saint Pierre. The red Commanderie de Saint Pierre La Garrigue 2013 is smooth, yet spicy, and the Grenache and Syrah vineyards are grown very close to the ocean, with a southern exposure.
Winemaker Jérome Esteve of Château Montfin in Peyriac de Mer in the Aude produces strictly organic wines from
their 25ha of vineyards. The Cuvée L'Une 2012 from Corbières is a maiden release – selling at around €15, it will only be produced in exceptional years. This is a blend of two very special parcels of 80 year-old Carignan and 40 year-old Grenache.
The vines of Domaine de Nizas are planted in pebbly, basalt and clay soil, and are organically produced. The Rouge 2011 from Languedoc (Syrah, Mourvèdre and Grenache) and La Réserve 2009 from Languedoc Pézenas (Mourvèdre, Grenache and Carignan) are both complex, elegant wines. And better served chilled, as demonstrated by sales manager, Loic Reymond.
The region may be known for its value for money offers, but there is no shortage of producers who are serious about creating seriously good wine. The current iDealwine sales include delicious examples from the Languedoc-Roussillon, so why not try some of these generous wines for yourself?
Access the current Online Auction and Fixed-Price Sale
Search for a specific wine
Learn more about Sud de France wines
Visit iDealwine.com
Written by Elona Hesseling