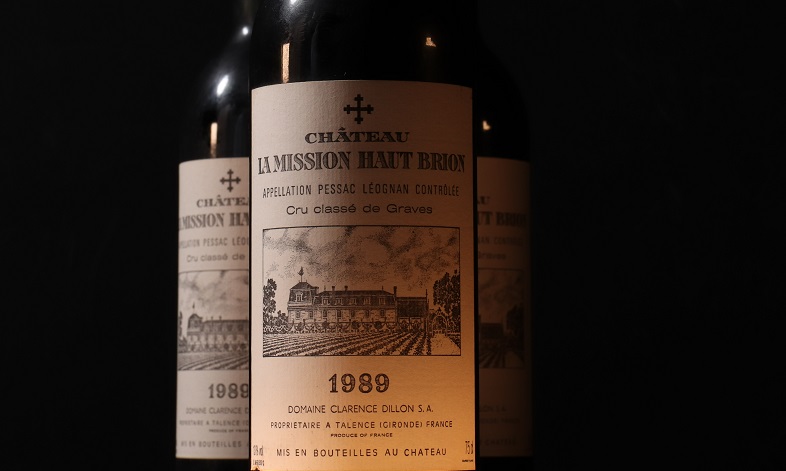 Pairing wine and food together comes about in one of two ways. Either you have a recipe and you'd like to find a wine that'd be a good accompaniment, or you are looking for a dish that would go with a bottle. And the latter is the dilemma that faces us when we have a brilliant wine in our collection.
Let's set the scene. You've invited four great wine lovers to dinner, and you have decided that you're going to open one of the finest bottles you have in your collection. When looking at your red wines, you're hesitating between a Latour 1996, an Ausone 2005, a Clos Vougeot from Domaine Leroy 2001, a Rayas 2006 and a Clos Rougeard 1989. You have a smaller selection of white wines but that doesn't make the choice any easier… There's a Corton-Charlemagne 2002 from Domaine Coche-Dury and a Domaine Chave Hermitage 1991. Decisions, decisions. And on top of that, you have to decide what you're going to cook! For the past two nights, you haven't been able to sleep because the question "What am I going to serve that will do these wines justice?" has been going around and around in your head.
But never fear because Auntie iDealwine is here.
To start with, have a look at what the top chefs and restaurants are serving. It can be said that pairing fine wine with the flavourful dishes is not easy but nowadays, many chefs and restaurants are finding ways to marry the two together. You never know if something might inspire you while you carry out your research…
But be sure not to get too carried away. Keep in mind that preparing more complicated dishes takes time and adds pressure, and let's be honest here, hosting a dinner party is stressful enough without choosing a complicated dish. It's best to stick with a classic, yet relatively simple dish that doesn't use too many different flavours so that the bottle of wine can still shine. Think roast meat, pan-fried fish, a ragu sauce…
Roast beef
The key to success here? A spoonful of confidence, a pint of precision and a handful of minutes to allow the meat to rest after cooking. Add a simple, yet tasteful sauce such as shallots in a red wine or a grated truffle sauce and you'll be grand. Along the same train of thought, you could present duck breast with the type of sauce. In both cases, serve the meat with a side dish that will not add too much competition to the plate. For example, potato in all its forms (mashed, gratin, sautéed…), in-season mushrooms, small rectangles of sautéed polenta, and other side dishes in the same vein. But just so you know, it's best to avoid vegetables that are too "green" and have a vegetal flavour as they will not pair with the wine. All the red wines mentioned at the start of the article will pair perfectly with this type of dish, whether we're talking about the powerful, tannic Bordeaux or the more delicate Burgundies.
Pheasant, partridge, pigeon or guinea fowl
Fine red wines are often too tannic and powerful for classic poultry such as chicken. They can, however, accompany poultry with stronger flavours as long as they aren't prepared with too many other sophisticated flavours such as raisins and fruity berries like cranberries. The meat of the game birds mentioned above has sufficient aromas for accompanying a red wine from Burgundy or the Loire Valley. If the wine is too tannic or too powerful, the pairing will fall flat on its face. If you know your guests like a Bordeaux or a Rhône wine, they can be paired with these game birds so long as the wine is at least 20 years old because then the tannins will have become more subdued.
Slow cooked leg of lamb
Here the quality of the meat and how it's cooked is of utmost importance. This is one dish where you don't want to add garlic as it'll be too powerful for the mature wines. The best way to serve the meat would be with a simple sauce created from its cooking juices. Prepare the same side dishes we mentioned for the roast beef, and you could even serve fresh or dried flageolet or Paimpol beans with this dish as their delicate flavour and texture would go well with the red wine. With slow cooked lamb, fine wine from Bordeaux and the northern and southern Rhône would be more apt than those from Burgundy and the Loire.
Fish and the like
Here it is important to avoid flavours that are too strong as they would "kill" a fine white wine so leave seafood and smoked salmon to one side. It'd also be best to leave flavourful, fatty fish such as salmon, tuna and, of course, sardines and mackerel for another dinner. It's best to avoid perfumed sauces such as those which include dill, pink peppercorn and fennel. The same goes for the side dishes; you don't want them to be too aromatic. Rice is perfect as is mashed potato. If you'd like to add a twist to the classic recipe, you could add a touch of celeriac to the potato. As we mentioned rice, a langoustine risotto would also partner a fine white wine.
Poultry in a cream sauce
Chicken cooked in a cream sauce would go hand in hand with a bottle of Meursault or Puligny-Montrachet. And as an accompaniment, you could serve morel or girolle mushrooms which would add an interesting touch to the pairing.
Do you feel reassured now? To host a dinner party, you don't have to create an extravagant dish; something simple done well will be perfect and just what you're looking for when you're also serving a bottle of exceptional wine.
Bon Appetit!