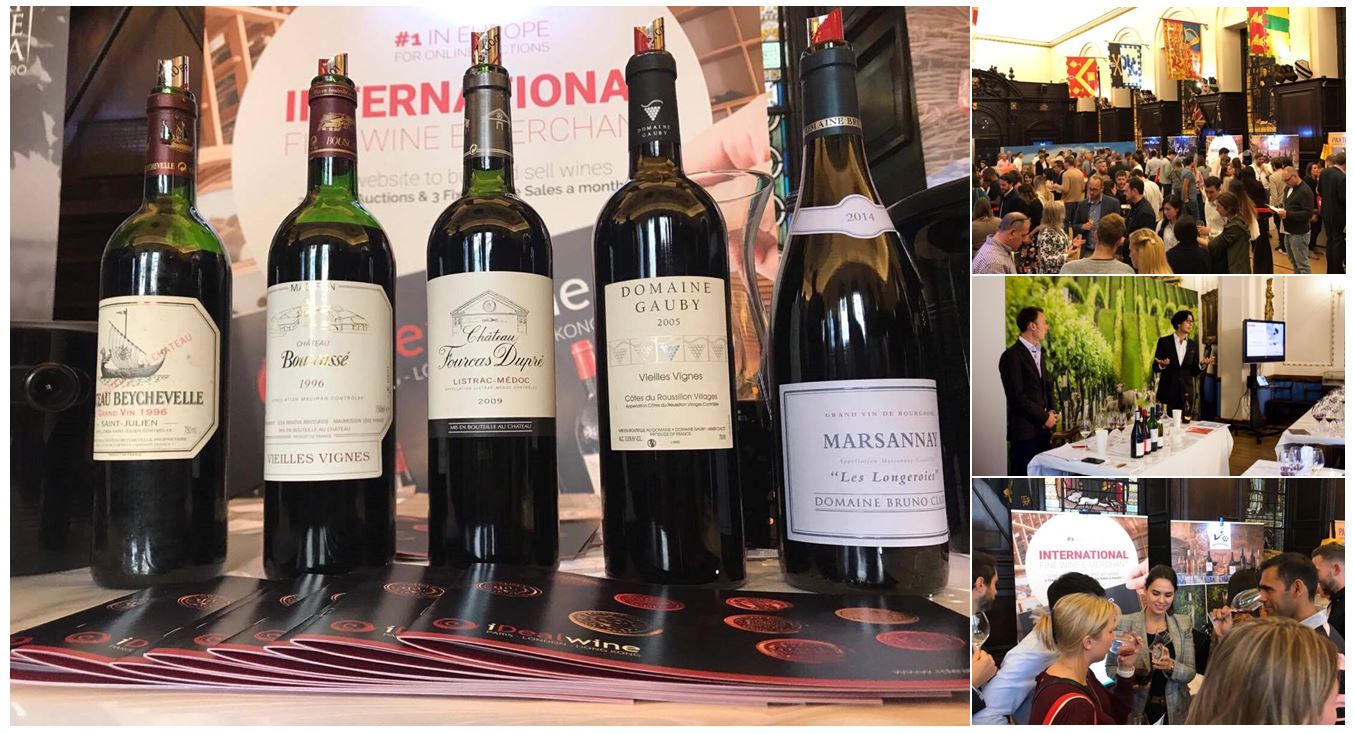 iDealwine took part in the City Wine show this weekend. This event in the City of London got several wine producers and merchants together. Little recap of this event, for those who didn't have the chance to participate or for those who would like to relive the moment!
City Wine Show: iDealwine stand
iDealwine was present both days on the show, Friday and Saturday. As many New World wines were displayed, iDealwine stood out with its selection of fine wines from France. Some of the bottles really gathered crowds, like the Château Beychevelle 1996, at its peak, balanced, dominated by leathery and tobacco notes and silky tannins. The word spread quickly and the bottle was enjoyed by many happy tasters… The Vouvray Moelleux 2003 from Clos Naudin was also much appreciated, boasting tropical fruit notes and delicate sweetness, perfectly paired with the English blue cheese from our neighbouring stand Paxton and Whitfield. As we traditionally do, we presented blind tasting wines and as always, people got caught by the game and really impressed us! On Friday, we opened Château La Grave à Pomerol, 2001. Most participants identified it was a Bordeaux right-bank but no one managed to find both appellation and vintage. Eglise-Clinet was the closest! On Saturday, it was a lighter-bodied wine, a Chambolle-Musigny 2013 from Laurent Roumier. Its distinctive bouquet, surprised many participants, who still managed to (nearly) identify it. We were happy to meet people from all ages and backgrounds at this event, some very savvy wine geeks and some neophytes, to whom we are always glad to share a few learnings on this wonderful world of wines.
City Wine Show: iDealwine masterclass
On Saturday afternoon, Arthur de Lencquesaing, in charge of iDealwine international development, co-animated a masterclass with Patrick Schmitt MW, editor in-chief of The Drinks Business and organiser of the City Wine Show. Unfortunately, seats were limited to 50 and many had to be turned down, we'll make sure to organise more next year!
This masterclass was themed on a Tour de France of wines, giving an overview on the key regions from France. Arthur explained the regional market trends at auction, presented each appellation and producers whilst Patrick described each wine, adding some key insights.
First, Domaine des Croix Les Grèves Corton Grand Cru 2012 was tasted, with explanations on Burgundian trends, showing how prices have tremendously rose at auction in the first semester, increasing by 7.8%. Then, people could try a very unusual wine that ideally illustrates the emergence of natural wines: Jean Foillard 3.14 Morgon 2013, which refutes all the received ideas on Beaujolais. Château Pape-Clément 1996 was probably the peak of the masterclass, boasting a complex nose and very refined tannins. The great investments and modern approach of the emblematic owner Bernard Magrez led to an unprecedent quality, rivalling with the finest grands crus. The recent attribution of a 100 points score by Robert Parker shows its superior quality. Then, we moved a little more East, with Paul Jaboulet Aîné Domaine de Saint-Pierre Cornas 2007, which spiciness comes from the exclusive use of Syrah grapes. To finish on a sweet note, people were able to taste the Sauternes Château Filhot 1989, a fantastic nose of peach, sweet spices and apricot. A great way to wrap this masterclass up!
See you next year!
See all wines currently on sale
Register here to access auctions and fixed-price sales
Receive a free estimate of your cellar
Read further on iDealwine Le Blog: