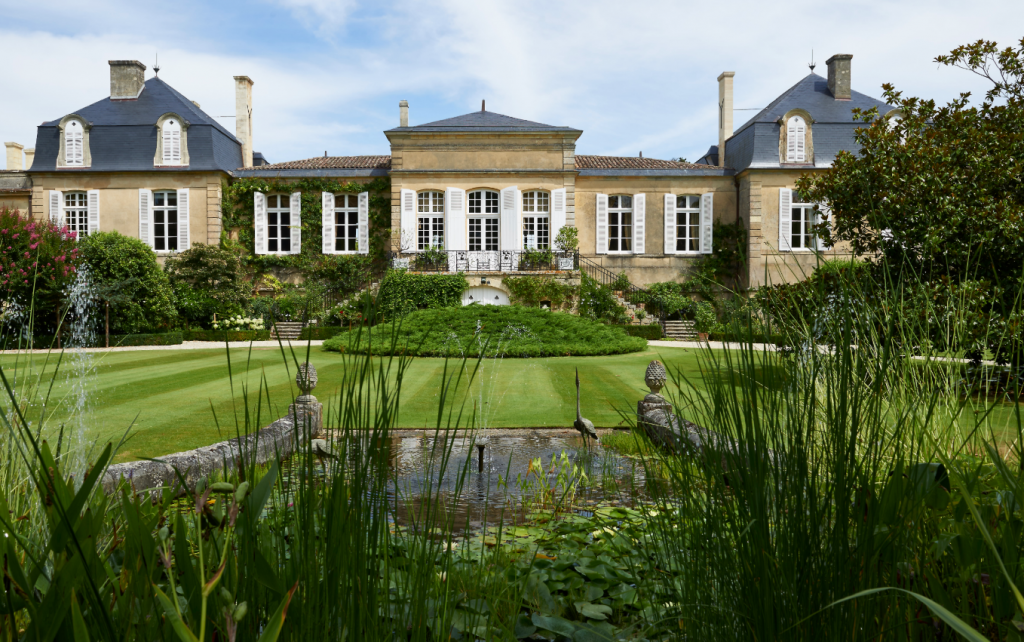 Having taken quite a hit during the current crisis, with the all important primeur events cancelled for the season, some 70 Bordeaux properties have nonetheless stepped up to the plate to participate in the charity auction that is taking place at iDealwine in aid of France's carers.
With a project having just been launched by the #ProtègeTonSoignant collective, the idea of a charity auction was presented to the properties of Bordeaux. Put together by Karine Valentin (journalist) and Mathilde de l'Ecotais (from the collective), as well as Quentin Maydieu from our own team, the responses came quick and fast. These quick and generous reflexes were seen particularly from the likes of Bénédicte Pinero (Château Haut-Bailly) and François-Xavier Maroteaux (Branaire-Ducru), among others. After our call to action, several properties took a few days to collect their thoughts before discretely donating some wonderful bottles from their most superb vintages to our catalogue. From our strategic place in Bordeaux, the LMGV négoce (where Quentin works) got in contact with Dartess logistics, and together they kicked the project into gear with help at the Paris end from Antoine Gouriou and Victoire Seurat.
Upon finding out about the project from their communicative networks, some properties even got in touch to ask why they hadn't been approached for a donation! Though for some, such as Château Figeac, the misunderstanding was quickly resolved when they checked their 'spam' folder…During such an unusual time, when so many are affected at the heart of their family units, it was imperative for us to get the tone right, to suggest without insisting. But we needn't have worried too much, as the good will of wine makers across the region came to the fore in all its glory.
Véronique Duasse (Phélan Ségur) was particularly on the ball, not only sending some lovely bottles on time, but also providing us with some photos and descriptions to complete the picture. Some producers, such as Marielle Cazaux from La Conseillante and Jean-Michel Laporte from Château Talbot, went out of their way to drop off their precious bottles at Dartess themselves.
Knowing of our penchant for mature vintages, some properties took care to choose vintages from 10 or 20 years ago, even more in the case of Château Siran who donated a 1985 Jeroboam. Similarly, Château Pichon Lalande gave a lot of bottles from 2005, Château Saint-Pierre gave several double-magnums from 2000, and Château Rauzan Ségla has a lovely vertical of 6 bottles that go back to the 2000 vintage, as well. In Sauternes, whilst Château de Fargues brought out an exceptional series of six superb years, Château Raymond Lafon opted for the appellation's 'Trois Glorieuses', with bottles from 1988, 1989 and 1990.
Domains are well aware that charity auctions are a chance to haul some gargantuan bottles from their cellars, a way of putting something truly unique on offer. This is why, in hat must be the oxymoron of the year, Domaine de la Solitude has donated its 2015 vintage in Salmanazar format – that's 9 litres, or the equivalent of 12 bottles! You certainly won't manage to drink that on your own! The impressive double magnum format was also the choice of numerous properties, such as Château Lafite-Rothschild (1996), Château Giscours (2012) and Château Marquis de Terme (2015). And a magnum will undoubtedly be the best way to celebrate being able to see loved ones again before too long – there are over 120 in the catalogue! If you feel like now is the moment to realise a long-held dream, perhaps you'll be interested by the magnum of 2004 Petrus!
Even the properties affected by severe episodes of frost and disease over the past few vintages have shown their giving spirit. This has been the case for several organic and biodynamic domains such as Château Grand Corbin Despagne and Château Branon (which belongs to Haut-Bergey).
Whilst some have been unable to participate in the donation of bottles, that isn't to say that an effort hasn't been made…quite the contrary! Château Léoville Barton has found another way to join in, offering a day trip to the heart of the Médoc for a tasting session in the property's winery. A lovely initiative from the Sartorius family.
And of course, the best thing about this project is the chance it gives to people to perform a gesture of solidarity for our carers. We received a message from Olivier Bernard at Domaine de Chevalier, saying 'Lots of people are complaining at the moment but few are acting'. So if you know anyone who fits that description, you might want to point them in our direction.
See all the Bordeaux wines available in the charity auction
See the whole charity sale catalogue
Large formats
| | |
| --- | --- |
| Château Montrose | 2015 – 1 Jéroboam |
| Château Montrose | 2014 – 1 Jéroboam |
| Chateau Branaire Ducru | 2004 – 1 DB-MG |
| Chateau Branaire Ducru | 2005 – 1 DB-MG |
| Chateau Branaire Ducru | 2006 – 1 DB-MG |
| Chateau Giscours | 2012 – 1 DB-MG |
| Château Saint-Pierre | 2000 – 3 DB-MG |
| Chateau Lafite Rothschild | 1996 – 1 DB-MG |
| Chateau Marquis de Terme | 2015 – 2 DB-MG |
| Chateau Pedesclaux | 2016 – 1 Jéroboam |
| Château Siran | 1985 – 1 Jéroboam |
| Clos des Lunes | 2016 – 1 DB-MG |
| Clos des Lunes | 2017 – 1 DB-MG |
| Clos des Lunes | 2018 – 1 DB-MG |
| Domaine de la Solitude | 2015 – 1 Salmanazar 9L |
| Haut-Médoc Château Belle-Vue | 2010 – 1 DB-MG |
Grands crus classés from Sauternes-Barsac
Château Climens
2010 – 3 MG
Château de Fargues
2003 – 6 BT
Château de Fargues
2005 – 6 BT
Château de Fargues
2007 – 6 BT
Château de Fargues
2008 – 6 BT
Château de Fargues
2010 – 6 BT
Château de Fargues
2015 – 6 BT
Chateau d'Yquem
2005 – 3 MG
Chateau d'Yquem
2009 – 3 MG
Chateau Raymond Lafon
1988 / 1989 / 1990 (1 bt de chaque)
 – 3 BT
Château d'Yquem
(lot iDealwine)
1996 – 1 BT
Icons
Petrus
2004 – 1 MG
Chateau Cheval Blanc
2006 – 3 MG
Chateau Cheval Blanc
2009 – 3 MG
Château Figeac
2010 – 12 BT
Château Angelus
2015 – 1 MG
Château Climens
2010 – 3 MG
Chateau d'Yquem
2005 – 3 MG
Chateau d'Yquem
2009 – 3 MG
Château Figeac
2010 – 12 BT
Chateau Lafite Rothschild
1996 – 1 DB-MG
Château Haut-Brion
(lot iDealwine)
1999 – 1 BT
Château Lafite Rothschild
(lot iDealwine)
2005 – 1 BT
Château d'Yquem
(lot iDealwine)
1996 – 1 BT
Organic, biodynamic
| | |
| --- | --- |
| Château Climens | 2010 – 3 MG |
| Château Fonplegade | 2015 – 6 BT |
| Chateau Grand Corbin Despagne | 2016 – 6 BT |
| Chateau Branon | 2005 – 1 MG |
| Chateau Lafon Rochet | 2009 – 6 MG |
Gems
| | |
| --- | --- |
| Château Canon Pécresse | 2017 – 6 BT |
| Haut Carles | 2011 – 12 BT |
| Haut Carles | 2017 – 6 BT |
| Haut Carles | 2017 – 6 BT |
| Chateau Grand Corbin Despagne | 2015 – 3 MG |
| Château Chauvin | 2009 – 12 BT |
| Domaine de l'A | 2014 – 6 BT |
| Château La Fleur de Boüard | 2015 – 12 BT |
| Chateau Branon | 2005 – 1 MG |
| Château Monlot | 2012 – 6 BT |
| Héritage de Monlot | 2012 – 12 BT |
| Château Clos de Boüard | 2016 – 6 BT |
| Château de Rouillac Rouge | 2015 – 6 BT |
| Château Respide-Medeville | 2014 – 6 MG |
| Château Leroy-Beauval | 2017 – 6 BT |
Mature vintages
Chateau Branaire Ducru
2004 – 1 DB-MG
Chateau Branaire Ducru
2005 – 1 DB-MG
Chateau Branaire Ducru
2006 – 1 DB-MG
Château Saint-Pierre
2000 – 3 DB-MG
Château Siran
1985 – 1 Jéroboam
Château Haut-Brion
(lot iDealwine)
1999 – 1 BT
Château d'Yquem
(lot iDealwine)
1996 – 1 BT
Château Haut-Marbuzet
(Lot iDealwine)
1996 – 1 BT
Magnums
Petrus
2004 – 1 MG
Château Angelus
2015 – 1 MG
Château Canon la Gaffelière
2010 – 6 MG
Château Cantemerle
2015 – 6 MG
Château Carbonnieux Blanc
1995 – 1 MG
Château Carbonnieux Rouge
1995 – 1 MG
Chateau Cheval Blanc
2006 – 3 MG
Château Climens
2010 – 3 MG
Chateau d'Yquem
2005 – 3 MG
Chateau d'Yquem
2009 – 3 MG
Chateau Grand Corbin Despagne
2015 – 3 MG
Château La Conseillante
2010 – 1 MG
Château La Conseillante
2015 – 2 MG
Château Lagune
2014 – 1 MG
Chateau Lafon Rochet
2009 – 6 MG
Château Larcis Ducasse
2016 – 3 MG
Chateau Malartic Lagravière rouge
2014 – 6 MG
Château Trianon
2007 – 6 MG
Chateau Olivier
2009 – 6 MG
Château Pavie Macquin
2016 – 3 MG
Château Phélan Ségur
2015 – 6 MG
Château Pichon Baron
2014 – 1 MG
Château Pichon Baron
2015 – 1 MG
Château Pichon Baron
2016 – 1 MG
Chateau Suduiraut
2015 – 1 MG
Chateau Suduiraut
2016 – 1 MG
Chateau Suduiraut
2017 – 1 MG
Chateau Talbot
2010 – 6 MG
Domaine de Chevalier (1 magnum de chaque)
2000/2005/2009/2010/2015/2016
 – 6 MG
Château Respide-Medeville
2014 – 6 MG
Château Beausejour
2016 – 1 MG
Grands crus classés
Une caisse de 6 bouteilles :
– 3 bt Château Smith Haut Lafitte Rouge 2015
– 3 bt Château Smith Haut Lafitte Blanc 2016
 – 6 BT
Chateau Haut Bailly
2014 – 12 BT
Chateau Beychevelle + Amiral de Beychevelle
2012/2014/2016 (2bt de chaque)
 – 6 BT
Chateau Beychevelle + Amiral de Beychevelle
2013/2015/2017 (2bt de chaque)
 – 6 BT
Chateau Brane-Cantenac
2006 – 12 BT
Château d'Issan
2016 – 12 BT
Château Pichon Longueville Comtesse de Lalande
2005 – 6 BT
Chateau Lynch Bages
2010 – 12 BT
Chateau Haut Batailley
2017 – 12 BT
Château Malescasse
2016 – 6 BT
Chateau Ormes de Pez
2009 – 12 BT
Château Calon Ségur
(Lot iDealwine)
2009 – 1 BT
Chateau Rauzan Segla (1 bt de chaque)
2000/2005/2009/2010/2015/2016
 – 6 BT
Chateau Canon (1 bt de chaque millésime)
2000/2005/2009/2010/2015/2016
 – 6 BT
Château de Ferrand
2015 – 12 BT
Château La Gaffelière
2015 – 12 BT
Château Beausejour
2016 – 1 MG
Couvent des Jacobins
2006 – 12 BT
Chateau Lagrange
2013 – 12 BT