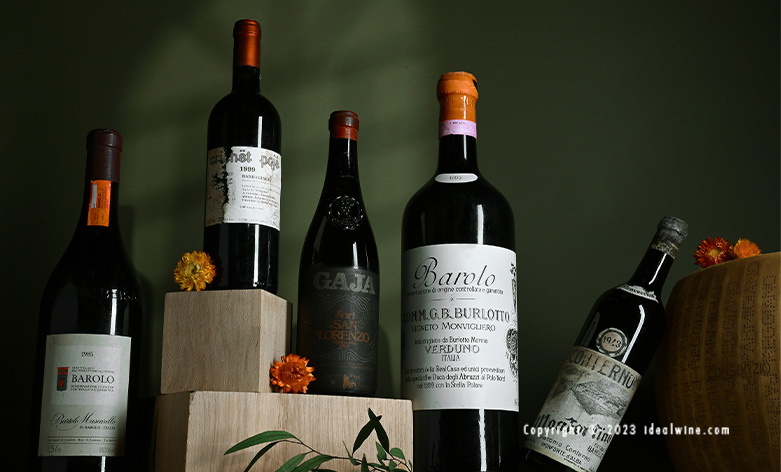 From 23 June to 5 July, iDealwine is holding an auction dedicated to fine Italian wines. It contains nearly 3,000 bottles with an estimated value of €250,000. Let's take a closer look.
An auction to celebrate the launch of the iDealwine website in Italian
Italian wines don't go unnoticed in iDealwine auctions. In fact, 5,584 bottles went under the hammer in 2022 (an increase of 32% compared to 2021), also making it the most represented country other than France, accounting for 61% of all non-French wines (vs 39% in 2012). That is why iDealwine wanted to create an auction that puts them centre stage. And it just so happens to coincide with the launch of our site in Italian which has been brilliantly translated by Laura, our head of Italian marketing, and six external translators.
Mature vintages and large formats: Sumptuous Italian wines perfect for ageing
This auction contains nearly 3,000 bottles, which were gathered from the private collections of passionate wine lovers before being examined by our team of experts. Some others belonged to professionals who acquired them straight from the wineries. So, imagine the impeccable condition of these bottles. 😍
This is not our first foray into sourcing wines in Italy and this collection confirms once again that we know and understand Italian wines. In the auction, you can find wines made in all types of styles as well as mature vintages that have travelled through time and younger wines that need to spend a little longer in the cellar. What is more, it includes large formats and wooden cases which protect their precious treasures.
Mature vintages: Barolo Riserva Monfortino 1941, 1943 and 1945 by Giacomo Conterno and Barolo 1943 from Fontanafredda.
Large formats: Double magnum of Barolo DOCG Lazzarito 2018 and Rocche du Castiglione 2018 by Vietti
Piedmont and Tuscany, two symbolic regions
It's a well-known fact that Piedmont and Tuscany are the ones to start bidding wars at iDealwine auctions. The prices for their most remarkable bottles really take off. Will that also be the case for the iconic names featuring in this auction? It's up to you to tell us, or rather show us, what you think.
Organic, biodynamic and natural wines – some excellent bottles
It doesn't go unnoticed that Italian winemakers are taking some inspiration from those in Burgundy, emulating their styles and the method of making single-plot cuvées. Some examples include:
Happy bidding! 😉