This is an easy question for wine connoisseurs, but for beginners, the multitude of French wine regions can seem overwhelming. It's natural for novices to wonder which regions to focus on if, for example, they like fruity reds or slightly acidic whites. Here are a few pointers to help you navigate the country's vineyards.
As our aim is to give a general overview of France's major winegrowing regions, this guide is a little simplistic. But although exceptions can be found in every region, there are also some broad themes. We should also point out that the characteristics we describe here are based on the assumption that the wines come from good quality producers. This doesn't just mean the big names in a region, or organic wines, but also those producers who strive to get the best from their land and vines.
Alsace
In Alsace, almost all wines are produced from single grape varieties rather than blended. Because of this, their features vary, according to grape variety, rather than follow a common theme. Here are the main characteristics of each of these varietal wines (we have confined ourselves to dry, unsweetened wines).
Riesling: acidity, aromas of green apple and lemon zest, long finish, ages very well. To be paired with seafood, "noble" fish, choucroute or roast fowl.
Pinot Gris: low acidity, spicy notes, mouth-filling, often with a hint ranging from rich to sweet. Goes well with cream-based dishes (white meat, fowl, and fish) or lightly spiced cuisine (tagine).
Sylvaner: acidity, light, white-fleshed fruit, easy to drink. Ideal as an aperitif or with cold meats, moules marinière or freshwater fish.
Gewurztraminer: moderate acidity, very aromatic nose and palate, not always easy to pair with food but goes nicely with Thai cuisine, sweet/savoury tagines and some pungent cheeses (Munster).
The top Alsace wines are produced from different local grape varieties planted together on outstanding terroirs (a practice known as complantation). They all have an extraordinary, complex quality.  Make sure you try them!
Loire
This vast area extends from the Nantes region to the Auvergne. Here, we refer mainly to the largest winegrowing areas of the Anjou and the Touraine (although we will also mention the distinctive and well-known vineyards of Sancerre and Muscadet).
Red wines (Saumur-Champigny, Chinon, Bourgueil, Anjou, etc.): produced from the same grape variety, cabernet franc, these crisp, fruity wines have a delicate tang, a very fresh palate, low alcohol levels and fairly high tannins. Some wines should be drunk when they are young and fruity, but more ambitious vintages can (and must) be kept for at least ten years. These wines pair well with red meats, and sauce-based dishes.
White wines (Vouvray, Montlouis, Anjou, Saumur): produced from the chenin grape, these wines have a distinctive, delicate acidity and aromas of limeflower and quince. Although not always an obvious choice, they have substance and make an interesting pairing for a wide variety of dishes (fish in a creamy sauce, shellfish, seafood, roast fowl, white meats with cream, goats cheeses). The best vintages can be kept for ten or more years.
Muscadet: produced in the west of the Loire, this wine has improved greatly over the past ten years. It has a distinctive, but not aggressive, acidity, low alcohol levels, and notes of white-fleshed fruit on the palate. It is easy to drink and the ideal accompaniment for seafood and milder flavoured fish- grilled or oven baked. Contrary to its reputation, this wine will also keep for a good ten years.
Sancerre and Pouilly Fumé: this wine is very different from other Loire whites. Its grape variety, sauvignon, gives it a pronounced and very distinctive fruity quality that is easy to recognise. Its tangy/fruity qualities make it an excellent aperitif, but it also goes well with smoked fish, roast fowl, fish in cream sauces, freshwater fish (trout) in a court-bouillon and goats cheeses. Some vintages may benefit from laying down for ten years or so.
Burgundy
For the novice wine enthusiast, Burgundy is both very easy and extremely difficult to comprehend. With a few rare exceptions, there is one grape variety for red wine, pinot noir, and one for white wine, chardonnay, but at the same time there are countless appellations, each supposedly with their own distinctive features. Here, to give you clear idea of the characteristics of the wines you are likely to buy, we are going to have to keep things simple.
Let's start with the common points – grape varieties.
Pinot noir: generally produces very fruity wines (red fruits, cherries), that are fairly acidic with a slightly tannic quality. Their delicate palate may seem to lack fullness compared to Bordeaux wine (for example). The best vintages have excellent ageing potential. At the table, these wines make an excellent pairing with white meats, roast fowl, and lighter red meats, but go less well with lamb.
Chardonnay: this "easy" variety has broad appeal, hence its international success. It is also something of a chameleon as its expressions vary slightly depending on its environment. In general, chardonnay produces wines with notes of white-fleshed fruit and white flowers, sometimes with a hint of honey and butter. On the palate, it has a fine acidity with a creamy quality and notes of honey, fresh mushrooms and, when grown in hot regions, hints of exotic fruit. At mealtimes, it goes well with all cream-based dishes (white meats, fowl or fish), light fish (sole, turbot, monkfish), shellfish and a variety of cheeses. With the exception of Chablis, it goes less well with seafood or smoked fish.
And now, let's take a general look at some of the variations.
Red: Côte de Nuits wines tend to be more structured and fuller than Côte de Beaune wines, with the exception, of course, of Chambolle-Musigny. Red wines from the Côte de Beaune are generally more delicate, and "feminine", except for the Pommard appellation, with its more distinctive tannins. Côte Chalonnaise wines have a crisper, fruitier quality and are easier to drink young.
White: Chablis wines tend to be quite lively with fresh aromas with a "wet stone" quality.  White wines from the Côte d'Or (Chassagne, Puligny, Meursault) usually have a creamy texture in the mouth and are more powerful with buttery, brioche-like aromas. Mâconnais wines often have very distinctive notes of exotic fruit (mango, pineapple) and a very pleasant, rounded palate.
Beaujolais
In theory, this region is part of the Burgundy wine area but as it does not have much in common with the pure Burgundian appellations, we tend to consider it in its own right. For the novice wine lover, the Beaujolais region conveniently produces plentiful inexpensive, fruity red wines that are easy to drink young. You can even buy "nouveau" wines three months after the harvests. All Beaujolais wines are produced from the gamay grape. This variety is low in tannins, very fruity (cherry, raspberry, gooseberry), and has a beautiful fresh acidity. These highly drinkable wines are known as "vin de copains" (quaffing wines), as they are perfect for sharing informally with friends over a simple and hearty meal (cold meats, offal, stews, salt pork, roast fowl, grilled sausages, grilled red meats).
Rhône
This region covers two very different worlds- the northern valley of the Rhône and its southern sister.
The North: red wines are produced from a single variety – syrah. This grape creates very fruity and quite powerful wines with distinctive violet, blackcurrant and dark fruit (blueberry) aromas. Their acidity gives them a beautiful lively quality. In spite of their concentration and tannins, wines from the northern Rhône can be very delicate, especially after ageing for a few years. Of the appellations, Saint-Joseph is a little deeper and Hermitage produces the most concentrated and powerful wines. Côte-Rôtie wines are also highly concentrated but more elegant, while Cornas wines are the most robust. Northern Rhône whites are generally low in acidity, very floral, refined and pleasant to drink. At the table, serve red wines with rare meat, meats in a sauce, or game. The white wines go well with light fish and milder goats cheeses.
The South: this region is a complete change from the North both climatically (strong Mediterranean influence) and with the many different grape varieties planted here – although grenache predominates. Southern Rhône red wines (Châteauneuf-du-Pape, Gigondas, Cairanne, Côtes du Rhône, etc) exude the very fruity and rounded characteristics of the grenache grape. They are highly drinkable and have finesse in spite of the influence of the sun. In general they are very appealing, relatively low in acidity (compared to a Burgundy red for example), but sometimes their power can "saturate" more refined palates. These wines pair well with all red meats, roast lamb and hearty, southern cuisine (stews, meats in wine-based sauces, pasta bolognaise, pizza, etc).
Bordeaux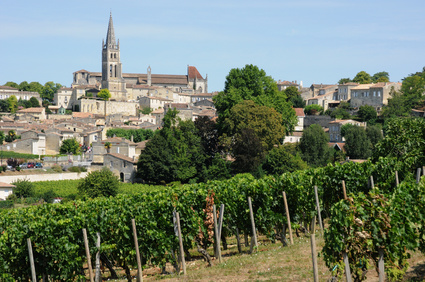 In addition to Champagne, novice wine enthusiasts are most likely to be familiar with the red wines of Bordeaux. Many people will remember their parents opening a "nice Bordeaux" on a Sunday lunchtime. But beyond this initial introduction, how much do you know about these wines?
The majority of Bordeaux reds are produced from two grape varieties: cabernet-sauvignon, grown primarily on the left bank (Médoc, Pauillac, Margaux, Saint-Julien, etc.) and merlot, grown primarily on the right (Saint-Émilion, Pomerol, etc). Merlot is headier and more rounded, while cabernet is a little more structured and "cool", sometimes even a little austere when young. The highest profile, top appellations tend to be closed and lacking in charm when young but they age magnificently. Contrary to received wisdom, there are also plenty of inexpensive Bordeaux wines that are best drunk young, when still fruity. Most of these are produced in the "satellite" appellations of the Côtes de Bordeaux. At the table, Bordeaux wines make an excellent pairing with red meats (roast or in a sauce), game, and pink leg of lamb.
Other regions
Here is a very brief overview of wines from other French regions, leaving out Champagne (most likely to be known to newcomers). In Languedoc and Roussillon, red wines tend to be similar to the wines of the southern Rhône and use the same grape varieties, albeit with a lower proportion of grenache. They are not quite as rounded or full and boast aromas of the Mediterranean scrubland (bay, black olive). In Provence, putting rosé wines to one side, Bandol reds are generally quite closed and austere when young but age magnificently if kept for ten years or longer. The Savoie produces a number of nice white wines from a mix of varieties, so they have many different aromatic expressions. However, they all share a fine fresh quality, highly fruity aromas and, because of low alcohol levels, are pleasantly light. The Jura often attracts newcomers to yellow wine – a very unusual white (with an oxidised aroma of unripe nuts and curry). However, this region primarily produces excellent white wines from the chardonnay grape. These wines are very distinctive from Burgundy whites, with smoky and flinty notes and plenty of crispness. Overall, they are lighter and more understated than their Burgundian neighbours.
Read further on iDealwine Le Blog:
Auction Report 15th June: mature vintages from top Burgundy estates on the rise
Auction Report 1st June: marked success for the big names from the Rhône
Auction Report 25th May: Top Alsace & Rhône: La Chapelle 1961
Auction Report 17th May: Daguenau grabs headline
Top 10 lots and bottles in 2015 auctions
The 100 most sought-after wines
Register to access auctions and fixed-price sales
Access the wines on sale