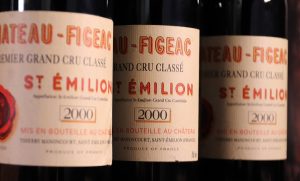 What's missing from our wine racks this November? Why a Bordeaux, of course! The region produces wine for every occasion: fresh wines to have with nibbles, full-bodied reds to pair with hearty dishes, a sparkling crémant to share with friends, magical sweet wines to round off any meal with the family, especially those at the end of the year. The diversity that this historic region has is outstanding!
What does our tasting panel have to say
The bottles on the table are already wearing their black covers – our tasting covers which proudly display the iDealwine logo – and came in different shapes. Even though this was a blind tasting, we could make out some of the differences between them. Six of us were sitting around the table, waiting to discover what secrets these bottles held. Quentin, who is responsible for our sales on the Place de Bordeaux, was excited about the selection of wines in front of him; it was made up of three dry whites, seven reds and one sweet wine.
The whites have very distinct profiles. They are both fresh and floral while also having moments where the exotic, seductive or punchy fruit flavours come through more strongly. The three whites are Château- Marjosse 2021, Château-Olivier 2018 and Château-Lespault-Martillac 2019.
The reds wines sitting on the table were full of surprises. The Château-Lalaudey 2016 contains notes of leather and spices. The Château-Dalem 2016 is velvety and possess a certain minerality. The Mondot 2016 by Château Troplong Mondot is always a firm favourite. The Hêtre 2014, which is made by Jacques Thienpont and mainly contains merlot, boasts small red fruits and eucalyptus notes. And next, there is the Hommage à Denis Dubourdieu 2018, which is entirely made from Petit Verdot, a variety that œnologists like a lot. Then, there is the Château-Lavergne-Dulong 2019 – a wine that everyone should try as soon as possible – which was produced using biodynamic methods. Next, there is the Château-Rauzan-Ségla 2006; it's still very young but it's mouth-watering, smooth and musky. And to finish off, we have a wine with quince and white truffle notes and a minerality reminiscent of fossils mixed with a touch of creamy coffee on the palate. It is, of course, the Doisy-Daëne 2003 and its quality is a lot higher than its price (which is €35).
And what did the panel think after finishing this blind tasting? Bordeaux wines are suitable for every occasion.
The 2019 vintage and others
"The 2019 vintage is often misunderstood by our clients," explains Quentin. Due to covid, not enough people have had the chance to try the wines from this exceptional year. The French newspaper Le Figaro says the same thing in its article "2019, the best vintage in Bordeaux since 2010". So, what do we suggest? It's probably best for you to get your hands on some bottles now because their prices are only going to increase as more and more people discover their greatness.
Also, don't miss out on the very famous Crus Bourgeois case. This one is made up of bottles from the 2019 vintage and would make a lovely present for the wine lover in your life.
If you would like to know more about this incredible vintage, have a look at this article on our blog.
Bordeaux is also the kingdom of mature wines, and this sale contains wines from 32 different vintages, from 1989 all the way up to today. Don't worry, mature vintages don't necessarily mean high prices. There are wines in this sale that are ready to drink now and would be perfect for celebrating a birthday, a new member of the family or reaching a milestone. That is the beauty of Bordeaux.
Bordeaux magic
Looking towards the end of the year, this sale contains wines from prestigious domains that would be perfect for your festive table or to give as presents and they can be yours in just one click. Which winery in the list below will you choose?
Wait – there's more!
Wooden cases and large formats are also available for you to enjoy with your family and friends and there's also bottles from the top appellations (Saint-Émilion Grand Cru, Sauternes, Pauillac, Pessac-Léognan, Saint-Julien…). Everything is possible with this sale!
Here are a few more ideas for you before we let you go and enjoy your wine shopping:
Shop all Bordeaux wines in the sale