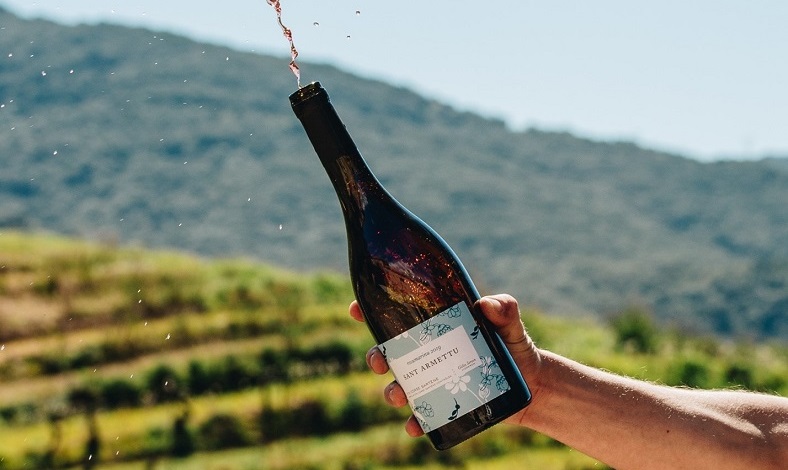 Sunshine, the quintessentially Mediterranean wild, herby scrubland garrigue, and a charming accent greet us in Sant Armettu. Let's take a closer look at the family-owned and run estate which, quite simply, charmed us.
The Story Sant Armettu
Taking its name from the hermit saint Armettu, who was known for his healing powers and knowledge of plants and botanicals.  Attracted by the sunshine and the potential of the soil, Lucien Seroin and his son Paul created the estate in 1964. For thirty years, the grapes supplied the cooperative cellar of the town of Sartène, "the most Corsican of Corsican towns".
With diverse experience under his belt as a wine merchant, Gilles Seroin, Paul's son, arrived with enough ambition to spare. Using new techniques he had learned from winegrowers all over the world, Gilles introduced significant changes to Saint Armettu. Old grape varieties were brought up to date, the cellar was enlarged, the wine was bottled on-site, and a wine storehouse was built in 2000.
Enhancing the Corsican terroir of Sartène
Gilles instilled the same passion for winemaking in his children Jeanne and Guillaume. Together, they cultivate Rimenese, Aleaticu, Biancu Ghentile, Genovese and Minstellu grapes, grown in 40 hectares. Sustainability-focused and soon to be certified organic, the team uses neither weedkillers nor chemicals. Located in the south-west of the stunningly beautiful, rugged island, between the sea and the mountains, the ancient native grape varieties so beloved of Corsicans are tied up in a search for authenticity in terroir and in wine. The grapes benefit from the maritime influence which naturally regulates the temperatures. Planted in terraces along the slopes, the vines draw the nutrients necessary for their development from the granite soil.
In the cellar, the idea is, of course, to let the character of the Corsican terroir express itself. Burgundian-style vinification, which produces wines of legendary finesse, has certainly been a formidable source of inspiration at Sant Armettu. In order to keep both the purity of the berries and the identity of the terroir, the fermentations are started by indigenous yeasts and the wines are aged in large containers such as demi-muids and tanks.
Tasting Sant Armettu at iDealwine
A passionate winemaker, Gilles Seroin presents an astonishing range of wines from micro parcels and old, forgotten grape varieties. At iDealwine, we tasted local indigenous grape Sciaccarellu in a rosé and red tasting of various cuvées, which appears sometimes as a varietal and sometimes blended with Grenache. We can heartily recommend these wines, which are intense, sunny and generous with a beautiful minerality.
Shop all wines from Saint Armettu