Rare wines and collectors' bottles from former estates or from producers who have left the stage: iDealwine's auction catalogues were full of these in the final auctions of 2017. Among them, two giants clashed in Châteauneuf: Domaine Henri Bonneau and the wines of Château Rayas. Two styles and two personalities to which wine lovers simply cannot remain indifferent. Here is a spotlight on the fine auctions of this sale.

Jacques Reynaud, Henri Bonneau … the memory of these two cult figures of Châteauneuf du Pape continues through their wines. The bottles produced by these two emblematic winemakers of the appellation made this a Premiere auction. At Château Rayas, Emmanuel Reynaud continues his uncle's work, displaying talent that goes way beyond his famous Châteauneuf: the Pignan cuvées of Château Rayas (Côtes du Rhône) or the Pialade and wines from the domain and Château des Tours are also popular. Nevertheless, it is the finesse of the sandy terroir of Rayas that once again made wine lovers' hearts flutter during the December 27th sale. Many French wine lovers but also many Anglo-Saxon customers, attracted by this inimitable style of wine, which effectively combines extreme elegance and beautifully mastered power, joined the auction. Incidentally, the domain's Châteauneufs are still distilled sparingly today for clientele which Emmanuel Reynaud manages directly and in a perfectly artisanal spirit. In the 2009 vintage (a wine which is sublime when young, but which one can most certainly wait at least another 20 years to enjoy), Château-Rayas crossed the €600 threshold (€608, + 21%). The 2005, which must also be left in the cellar for several years, was sold for €438 in this sale (+ 7%). Note also the sharp price rise in two vintages which are now ready to drink, 1999 (+ 30%) and 2000 (+ 32%), both amounting to €389 a bottle.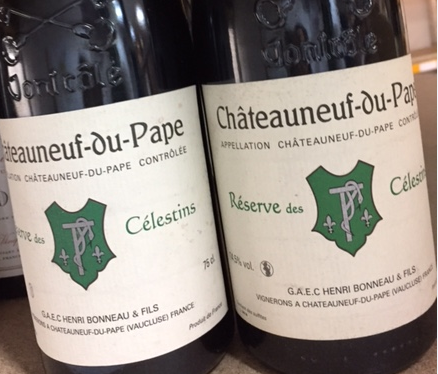 Another domaine, another style: the wines of Henri Bonneau, more powerful and spicier than those of Château Rayas, have reached an iconic status since the winemaker's death in 2016. This inevitably has the effect of increasing the demand for wines because of their rarity. In this small domain (6 hectares), very old grenache plants provide extremely low yields. The cuvée of Célestins, aged for many years (a variable that could reach 10 years, as per Henri Bonneau's desire) is the domain's flagship cuvée. This is a rare bottle, yet we found several vintages at the December 27th sale. At the highest level, the spectacular 1998, extraordinarily powerful, sold for €572 (+ 32%). The 2007, (set aside for long-keeping), also sold for €486 (+ 43%) while the 1995, (today at its peak) is worth €423 (+ 50%). Closed for considerable time, the 1999 (which still has some good years ahead) saw its price jump to €353 (+ 83%!).
See all wines currently for sale
Register here to access auctions and fixed-price sales
Receive a free estimate of your cellar
Read further on iDealwine Le Blog: