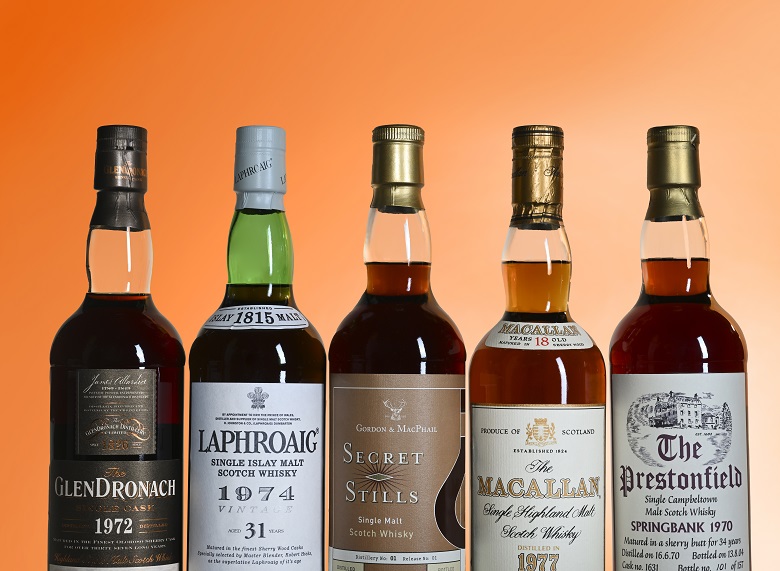 It's already the 20th auction for FSA! To celebrate this occasion, legendary bottles await you. You'll find rare whiskies extremely marked by sherry, mature rums produced from cane as well as molasses, Tarragona Chartreuse and other rare spirits from around the world.
Rums at the Fine Spirits Auction
Let's start with rums which should arouse the curiosity of different types of enthusiasts. For collectors of rhums agricoles (agricultural rums), there are bottlings which have already seen many years pass them by crafted by traditional names.
Rum aficionados can rejoice at the return of Tiger Shark Single Bottle that was released at the end of 2022. It's a collection of 120 numbered bottles livened up by photos taken by Luca Gargano, a renowned collector, during his various travels.
To this, we can add rare gems from Maison Ferrand and its Plantation Extrême range as well as different distilleries such as Demerara (Uitvlugt, Enmore & Port Mourant), Caroni, Hampden, Foursquare and Antigua Distillery.
Cognacs and Chartreuses – French jewels
From Cognac, there are famous bottles produced by Hennessy such as:
Paradis – a blend of more than 100 brandies with ages ranging from 30 to 100
Marc Newson Edit – a bottle imagined by an Australian artist
Chartreuse is represented by a box of two bottles from 1968 and other VEPs (Vieillissement Exceptionnellement Prolongé –exceptionally long ageing in English) as well as more collectable bottles from Tarragona produced at the start of the 20th century when the monks were exiled in Spain.
Whisky – Scottish, Japanese or American?
In this auction, Scotland takes you on a little tour of its collectable whiskies:
Distilleries that have closed their doors (Port Ellen, Rosebank and Brora, of course, as well as Imperial, Banff, Littlemill, Millburn, Glenlochy, Lochside, Ladyburn, Dallas Dhu, etc.)
A selection of whiskies matured in sherry barrels (= sherry bomb)
Mature bottlings (Laphroaig 1974 Single Cask LMDW, Macallan 1977,Glendronach)
Bottles released by well-known merchants such as Berry Bros and Prestonfield (Springbanck 1968 and 1970) as well as Gordon & MacPhail (Talisker & Strathisla 1955, Glenlivet 1956, Glen Keith 1967, Caol Ila 1969, etc.)
Japanese classics are represented by the famous colours of Yamazaki 18 (absolute rarities from the oldest Japanese distillery and Hakushu 18 as well as Hibiki (an iconic bottle with 24 sides that appeared in the film Lost in Translation by Sofia Coppola) and Taketsuru 21.
While for Bourbon lovers, let's go to the USA where we can find the famous:
Blanton's: Three beautiful bottles from several bottling years
Van Winkle: 12 years of Lot B. 90.4 Proof Special Reserve – a Bourbon that's made from corn and wheat instead of the usual corn and barley.
And what about you? Have you already spotted some jewels in the catalogues?