As a woman working in the wine industry, I wanted to focus on Wine and Women. When I started working in the wine sector, my friends thought that it was a great idea, but a very male-dominated industry. Even today, they question whether it is difficult to work in a traditionally male industry.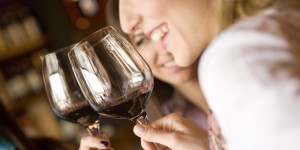 While men still make up the majority, figures show that the grape game is becoming more and more feminine. It is not uncommon to see women working as winemakers or wine merchants, sommeliers or public relations officers.
Ophélie Neiman, a wine lover, journalist and author of the Miss Glouglou blog for the French newspaper, le Monde.fr, explains that a third of oenologists are women. This, compared to 15 years ago, when they made up only 19% of the total. For example, eight of the 17 oenologists working for Moët & Chandon, are women. With 20% of France's sommeliers being female, the country is still lagging behind some others, such as Sweden, where 80% of sommeliers are women. They also make up the majority in Russia and Japan.
Living in Hong Kong for more than 25 years, Debra Meiburg is an American award-winning author and speaker, and is today one of the most powerful women in the wine industry. Jeannie Cho Lee, a Hong Kong-based, South Korean wine critic, journalist, judge and wine consultant, is also well-known in the wine world. Both Debra and Jeannie are Masters of Wine and are well-known and respected throughout the global wine world.
Looking at the Masters of Wine, it is interesting to note that, while there were only four female MWs at the end of the 1970s, this number has grown significantly and over the last 10 years, there have been 88 new MWs – 44 of whom are women!
There are also many other influential women in the wine world, such as Jancis Robinson MW, Lalou Bize-Leroy (Domaine Leroy, Burgundy), Bérénice Lurton (Château Climens, Bordeaux), Baronne Philippine de Rothschild (Château Mouton Rothschild) and Katharina Prüm (Germnay).
Another woman that comes to mind when speaking about wine, is Angélique de Lencquesaing, co-founder and managing director of iDealwine. In addition to her prominent position in the company, she also analyses wine trends and investments in a monthly column for the French TV news, BFM Business.
Some of these women became wine lovers through their heritage, but also through their deep passion for the industry. I do hope that this trend will continue for generations to come. Who said women and wine is not a good match?!
Written by Alexandra Petitvallet for iDealwine
Visit iDealwine.com