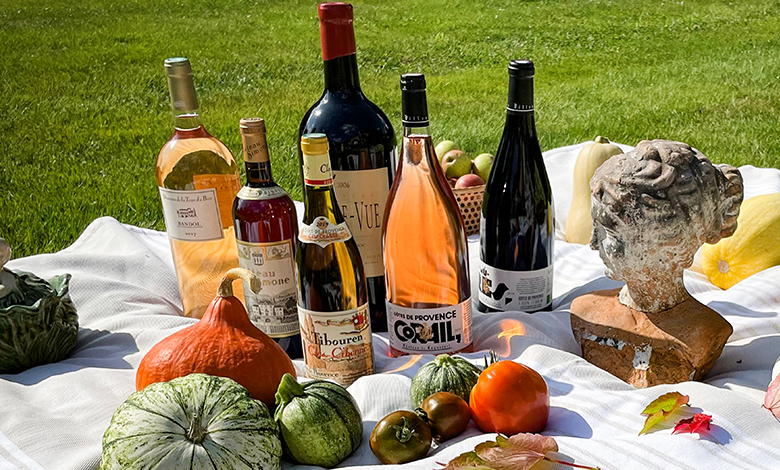 It's mid-September and the sun is still shining! To keep the spirit of the Indian summer alive, we should savour every ray of sunshine by opening our rosés, our light reds and refreshing whites…even vibrant sparkling wines fit the mood!
Mild temperatures, bright skies, dreamy sunsets? There's no doubt about it, the summer is hanging around this year, giving us the chance to open a few rosés. Of course, the Provençal vintages are the stars of this sale with names like La Tour du Bon, Tempier and Terrebrune. But let's also (re)discover the Tavel wines of Guigal, the Burgundy wines of Bruno Clair and Pierre Boisson, as well as the Loire wines of Gérard Boulay (Sancerre) and Clos des Treilles (Anjou). Otherwise, why not go a bit crazy and celebrate with champagne! Vintage bottles, cutting-edge references (Agrapart, Benoît Lahaye), family-run houses (Drappier) and illustrious estates (Ruinart, Veuve Clicquot Ponsardin) all feature in the selection.
We've not heard the last from courgettes, tomatoes, peppers and aubergines, with the weather still resisting the imminent arrival of squash and roots. So let's make the most of it, cook with gusto and marry these delicate flavours with fine, lively, sharp and mineral wines. Let's head for Germany to find the tasty Spätlese Rieslings of the iconic Egon Müller, Austria and the Grüner Veltliner of Godelsburg, and Alsace for its four noble grape varieties: Pinot Gris (Clos Jebsal 2013 by Zind-Humbrecht), Gewurztraminer (Fronholz Vendanges Tardives 2017 by Ostertag), Riesling (Cuvée Colette 2019 by Weinbach) and Muscat. Red wine lovers will obviously turn to Burgundy (Chantal Lescure's Beaune 1er cru Les Chouacheux, Jacques-Frédéric Mugnier's bonnes-mares), Beaujolais (Vin Noé's Amour Vache, Jean-Claude Lapalu's Côte-de-Brouilly), Auvergne (Patrick Bouju's Vins de France) and the Loire (Clau de Nell's Anjou, Château Yvonne's Saumur-Champigny).
We have to admit that the evenings are getting cooler, and this calls for warm, sun-kissed wines. With Provençal cuvées (the Bandols from La Bastide Blanche or Palette from Château Simone), you'll almost hear the cicadas chirping. Corsican wines (Giudicelli and Jean-Baptiste Arena patrimonios) will bring a certain generosity to the table. And these Languedoc signatures (Corbières from Maxime Magnon, Faugères from Clos Fantine), will evoke a perfect odour of garrigue.
Finally, whilst the time for travelling is over for many, we can still escape from home to discover the most beautiful Italian, Greek, Spanish and Portuguese wines. Some examples? Giuseppe Cortese's Barbaresco Rabajà, Giuseppe Mascarello's Barolo Monprivato, the wines of Tetramythos and Thymiopoulos, the toros of Bodega Numanthia and the Vintage Ports of Niepoort.
Enjoy the Indian summer!