Pierre from the iDealwine marketing team shares his views on the Hong Kong market following a visit with Alix, who recently came to the Hong Kong office looking after our growing number of Asian customers.
Hong Kong, the leading market in Asia
By applying free-trade principles on wine in 2008, Hong Kong has rapidly become THE platform for trade in Asia. This all started in 2008 under the direction of the finance minister Henri Tang, who decided to cut all importation taxes on wine. The main objective was to become the leading wine platform in the zone, offsetting Singapore. This implied a predicted loss of income for the State of HKD 500 million (€47.5 million).
Wine export to Hong Kong increased from 15 million liters in 2007 to over 63 million in 2015. Excluding the estimated re-export (27 million liters), the 2015 volume still amounts to 36 million liters. An impressive growth in only a few years. The enthusiasm for wine can be seen everywhere: wine bars, wine cellars, wine auction houses, wine courses etc. Wine is now part of Hong Kong culture and the city has become the place to go for any wine producer.
With wine now representing a significant part of the Hong Kong economy, Henry Tang's motivation wasn't only economic but also personal: he was a former wine merchant and a serious wine lover. In 2012, he even failed being elected as Hong Kong chief executive for being accused of building his extensive wine cellar without authorisation.
"Bordeaux, Bordeaux, toujours Bordeaux"
When you walk in Hong Kong's streets, you will be surprised by the quantity of wine shops. These are predominantly filled with Bordeaux Grands Crus and have a significant representation of the highly reputed and sought-after Lafite Rothschild and unsurprisingly the other brands of Barons de Rothschild: Duhart-Milon, Rieussec, Peyre-Lebade (Haut-Médoc), Chateau d'Aussieres (Languedoc) and Los Vascos (Argentina).
Led by the dynamic Vincent Cheung, the Commanderie du Bontemps has been supporting, with success, the establishment of strong Bordeaux brands, with the likes of Lynch-Bages, Angelus and Cos d'Estournel real icons in the region. This is the result of many visits and support over the years. Despite a slight decrease during the past few years, Bordeaux remains the clear leader and still represented 67% of iDealwine's auction sales in Asia in 2016 (overrepresented compared to the sales of Bordeaux for all iDealwine auctions, which reached 57%).
Burgundy take-off
It's difficult to find other places in the world that display such impressive ranges of Burgundy wines as Hong Kong wine shops (except on iDealwine auction of course!): Romanée-Conti, Leroy, Méo-Camuzet and Armand Rousseau. The recent increase in demand for Burgundy wines from mainland China has boosted its sales in Hong Kong, and it represented 25.4% of iDealwine's auction sales in Asia in 2016.
There are also a great representation of blue-chip wines from outside of France: Gaja or Verzio for Italy lovers, Vega Sicilia and Pingus from Spain, Penfold's Grange in Australia and Opus One in California. Nevertheless, you'll be surprised to find so few wines from regions outside of the French Bordeaux and Burgundy! On iDealwine, a region like Rhône represented 8.8% of 2016 auction sales, but only 3% in Asia. With a growing interest for great Hermitage, LaLaLas and other Chave, this proportion might increase in the coming years.
Kelcy, wine importer commented us "storage fees are so high in Hong Kong that you can't keep wines for too long. If you don't sell one bottle, you would have to discount it. It is much easier to sell already well-known brands."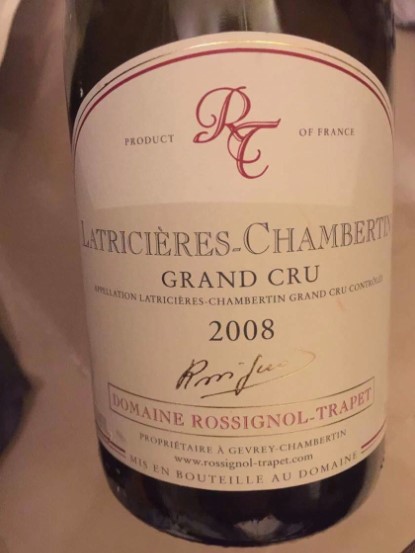 Lucky for us, we spotted a really nice discounted bottle: only HKD 649 (€79) for a Latricieres-Chambertin 2009 from Rossignol-Trapet. With such a price, we had no choice but to buy it! – Sorry iDealwine for cheating on you this time 😉
From what we could see, prices in Hong Kong wine shops are about 15-20% more expensive than in Paris. Red wines remain the large majority of wine imported in Asia, especially in mainland China.
Despite this omnipresence of Bordeaux and Burgundy signatures in Hong Kong shops, wine lovers are now expanding their search to other wine regions: Rhône, Loire and Jura are starting to pick up pace. We are increasingly surprised by the rising demand from our customers for very specific wines, unknown producers and appellations. As the buyers tend to source from a large diversity of sources (merchants, auction houses, brokers, etc.), the lack of diversity in the wine shops here is thus not that representative of the diversity you find in the cellars of Hong Kong wine enthusiasts.
Hong Kong: a preview of China's tomorrow?
Why focus on a 7.7 million inhabitant market when China has over 1.3 billion? Because Hong Kong is commonly considered as the Chinese laboratory. Indeed, the city is a popular tourist destination for mainland Chinese who come to buy wine and luxury products. Numerous wines also transit through the tax-free city to be bought through Shenzhen and thus avoiding paying the 48.2% taxes and sampling.
But Chinese customs have now set up teams of wine experts to counter this phenomenon and control the wine value declarations. About half of the wine import in Hong Kong is re-exported, primarily to Mainland China. New rules for easing direct wine import to mainland China might slow the need to go through Hong Kong, but for the moment, the city still benefits from an impressive dynamic and this won't change any day soon.
Register to access auctions and fixed-price sales
Access the wines on sale
Read further on Le Blog: