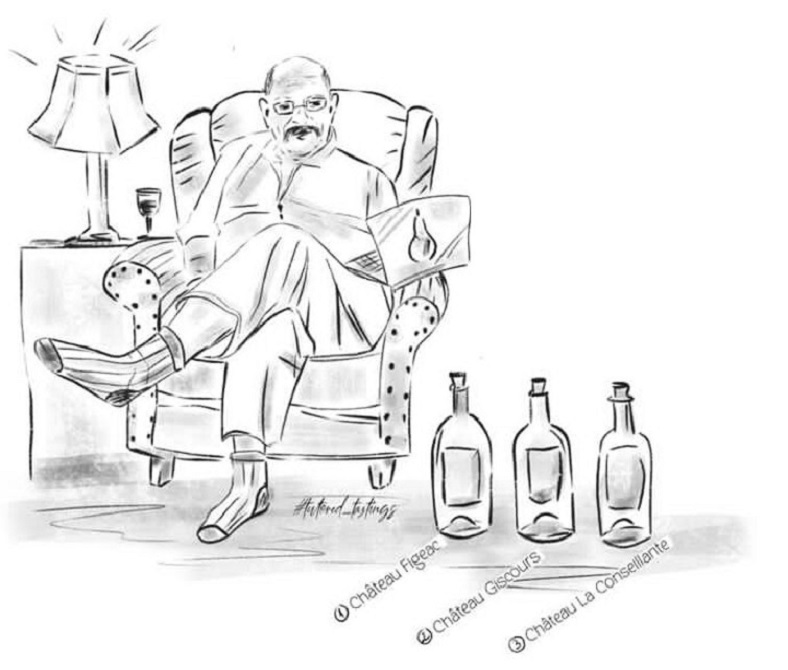 Choosing something special for a loved one is one of the best bits of the festive season. But when it comes to gifting wine, it's difficult to know where to start! Do you offer them a classic cuvée? A once-in-a-lifetime wine? Or something a little bit off-piste, perhaps? Well, with the help of tutored_tastings from Instagram, we've put together a guide based on the kind of person you're buying for. No need to know the ins and outs of their tasting preferences! Read on for inspiration…
The Culture Vulture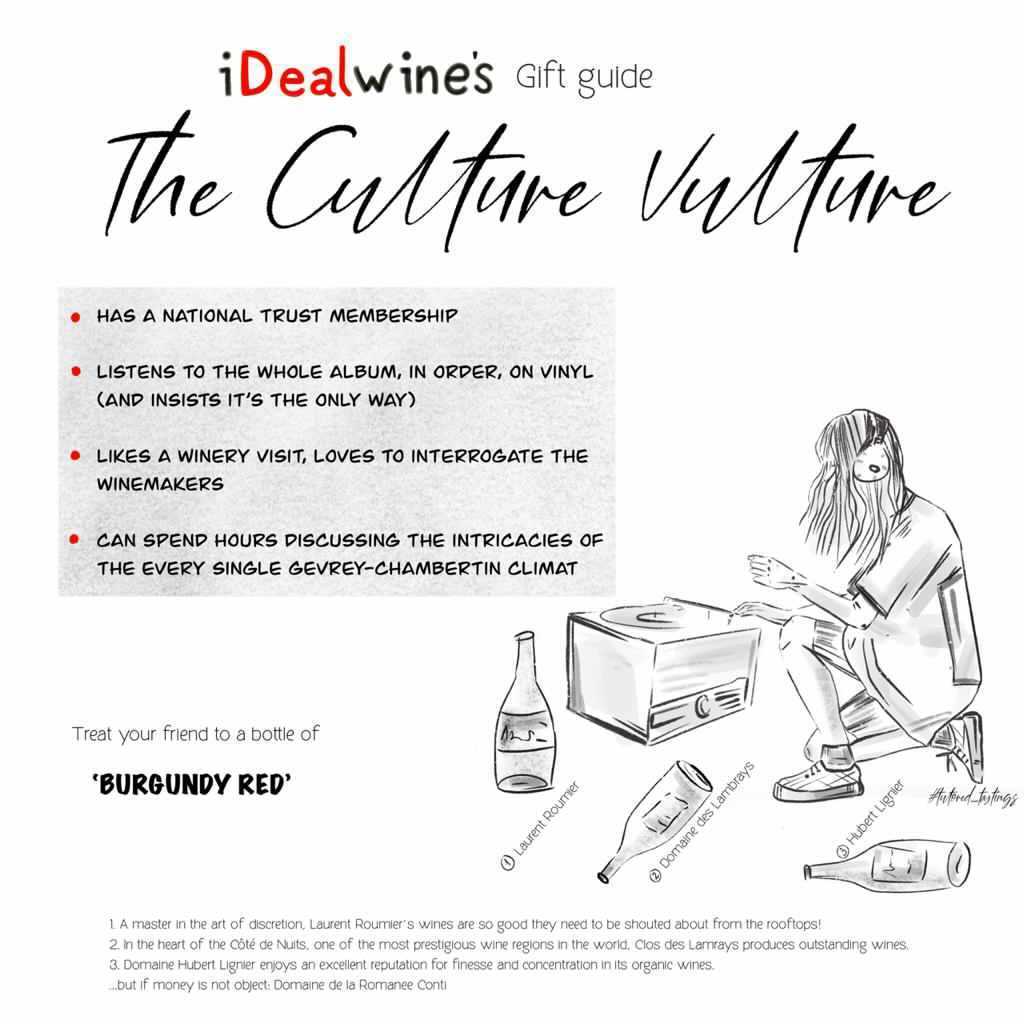 For the knowledgeable one who appreciates all things prestigious in music, history, literature, and film, a fine, red Burgundy should do the trick! Laurent Roumier's wines are superb, and Domaine des Lambrays crafts some of the Côte de Nuits' finest. Domaine Hubert Lignier is your go-to for an organic and concentrated Burgundy.
Here at iDealwine, Benoit
The Gadget Lover
Always up to date with the latest tech, this person has a gadget for everything. They take pride in being the first to try whatever's brand new, and they'll be thrilled with a wine from the Loire. This is a region bursting with cutting-edge, trendy domains that adhere nonetheless to the careful craftsmanship we like in wine making. La Coulée de Serrant is a legend in the world of biodynamics! The Bourgueil appellation is well-represented by the wines of Catherine and Pierre Breton. And for a friend that takes their cellar collection seriously, a Chinon from Charles Joguet can be aged before enjoying! And to let you in on a little secret, we currently have some magnumns from this domain in stock.
The Foodie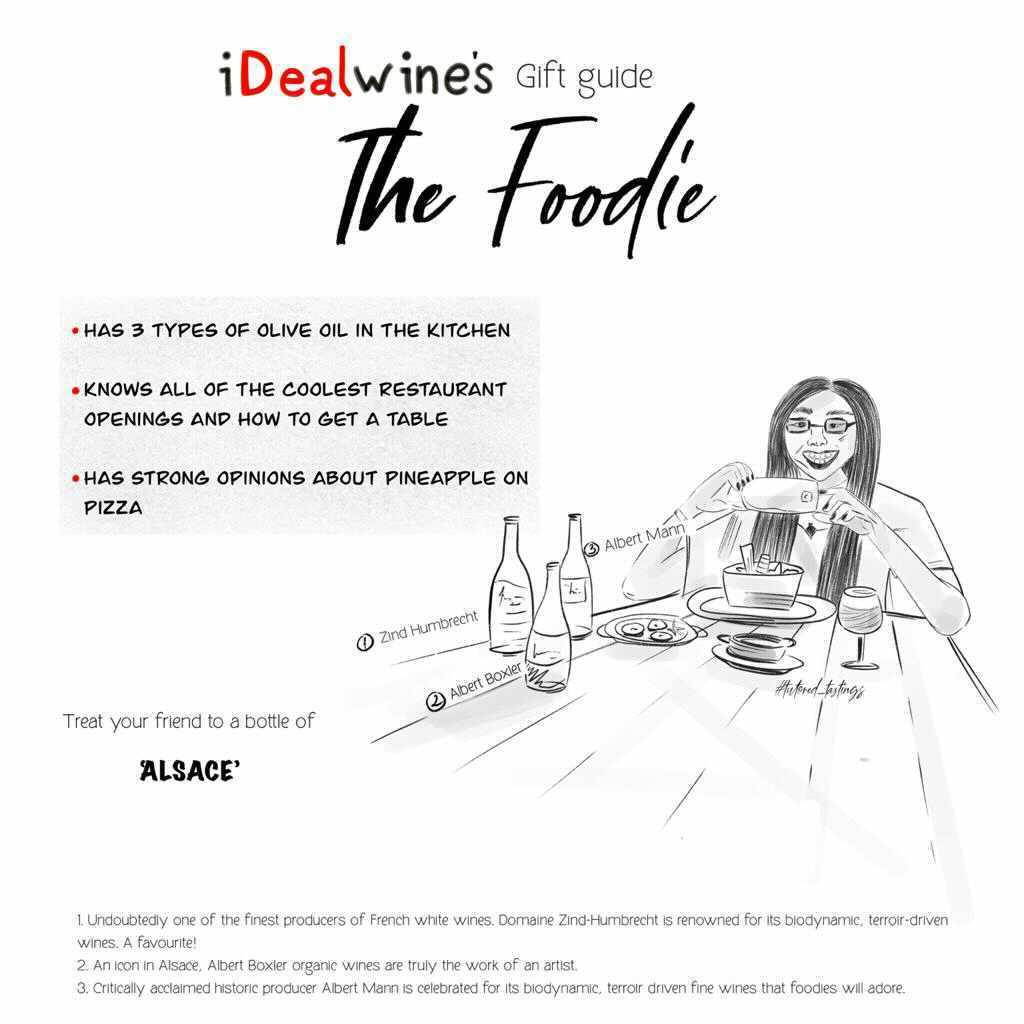 Living in the kitchen and forever taking photos of their food before diving in, it's a wine from Alsace that will suit the foodie. This region produces rich, flavourful, and aromatic wines that make for really interesting pairings at the table! Domaine Zind-Humbrecht is one of our favourites at iDealwine, a biodynamic domain that puts the terroir at the heart of it work. Cuvées by Albert Boxler show what it means to be truly artisanal, and Albert Mann has been highly critically acclaimed.
The Art Lover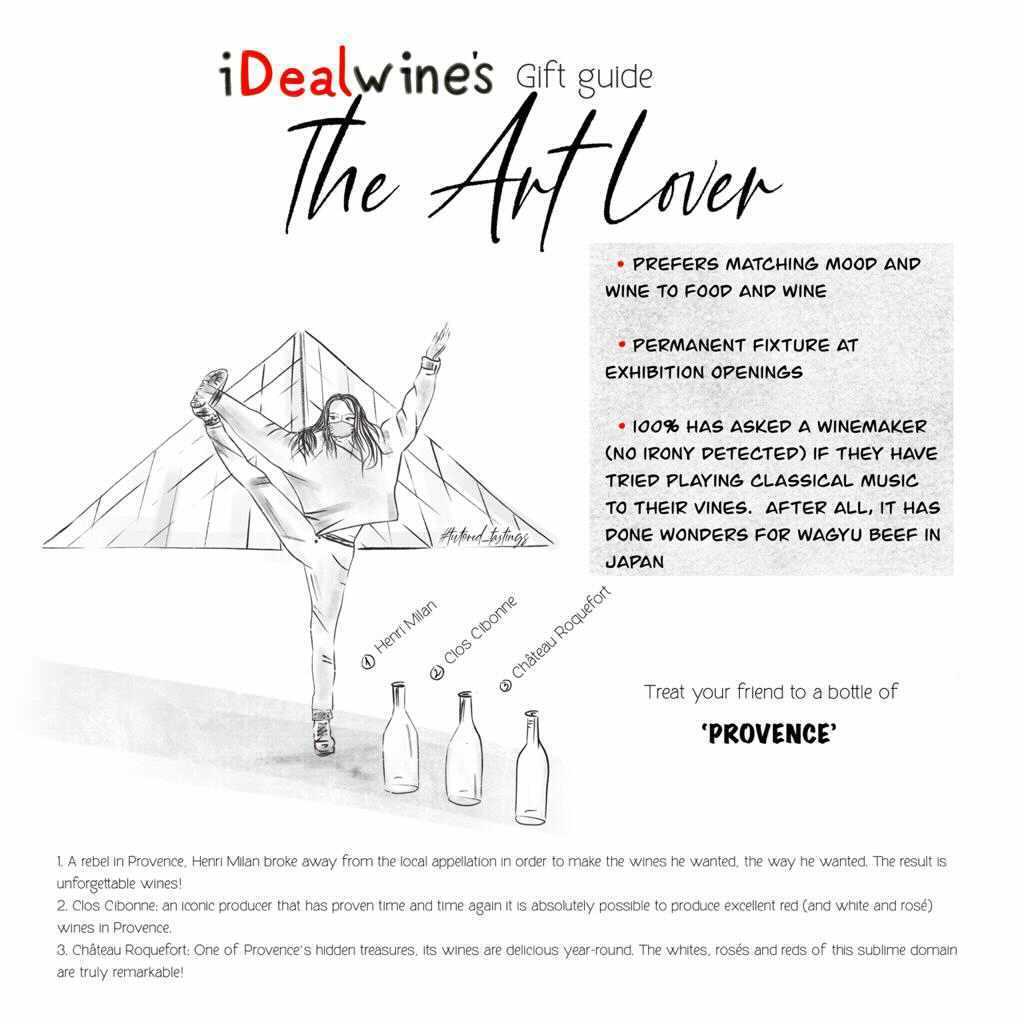 This is an artsy type who likes to match their wine with the mood (more often than not, this a chilled and welcoming ambiance). Their verve for all things creative will go nicely with the warmth of a wine from Provence. Henri Milan broke out of a constraining appellation to express himself more freely through his wines. Clos Cibonne is a tried-and-tested star of the region, with wines in all three colours, and Château de Roquefort produces delicious cuvées that can be enjoyed all year round.
Ladies who Brunch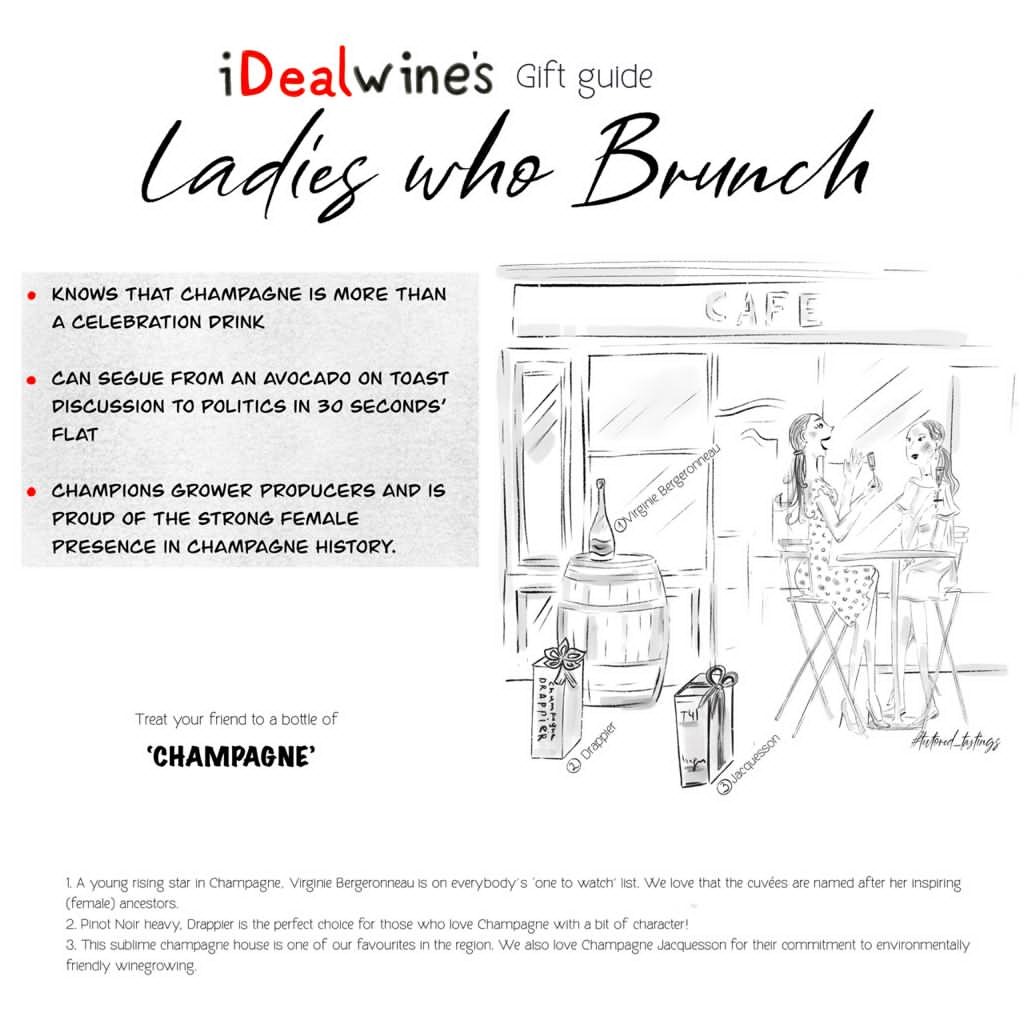 These are the ones who appreciate the finer things in life, and always in the spirit of generosity! What could be more fitting than a bottle of Champagne to share? A champion for female producers, Virginie Bergonnereau honours her female ancestors in her work. Drappier is a safe bet for anyone who likes to serve a glass of fizz with a meal. And for the eco-conscious among you, Jacquesson is committed to responsible production, meaning you can gift your bubbly with total peace of mind. On that note, Olivier Horiot produces organic and biodynamic Champagne and one that would some sparkle to anyones Christmas is his Blanc de Noirs Sève Brut Nature.
The ABC Girls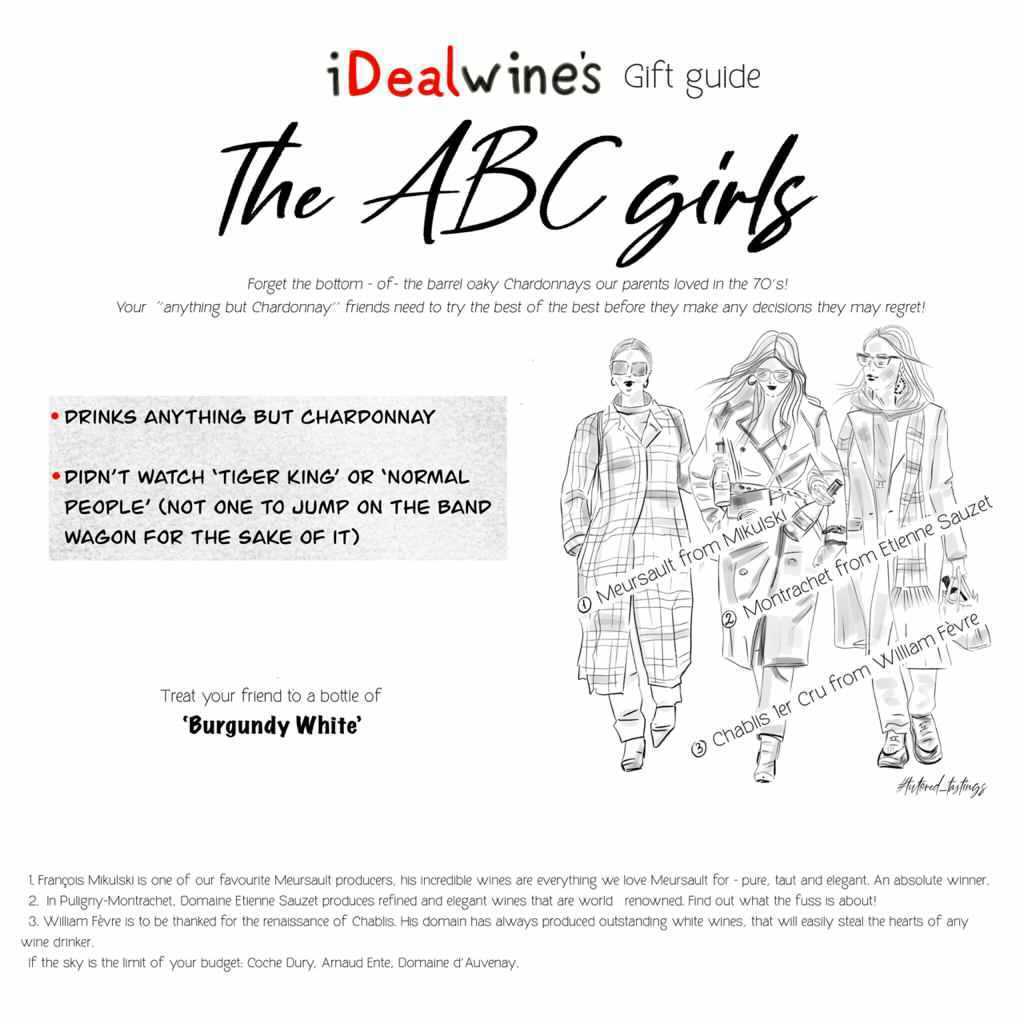 ABC stands for Anything But Chardonnay, shunning the varietal for its rather uncool reputation. Well, chances are they've just not tried the right one yet…A white Burgundy could well be the one to convince them! François Mikulski crafts some of the most elegant cuvées in Meursault, and Domaine Etienne Sauzet is a great example of why so many swoon over Puligny-Montrachet. William Fèvre has brought Chablis back into the spotlight! And if the sky is the limit budget-wise, a bottle from Coche-Dury, Arnaud Ente, or Domaine d'Auvenay will me more than appreciated.
The Adventurer
We all have an explorer in our lives. Someone who likes to push the boundaries and try new things. They simply can't sit still, and they travelled to all the cool places before they were cool. We think the adventurer would like a wine from the Jura, a diverse, up-and-coming region where producers have been embracing the natural movement for decades; many of them, much like our adventurer, possess a real pioneering spirit! Offer a bottle from Domaine Tissot, a property whose biodynamic wines are respected for their integrity. Jean Macle's Côtes-du-Jura is expressive, with nutty aromas and notes of honey. Otherwise, Domaine Berthet-Bondet is a must-try, and we have these fruity cuvées in several different vintages!
The Evangelist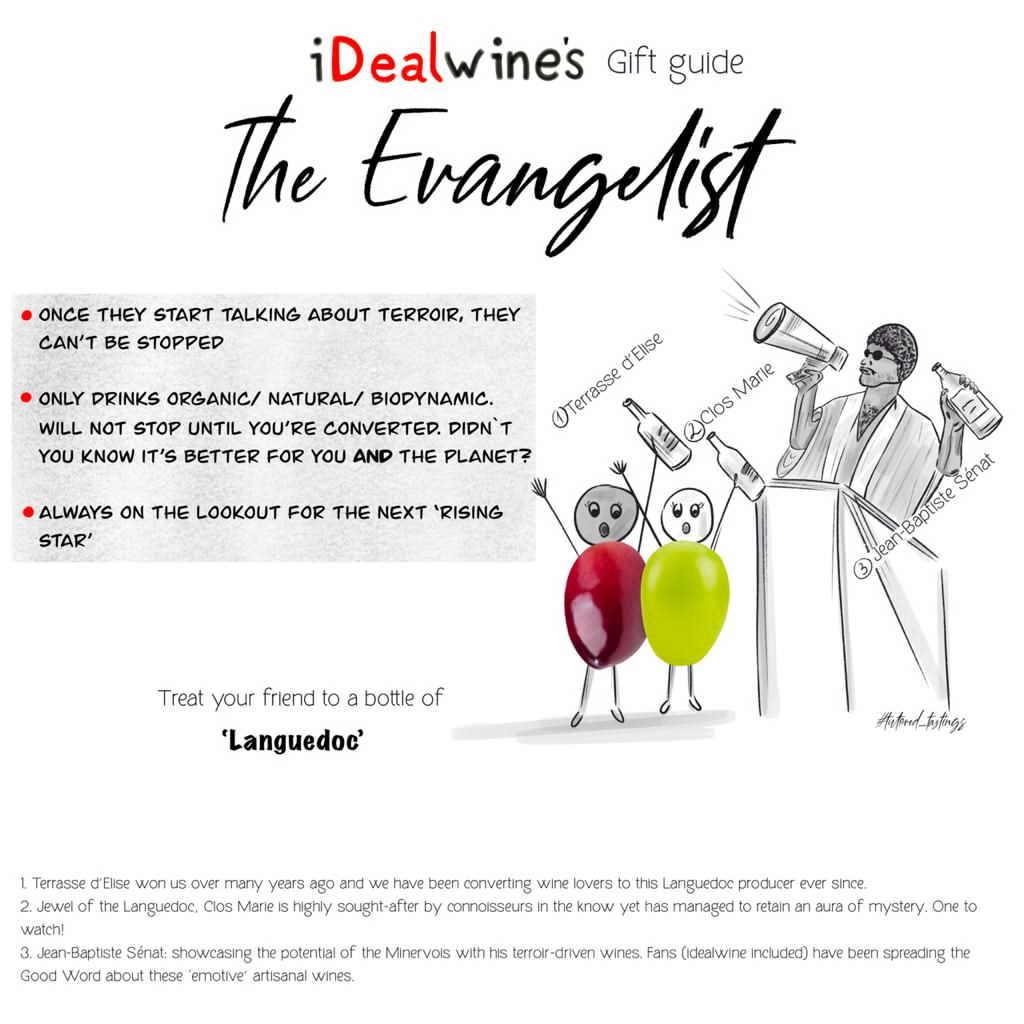 This person is passionate about wine, and they're going to make sure you know all about it. In fact, they already have. Many times. They will not rest until friends, family, neighbours, friends of friends, and the postman have shared in their enthusiasm for all things terroir and organics. Likely to be on the lookout for rising stars, how about offering the evangelist a bottle from the Languedoc? Terrasse d'Elise is one of our favourites at iDealwine; it was love at first taste! L'Enclos is a pure Mourvèdre cuvée, and its remarkably fruity and spicy profile makes it a delight. Clos Marie is one of the region's hidden gems, and it has managed to keep a certain aura of mystery…though maybe not for much longer if this enthusiast gets a hold of it! Finally, we can't omit Jean-Baptiste Sénat, who we had the pleasure of inviting to a recent tasting session of ours. Our favourite cuvée from this selection is La Nine, and we'll shout it from the rooftops!
The Sunday Times Reader
Finding comfort in tradition, this person likes to keep things classic. Sunday is for the newspapers, steak should be rare, and they took a bit of convincing when wine tasting moved online. They also fancy getting a proper cellar started, but perhaps haven't quite put their plans into action yet. Well, you can help them with their collection by offering a bottle from Bordeaux! I'm sure you can picture this one settling into their armchair with a classic glass of red. How about a cuvée from Château Figeac? This is one of the most renowned estates in Saint-Emilion, making racy and refined wines from an exceptional terroir. Château Giscours is the go-to for a typical Margaux vintage; full-bodied and powerful wine that isn't lacking in elegance. The famous Pomerol estate Château La Conseillante is sometimes known as the 'Burgundy of Bordeaux', so superb is the finesse and velvety texture of its cuvées. And if money really is no object for this gift, it has to be a bottle from Château Lafite Rothschild.
The Wine Club Addict
Now this is a bit of a tricky one. What kind of wine should you buy for someone who seems to know it all? They're subscribed to at least three wine publications, they've mastered the maze that is the Italian appellation system, and they'll leave their card with the domain in case the producer has any questions. Fear not, as we think you'd do well to get them a bottle from the Rhône! You can't mention this region without a shout-out to Guigal, a timeless institution. Tiffany is one of our very own connoisseurs at iDealwine, and she has picked out the domain's 2015 Côtes-du-Rhône as a favourite. Châteauneuf-du-Pape reaches the heights of perfection at Clos Saint-Jean, with wines that can be aged for a really, really long time. And the freshness of the sublime cuvées from Domaine Gonon is somewhat surprising. Wine enthusiasts search far and wide for these, so your connoisseur will be thrilled to find one under the tree!
The Pensive One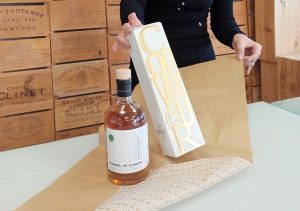 For that family member who sits quietly in the corner of a comfortable chair as the conversation flutters around them, head to the spirit section of our website. For whisky lovers, we would recommend the delicious bottle of Michel Couvreur or Roborel de Climens. When looking for a bottle of rum to give, why not opt for the Plantation range from master blender Alexandre Gabriel or a bottle of Hampden.
The One with a Sweet Tooth
We all know that one person who always checks the dessert menu before anything else when in a restaurant. Luckily, there are many types of sweet wines that should satisfy the palate of someone with a sweet tooth. If you're looking for fortified wines, Casenobe, L'Archiviste, Mas Amiel, and Coume del Mas offer a bottles made from both black and white grapes so you should be able to find something for your wine lover no matter their variety or style preference. Alsace might not spring to mind immediately when you're looking for sweet wines but it produces brilliant late-harvest wines such as those from Domaine Trimbach and Séléction de Grains Nobles, made from grapes affected by noble rot, like that crafted by Domaine Bott-Geyl. Speaking of noble rot, you could also go for a Sauternes from Chateau Guiraud.
The One with a Large Family
In every group of friends, there is the one that has several siblings and too many cousins to keep track of and every year, there is about 30 people around the table for Christmas dinner. They have to buy several bottles of the same wine just so everyone can enjoy a sip. You know what they would really appreciate – a large bottle of their favourite wine. As luck, or should that be Christmas magic, would have it, there are currently many large-format bottles available on iDealwine both in our fixed-price sales and at auction.